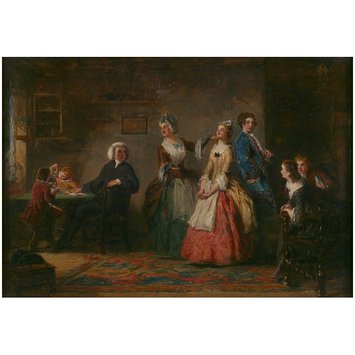 Frith, William Powell, born 1819 - died 1909
'Measuring Heights': A Scene from 'The Vicar of Wakefield'
Object:
Date:
Artist/Maker:

Frith, William Powell, born 1819 - died 1909 (painter (artist))

Materials and Techniques:
Credit Line:
Museum number:
Gallery location:
Date
ca. 1842 (painted)
Artist/maker
Frith, William Powell, born 1819 - died 1909 (painter (artist))
Materials and Techniques
Oil on panel
Dimensions
Height: 22.8 cm estimate, Width: 30.5 cm estimate
Object history note
Bequeathed by John Jones, 1882
Descriptive line
Oil painting, '"Measuring Heights": a Scene from The Vicar of Wakefield', William Powell Frith, ca. 1842
Bibliographic References (Citation, Note/Abstract, NAL no)
Parkinson, R., Victoria and Albert Museum, Catalogue of British Oil Paintings 1820-1860, London: HMSO, 1990, pp. 100-101
The following is the full text of the entry:
"FRITH, William Powell, RA (1819-1909)
Born Aldfield, near Ripon, Yorkshire, 9 January 1819, son of a butler (an amateur artist) and a cook. Studied at Sass's Academy from 1835; entered RA Schools. In a long, prolific, and highly successful career, exhibited 107 works at the RA between 1840 and 1906, 13 at the BI 1838-1857, and 12 at the Society of British Artists 1838-1883. Subjects predominantly literary, historical, and - most notably - scenes of contemporary life, with which he achieved his greatest popular fame, amplified by many engraved reproductions, beginning with Ramsgate Sands (exh RA 1854 and bought by Queen Victoria). In 1875 his Dinner at Boswell's ... of 1869 sold at Christie's for £4567, the highest price ever achieved by a living artist. Member of 'The Clique' in the 1840s; elected ARA 1845, RA 1852. Died Sr John's Wood, London, 2 November 1909; there had been a studio sale at Christie's 14 June 1884. The Art Journal obituarist wrote: 'the artist will be missed: he was an institution'.
LIT: Art Journal 1856, pp237-40 (for other references to Frith in the Art Union and Art Journal, see the entry in C Wood Dictionary of Victorian Painters 1971); W P Frith My Autobiography and Reminiscences 3 vols 1887-8; Times 4 November 1909 (obit); Art Journal191O, p14 (obit); Mrs J Panton Leaves from a Life 1909, More Leaves from a Life 1911; W P Frith Whitechapel Art Gallery exhibition catalogue 1951; N Wallis A Victorian Canvas 1957; J Mass Gambart: Prince of the Victorian art world 1975; A Noakes William Frith: Extraordinary Victorian Painter 1978.
'Measuring Heights': A Scene from the 'Vicar of Wakefield'
511-1882 Neg 52986
Panel, 22.8 x 30.5 cm (9 x 12 ins)
Jones Bequest 1882
Presumably a sketch for, rather than a replica of, 'A Scene from the Vicar of Wakefield', exhibited at the RA in 1842, and now in the National Gallery of Victoria, Melbourne, Australia. In the RA catalogue, the title was followed by a quotation from chapter 16 of Oliver Goldsmith's most famous novel (published 1766): 'It must be owned that my wife laid a thousand schemes to entrap him .... Then the poor woman would sometimes tell the Squire that she thought him and Olivia extremely of a size and mould, and would bid both stand up to see who was the tallest'. Mrs Primrose, the vicar's wife, is aiming to marry her daughter Olivia to their landlord, Squire Thornhill. For fuller comment on Goldsmith's works as subjects for painters, see FA74 above.
The RA painting was Frith's first great success. He wrote to Charles Hawker on 6 May 1842: 'I am sure you will be glad to hear that my reputation may now (I flatter myself) be said to be fixed, as I have a picture of some size and importance, containing 8 figures, in one of the centre places on the line/that is, at eye level/at the Academy - As you may imagine from its situation it was sold within half an hour of the first opening of the Exhibition -'. Frith also describes this success in his Autobiography.
The Art Union critic was enthusiastic: 'The main characters of Goldsmith's novel are here charmingly portrayed ... The author of this work studies profitably the characters he transfers to canvass. He is not a mere picture-maker; but thinks, and thinks long and deeply over what he does. His abilities to execute are not inferior to his powers to conceive ... [it] cannot fail of being appreciated by "the mass", while it will as certainly satisfy "the critic".' It did not satisfy the Athenaeum critic, who thought the facial expressions too exaggerated; noting Frith as 'a rising artist', the writer thought 'he has already risen to the heights of affectation'. This review inspired Frith in his Autobiography (I, p98) to 'here advise all artists, young and old, never to read art criticism. Nothing is to be learnt from it'.
There are several versions of the composition, with differences in detail as was Frith's practice; the versions are listed below. A 'back to back' subject was also exhibited at the RA in 1868 (340); it was sold at Christie's 9 May 1870 (115), signed and dated 1867, as 'Measuring heights: Scene from She Stoops to Conquer', bought by Pocock for £120-15-0 (according to Redford, bought by Agnew's from Pocock for £125-15-0).
PROV: Presumably sold Christie's 22 June 1867 (96), br Bourne (probably for John Jones; Bourne also bought E M Ward's Charles II and Nell Gwyn which also came to the Museum in the Jones Bequest - see 528-1882 below).
Versions: 1 Exh RA 1842 (454), bt there by Zouch Troughton for £105; sold Christie's 23 June 1860 (111), according to Redford (Sales) owned by Troughton and bt in at £840; ... sold Knight, Frank and Rutley at Maiden Erlegh (collection of the late S B Joel) 8 December 1931 (271), size given as 37 x 50 ins, signed, repr in catalogue as plate XIII (see also repr in the Studio spring 1932, p89), bt 1932 by the National Gallery of Victoria, Melbourne, Australia.
2 sold Bonham's 1 March 1979 (120), panel 23 x 33 (9 x 13 ins), signed and dated 1842, repr in catalogue; Christie's 12 February 1988 (93).
3 sold Christie's (Marquis de Santurce sale) 25 April 1891 (38), size given as 12 x 20 ins, signed and dated 1866, bt Innes £131-5-0.
4 sold Christie's 22 February 1985 (82), panel 10.8 x 16.5 (4½ x 6½ ins), bt £345, repr, in catalogue.
5 Exh Gainsborough to Grant Agnew's 1934 (30), no measurements given in catalogue, as 'a sketch for the large picture painted for C F Huth' (this may be a confusion with the Don Quixote subject commissioned by Frederick Huth in 1840 (see under 513 1880 below).
6 Redford (Sales) lists two pictures: the first sold 1865, size given as 10 x 13 ins, Robinson sale, bt by the dealer Vokins £252; the second sold 1866, also 10 x 13 ins, bt in at £278-5-0, and presumably the same painting.
7 An oval version depicting the two principal figures, dated 1845, is repr by Noakes (p27), and was possibly the work listed by Redford (Sales) as in the E Dixon sale of 1873, 13 x 10 ins, bt Permain £115-10-0."
Materials
Oil paint; Panel
Techniques
Oil painting
Categories
Paintings
Collection code
PDP