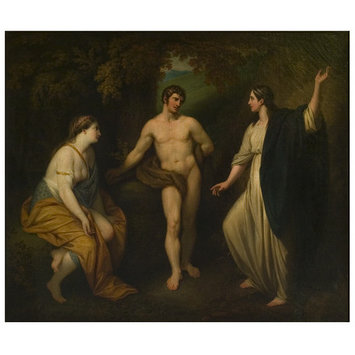 West, Benjamin, born 1738 - died 1820
The Choice of Hercules between Virtue and Pleasure
Object:
Date:
Artist/Maker:

West, Benjamin, born 1738 - died 1820 (painter (artist))

Materials and Techniques:
Credit Line:

Bequeathed by Mrs Harrison

Museum number:
Gallery location:
Date
1764 (painted)
Artist/maker
West, Benjamin, born 1738 - died 1820 (painter (artist))
Materials and Techniques
Oil on canvas
Marks and inscriptions
'B West 1764'
Signed and dated by the artist
Dimensions
Height: 40 in approx., Width: 48 in approx.
Object history note
Bequeathed by Mrs Harrison, 1886
Raphael West, 1824; bequest of Mrs. Harrison to the Victoria and Albert Museum in 1886
Historical significance: Benjamin West (1738-1820) was born in Springfield, Pennsylvania, then a colony in British America. His parents were both from Quaker families. His early interest in painting was encouraged by meeting a young English artist, William Williams, who lent him books on the theory of art by Charles Alphonse Du Fresnoy and Jonathan Richardson. By the early 1750s, still in his mid-teens, he was painting overmantles and portraits. West painted his first history painting in 1756 and attracted the support of the Rev. W. Smith in Philadelphia, to which he moved the same year. With Smith's continuing support West travelled to Italy in 1760 and stayed until 1763, funding his stay by painting copies after old masters for wealthy Philadelphians. In 1763 he moved to London, planning to stay for a short while and then return home. He soon attracted the attention both of fellow artists and future patrons as a self-taught prodigy with the potential to be a great history painter. He was to live in Britain for the rest of his life.
West was the first American-born artist to gain international repute, becoming Historical Painter to King George III and second President of the Royal Academy. His ambitions were grand, and in later years grandiose: his apocalyptic Death on a Pale Horse measures 4.47 by 7.65 metres. He was also prolific, his known oeuvre produced during a 60 year career comprising over 700 works. His reputation at his death in 1820 was still high, but from the 1840s had gone into decline. In recent years his work and influence has been reappraised, particularly in Helmut von Erffa's and Allen Staley's Paintings of Benjamin West (1986).
Erffa, Helmut von and Allen Staley. The paintings of Benjamin West. New Haven: Yale University Press, 1986, p. 239, cat. no. 143
The following is the full text of the entry:
"143 The Choice of Hercules 1764
See color illustration, p. 37
VICTORIA AND ALBERT MUSEUM, LONDON
Oil on canvas: 40 x 48 in. (101.5 x 122 cm.)
Signed bottom center: B. West. 1764
PROV: Raphael West, 1824; bequest of Mrs. Harrison to the Victoria and Albert Museum in 1886
ENGR: Outline engraving (7 1/8 x 8½ in.) by Henry Moses, pub. 1817 by Moses and included in some later editions of Moses 1811
LISTED: PC, p. 565 ("The Choice of Hercules," West, Painting-room); UM, p. 530; Barlow, p. 434; BA, p. 16; Galt, p. 226; Dillenberger, p. 167 (291) [SEE BELOW FOR FULL ENTRIES]
LIT: Moses 1811 (with accompanying text signed L.H. [Leigh Hunt]; only included in later editions); Dunlap 1834, I, p. 258 (Dunlap 1918, I, p. 305); F. Saxl and R. Wittkower, British Art and the Mediterranean, Oxford, 1948, pl. 64, fig. 4; Evans 1959, pp. 41-42, pl. 20; Hall 1962, p. 108, no. 276 (letter from John Young to Sir John Fleming Leicester, 25 Feb. 1824); von Erffa 1962, p.633, fig. 8; Irwin 1966, p. 50; von Erffa 1973, pp. 9-10, fig. 4; Gerdts 1974, pp. 21-24, ill. 1-10; Kraemer 1975, p. 61; Pressly 1981, p. 18, pl. 7
This good-sized and important early painting, which figures prominently in the recent literature, has a curiously obscure early history. It appears on the early lists of West's works, but it was never publicly exhibited prior to entering the Victoria and Albert Museum in 1886, and it was only engraved in 1817, fifty-three years after it was painted, and then in outline on a small scale as a late addition to Henry Moses's book published six years before. William Dunlap copied it in the summer of 1785. William Pressly has suggested that James Barry saw No. 143 before painting his Temptation of Adam of 1767-70 (National Gallery of Ireland, Dublin) and, if that is so, Barry must have seen it in West's studio prior to his departure from London for Rome in October 1765. In 1824: John Young reported to Sir John Fleming Leicester that the painting belonged to Raphael West, who was willing to sell it. No. 143 was then at Raphael's house at Staines and was not included in the posthumous exhibitions of their father's works presented by Raphael and his brother in West's former home in Newman Street.
The story of the choice of Hercules between Virtue or Vice (or Hercules at the crossroads) derives from Xenophon's Memorabilia. In 1711 the third Earl of Shaftesbury wrote "a Notion of the Historical Draught or Tablature of the Judgment of Hercules," based on Xenophon and embodying Shaftesbury's instructions to the Neapolitan painter Paolo de Matteis, whom he had commissioned to paint a picture of the subject. West may have been aware of Shaftesbury's essay, but, contrary to several recent assertions, it seems unlikely that he was significantly inspired or influenced by it, and his painting does not include the emblematic bridle, helmet, and vases, etc., called for by Shaftesbury and depicted by de Matteis.(1) The subject is one that has been frequently painted in post-Renaissance art, and No. 143 certainly depends more upon pictorial tradition than upon written sources.
The earliest published comment about the painting, presumably written by Leigh Hunt in 1817, includes the statement that West seems to have had in his eye an engraving by Sir Robert Strange after a painting by Pietro da Cortona. There is not much similarity, however, between No. 143 and treatments of the subject by Pietro da Cortona,(2) and it seems likely that what Hunt had in mind was the engraving by Strange published in 1759 after a painting by Nicolas Poussin, which our painting does definitely recall.(3) The Poussin Choice of Hercules (ill. p. 36) was and is at Stourhead where, according to Galt, West inspected the collections in the autumn of 1763.(4) In addition to Poussin, West also seems to have been aware of Reynolds's Garrick between Comedy and Tragedy (ill. p. 36), which had been exhibited at the Society of Artists in 1762, the year before West's arrival in England. Thus while the general configuration of No. 143 and the pose of Hercules appear to be based on Strange's engraving (which reverses the composition of Poussin's original), the strict profile and upraised arm of Virtue on the right are closer to the figure of Tragedy in the corresponding position in the Reynolds. It has also been suggested at various times that the seated figure of Vice owes something to the engraving by Simon Gribelin after the painting by de Matteis, which served as an illustration in collected editions of Lord Shaftesbury's writings, and that the figure of Hercules reveals debts to the antique statue of Meleager in the Vatican, to the Farnese Hercules (which is now in Naples, but stood in the courtyard of Palazzo Farnese in Rome when West was there), and to the figure of Apollo in Anton Raphael Mengs's ceiling fresco of Parnassus in the Villa Albani.
What appears to be an early drawing of the subject by West is at Swarthmore.(5) In this drawing Hercules leans on his club, which is being tugged at by a cupid, Virtue stands on the left, and there are numerous other differences from No. 143. A drawing of the subject was with the Bernard Black Gallery in 1968 (6) but since that drawing is on a note addressed to West at 14 Newman Street, where he moved only in 1774, it must be considerably later than the painting.
See also p. 36 above.
(1) Anthony Ashley Cooper, 3rd Earl of Shaftesbury, Characteristicks of Men, Manners, Opinions, Times, 2nd ed., 1714, p. 386. The "Notion .. ," which had been published separately in 1713, is reprinted as pp. 345-91 of this edition of Shaftesbury's works, and an engraving by Simon Gribelin after the painting by de Marteis appears on p. 345. The painting itself is now in the Ashmolean Museum (see Burlington Magazine, CXXIII, 1981, p. 626 and fig. 30).
(2) Erwin Panofsky, Hercules am Scheidewege, Leipzig and Berlin, 1930, pls. XLIX, LVIII, and LIX.
(3) Ibid., pl. LXIII, and also Saxl and Wittkower, pls. 64 and 65,
where the dependence upon Poussin was first pointed out.
(4) Galt 1820, p. 5
(5) Pen, 6 1/8 x 5¼ in.
(6) Black crayon, 4¼ x 5 1/8 in. (New York 1968, no.1)."
LISTS [On page 585 of Erffa, Helmut von and Allen Staley]
PC: "A correct Catalogue of the Works of Mr. West," Public Characters of 1805, London, 1805 (in fact, published in 1804), pp.559-69.
UM: "A Correct List of the Works of Mr. West," Universal Magazine, III, 1805, pp.527-32
Barlow: Note 45 to The Coumbiad. A Poem, by Joel Barlow, Philadelphia, 1807, pp. 430-36 (on p.431 Barlow states that the list was given to him by West in 1802.
BA: "A Correct Catalogue of the Works of Benjamin West, Esq.," La Belle Assemblée or Bell's Court and Fashionable Magazine, IV, 1808, Supplement, pp.13-20.
Galt: "A Catalogue of the Works of Mr. West," in The Life, Studies, and Works of Benjamin West, Esq., President of the Royal Academy of London, by John Galt, London, 1820, Appendix II, pp.216-34.
Dillenberger: "Published Lists of West's Paintings" and "checklist of Known Religious Works by West," in Benjamin West: The Context of His Life's Work, by John Dillenberger, San Antonio, 1977, Appendices I and V, PP.129-90 and 210-15. (Dillenberger's Appendix I is a concordance of all the earlier lists cited above except that in the Universal Magazine, plus West's account of 1801 of his works for George III [which is cited in the PROVENANCES in this catalogue]. It is prefaced by a brief discussion of the publications in which they appeared.)
Descriptive line
Oil painting, 'The Choice of Hercules between Virtue and Pleasure', Benjamin West, 1764
Bibliographic References (Citation, Note/Abstract, NAL no)
Erffa, Helmut von and Allen Staley. The paintings of Benjamin West. New Haven: Yale University Press, 1986, p. 239, cat. no. 143

Materials
Oil paint; Canvas
Techniques
Oil painting
Categories
Paintings; Myths & Legends
Collection
Prints, Drawings & Paintings Collection