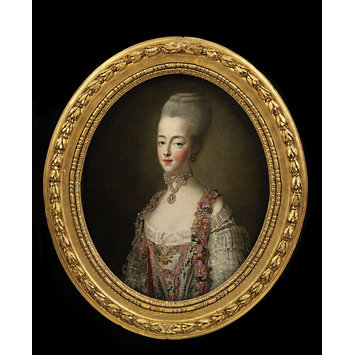 Drouais, François-Hubert, born 1727 - died 1775
Marie Antoinette, Queen of France, in a court dress
Object:
Place of origin:
Date:
Artist/Maker:

Drouais, François-Hubert, born 1727 - died 1775 (painter (artist))

Materials and Techniques:
Credit Line:
Museum number:
Gallery location:

Europe 1600-1815, Room 2, The Wolfson Gallery, case WW
François Hubert Drouais (1727-1775) was born in Paris. He trained with his father, Hubert Drouais (1699-1767) and then with Donat Nonotte (1708-1785), Carle van Loo (1705-1765), Charles-Joseph Natoire (1700-1777) and François Boucher (1703-1770). He became a member of the Académie Royale in 1755 and achieved quickly a great success as a portrait painter, receiving prestigious commissions, especially from the court.
This painting is a portrait of the Dauphine Marie-Antoinette, consort of the future king of France, Louis XVI, at the age of 17. It depicts the princess in a lavish court dress adorned with sumptuous jewels. This portrait was used as a model for a tapestry made in the Royal manufactory of the Gobelins by the Cozette father and son in 1775. This portrait is a good example of French state portraits of the 18th century and the representation of an almighty royalty about to fail in a few years time.
Physical description
Portrait of Marie-Antoinette in an oval format with a neutral dark background; she wears a lavish white satin dress embroidered with a rose pattern and sumptuous jewels.
Place of Origin
Versailles (painted)
Date
1773 (painted)
Artist/maker
Drouais, François-Hubert, born 1727 - died 1775 (painter (artist))
Materials and Techniques
Oil on canvas
Dimensions
Height: 63.5 cm estimate, Width: 52 cm estimate, Height: 84 cm frame, Width: 74 cm frame, Depth: 7 cm frame
Object history note
Bequeathed by John Jones, 1882
Ref : Parkinson, Ronald, Catalogue of British Oil Paintings 1820-1860. Victoria & Albert Museum, HMSO, London, 1990. p.xix-xx
John Jones (1800-1882) was first in business as a tailor and army clothier in London 1825, and opened a branch in Dublin 1840. Often visited Ireland, travelled to Europe and particularly France. He retired in 1850, but retained an interest in his firm. Lived quietly at 95 Piccadilly from 1865 to his death in January 1882. After the Marquess of Hertford and his son Sir Richard Wallace, Jones was the principal collector in Britain of French 18th century fine and decorative arts. Jones bequeathed an important collection of French 18th-century furniture and porcelain to the V&A, and among the British watercolours and oil paintings he bequeathed to the V&A are subjects which reflect his interest in France.
See also South Kensington Museum Art Handbooks. The Jones Collection. With Portrait and Woodcuts. Published for the Committee of Council on Education by Chapman and Hall, Limited, 11, Henrietta Street. 1884.
Chapter I. Mr. John Jones. pp.1-7.
Chapter II. No.95, Piccadilly. pp.8-44. This gives a room-by-room guide to the contents of John Jones' house at No.95, Piccadilly.
Chapter VI. ..... Pictures,... and other things, p.138, "The pictures which are included in the Jones bequest are, with scarcely a single exception, valuable and good; and many of them excellent works of the artists. Mr. Jones was well pleased if he could collect enough pictures to ornament the walls of his rooms, and which would do no discredit to the extraordinary furniture and other things with which his house was filled."
Historical significance: This painting appears to be one of several versions derived from an earlier portrait of Marie-Antoinette as Hebe, goddess of youth, executed by the same painter Drouais for Louis XV of France in 1772 and currently in the Musée Condé, Chantilly.
The present painting reuses the exact same pose and face but with different garments. 529-1882 portrays the Dauphine, Marie-Antoinette (1755-1793), consort of the Grand Dauphin Louis and future Queen of France, in a lavish court dress embroidered with a rose pattern and sumptuous jewels, which appears quite rare in Marie-Antoinette's iconography.
Despite the scepticism of the critics at the time about this series of portraits, which lack of vitality and likeness, the paintings achieved quite a great success and 529-1882 was probably chosen as the model for the tapestry made by the Cozette father and son in the Gobelins Manufactory (Chambre de Commerce et d'Industrie, Bordeaux), which is inscribed on left with "Drouais pit en 1773" and, on the right, with "Cozette ext en 1774". In fact, the tapestry reproduces the exact same garments and jewels as the V&A painting. The tapestry was commissioned by the financier and court banker, Nicolas Beaujon (see letter dated 5 October 1774, to d' Angivillers, Directeur des Bâtiments).
Drouais' portrait was also used as a model for a series of painted portraits executed by the copyists of the 'Cabinet du Roi' in order to multiply the effigy of the Dauphine - see the portrait of Marie-Antoinette, Inv. MV 3891, Musée National du Château de Versailles et de Trianon, which is a copy after Drouais prototype with variations of garments. This practice was usual in portraiture since the Renaissance and facilitated the diffusion of the royal image by painters who therefore did not need to have a direct contact with the sitter.
Historical context note
In his encyclopaedic work, Historia Naturalis, the ancient Roman author Pliny the Elder described the origins of painting in the outlining of a man's projected shadow in profile. In the ancient period, profile portraits were found primarily in imperial coins. With the rediscovery and the increasing interest in the Antique during the early Renaissance, artists and craftsmen looked back to this ancient tradition and created medals with profile portraits on the obverse and personal devise on the reverse in order to commemorate and celebrate the sitter. Over time these profile portraits were also depicted on panels and canvas, and progressively evolved towards three-quarter and eventually frontal portraits.
These portraits differ in many ways from the notion of portraiture commonly held today as they especially aimed to represent an idealised image of the sitter and reflect therefore a different conception of identity. The sitter's likeness was more or less recognisable but his particular status and familiar role were represented in his garments and attributes referring to his character. The 16th century especially developed the ideal of metaphorical and visual attributes through the elaboration of highly complex portrait paintings in many formats including at the end of the century full-length portraiture. Along with other devices specific to the Italian Renaissance such as birth trays (deschi da parto) and wedding chests' decorated panels (cassoni or forzieri), portrait paintings participated to the emphasis on the individual.
Portrait paintings were still fashionable during the following centuries and extended to the rising bourgeoisie and eventually to common people, especially during the social and political transformations of the 19th century. At the end of the 19th century and during the 20th century, painted portraits were challenged and eventually supplanted by the development of new media such as photography.
Descriptive line
Oil painting, 'Marie Antoinette, Queen of France, in court dress', François Hubert Drouais, 1773
Bibliographic References (Citation, Note/Abstract, NAL no)
C.M. Kauffmann, Catalogue of Foreign Paintings, I. Before 1800, London: Victoria and Albert Museum, 1973, p. 88-89, cat. no. 88
cat. 59, p. 95
Marie-Antoinette, Paris: Editions de la Réunion des Musées Nationaux, 2008
P. de Nolhac, Marie Antoinette, the Dauphine,1896 (repr. frontispiece, in an imaginary frame, as by Drouais).
J. Flammermont, 'Les portraits de Marie Antoinette' in Gazette des Beaux-Arts,xviii, 1897, p. 293; xix, 1898, p. 185, n. 3 (attribution to Drouais doubtful)
Lady Dilke, French painters of the xviiith century,1899, p. 156, repr. facing p. 152 (as by Drouais)
J. J. Foster, French art from Watteau to Prud'hon,ii, 1906, pl. 1.
A. Vuaflart and H. Bourin, Les portraits de Marie Antoinette,ii, 1910, p. 82 f., pl. xxv.
B. Long, Catalogue of the Jones Collection1923, p. 7, pl. 32 (as by Drouais).
M. Jallut, Marie-Antoinette and her painters,Paris, n. d. (?1962), p. 17 (as by P.-F Cozette).

Labels and date
Portrait of Marie-Antoinette
1773
Marie-Antoinette is shown here at the age of 17. She was already married to the future king Louis XVI, and a year later would be queen. She wears formal court dress: a silk gown with embroidered stomacher, needle lace and silver trimmings, and a jewelled necklace. A leader of fashion, Marie-Antoinette was at first celebrated for her taste but came to be criticised for her extravagance. She died at the guillotine in 1793.
France (Paris)
By François-Hubert Drouais
Oil on canvas
Bequeathed by John Jones
Family label for Europe 1600-1815:
When Marie-Antoinette was queen of France it was fashionable for women to have huge hairstyles. To make their hair taller they sometimes used padding made of cow hair. They used grease made from bear's fat and big spiky pins to hold it all in place.
Create your own huge hairstyle by playing Design a Wig at www.vam.ac.uk/designawig [09/12/2015]
En 1773 Drouais peignit un portrait mythologique montrant Marie-Antoinette en Hébé (Chantilly, Musée Condé). Le maître reproduisit ensuite le visage à l'identique sur des portraits décrivant cette fois-ci la dauphine en habit de cour. []
The following is the label text from 1971 for Gallleries 1-7 of the V&A:
"MARIE ANTOINETTE, QUEEN OF FRANCE (1775-93) AT THE AGE OF 17.
PAINTED IN 1773 WHILE SHE WAS STILL A DAUPHINE.
French School.
This painted served as a model for a tapestry portrait made by Michel-Henri Cozette in 1774 which is inscribed Drouais Pixt. en 1773, Drouais, who was a fashionable portrait painter, also painted a larger portarit of Marie Antoinette
in 1773 which is in the Musée Condé, Chantilly.
Jones Collection
Museum. No. 529-1882." []
Materials
Oil paint; Canvas
Techniques
Oil painting
Subjects depicted
Jewels; Dress; Rose
Categories
Paintings; Portraits; Royalty
Collection
Prints, Drawings & Paintings Collection