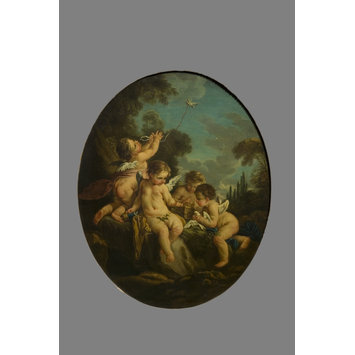 François Boucher, born 1703 - died 1770
L'Amour Oiseleur; The Cherub Fowlers
Object:
Date:

mid 19th century (painted)

Artist/Maker:

François Boucher, born 1703 - died 1770 (after, painter (artist))

Materials and Techniques:
Credit Line:
Museum number:
Gallery location:
François Boucher (1703-1770) was born in Paris and probably received his first artistic training from his father who was a painter before attending the Académie de France in Rome. He may also have travelled to Naples, Venice and Bologna. Around 1731 Boucher returned to Paris where he rapidly gained the royal favour and interest from the private collectors. He was a very prolific artist and produced a wide range of artworks from pastoral paintings, porcelain and tapestry designs as well as stage designs influencing deeply the new Rococo movement.
This painting is a copy after a composition formerly in private collection, Switzerland perhaps now in the Honolulu Academy of Arts (8915.1). It represents amorini catching birds in a pastoral landscape and is intended as an allegory of Spring. The original painting was in fact part of a cycle representing allegories of the four seasons. This work is a fine example of the early career of Boucher, who already pervaded his oeuvre with mischievous pastoral scenes which would become the hallmark of his art and eventually of the whole Rococo period.
Physical description
Naked amorini or cherubs catching birds in a pastoral landscape. Three of them are placing a dove in a cage while another on the left is capturing a bird in flight with a thread or ribbon.
Date
mid 19th century (painted)
Artist/maker
François Boucher, born 1703 - died 1770 (after, painter (artist))
Materials and Techniques
Oil on canvas
Dimensions
Height: 74.9 cm estimate, Width: 53.1 cm estimate
Object history note
Bequeathed by John Jones, 1882
Ref : Parkinson, Ronald, Catalogue of British Oil Paintings 1820-1860. Victoria & Albert Museum, HMSO, London, 1990. p.xix-xx
John Jones (1800-1882) was first in business as a tailor and army clothier in London 1825, and opened a branch in Dublin 1840. Often visited Ireland, travelled to Europe and particularly France. He retired in 1850, but retained an interest in his firm. Lived quietly at 95 Piccadilly from 1865 to his death in January 1882. After the Marquess of Hertford and his son Sir Richard Wallace, Jones was the principal collector in Britain of French 18th century fine and decorative arts. Jones bequeathed an important collection of French 18th century furniture and porcelain to the V&A, and among the British watercolours and oil paintings he bequeathed to the V&A are subjects which reflect his interest in France.
See also South Kensington Museum Art Handbooks. The Jones Collection. With Portrait and Woodcuts. Published for the Committee of Council on Education by Chapman and Hall, Limited, 11, Henrietta Street. 1884.
Chapter I. Mr. John Jones. pp.1-7.
Chapter II. No.95, Piccadilly. pp.8-44. This gives a room-by-room guide to the contents of John Jones' house at No.95, Piccadilly.
Chapter VI. ..... Pictures,... and other things, p.138, "The pictures which are included in the Jones bequest are, with scarcely a single exception, valuable and good; and many of them excellent works of the artists. Mr. Jones was well pleased if he could collect enough pictures to ornament the walls of his rooms, and which would do no discredit to the extraordinary furniture and other things with which his house was filled."
Historical significance: This painting is a copy after a composition by François Boucher formerly in private collection, Switzerland perhaps the same as the version now in the Honolulu Academy of Arts (8915.1) – an oval signed version was sold Christie's, New York, 6th Apr 2006, lot 331.
The painting depicts naked amorini or cherubs catching doves in a pastoral landscape. The composition appears in reverse, which suggests that 495-1882 was not made after the original painting but after the engraving made by Bernard François Lépicié in 1734. Although the original painting is square, the present copy was painted in an oval. Another square version of the same subject with variations is known in the Museum of Art, Rhode Island.
The original painting was originally part of a set of four large paintings made by Boucher for the lawyer François Derbais (Boucher, 1986) upon his return from Rome. Among these were The Cherub Fowlers, The Cherub Harvesters formerly in the Rothschild collection, Paris and currently in the Museum of Fine Arts, Houston (BF.1988.5), The Cherub Swimmers (a version of which is known at Weddeston Manor, England) and The Cherub Grape-Pickers (Private collection, Switzerland). They formed altogether representations of the four seasons: The Cherub Fowlers is clearly a representation of spring to which alludes the presence of doves (although it has been sometimes interpreted as 'summer' – see Boucher, 1986). In this regard, they may have been made as decorative panels to be inserted in the ceiling or over doors. Birds in general and doves in particular also symbolised love which is traditionally rekindled during spring. Moreover the gift of a caged bird from a man to a woman signified her capture of his heart.
Such subject matter suited perfectly the pastoral imagery and in fact the artist exploited further the theme in The Birds Catchers, The Getty Museum, Los Angeles (71.PA.38), in which he replaced the little cherubs with young couples in the act of catching birds..
595-1882 forms a pendant with 594-1882 which is a copy after The Cherub Harvesters. Boucher's The Cherub Harvesters and The Cherub Fowlers were indeed engraved by Bernard François Lépicié in 1734 and these engravings, interpreted as a set, most likely served as models for the V&A paintings. The other two paintings of the cycle were also engraved however by different artists: The Cherub Grape-Pickers by Fessart in 1741 and The Cherub Swimmers by Sornique and Aveline in 1741.
A tapestry derived from The Cherub Fowlers also appeared on the art market at the sale of the C. Lelong collection, Paris, 27 Apr.-1 May 1903.
These paintings from Boucher's early career anticipates somehow the pastoral imagery pervaded with putti, mythological figures, shepherds and shepherdesses in idyllic landscapes that would contribute to characterised the Rococo movement, of which Boucher became one of the greatest exponents.
These clearly late copies may have been done during the Rococo revival in the first half of the 19th century.
Historical context note
Pastoral is a genre of painting whose subject is the idealized life of shepherds and shepherdesses set in an ideally beautiful and idyllic landscape. These scenes are reminiscent of the Arcadia, the Antique Golden Age that the Roman author Virgil (1St BC) described in the Eclogues and were at the time illustrated on the Roman wall paintings. The pastoral was reborn during the Renaissance, especially in Venice, in the oeuvre of such painters as Titian (ca. 1488-1576) and Giorgione (1477-1510), and gradually evolved over the centuries. In the 17th century in fact, the Arcadian themes were illustrated in the Roman school led by the painter Claude Lorrain (1604-1682) whereas a century later, Antoine Watteau (1684-1721) and his followers forged the new genre of fêtes galantes, which appears as a derivation of the pastoral. The pastoral became the hallmark of the Rococo movement in which François Boucher's (1703-1770) elegant eroticism found his true expression. This tradition, which had became an illustration of the carefree aristocratic world, died with the French revolution and was never revived although the celebration of the timeless Mediterranean world in the oeuvre of such painter as Henri Matisse (1869-1954) may be seen as a continuing interest for the theme.
Descriptive line
Oil painting, 'L'Amour Oiseleur (The Cherub Fowlers)', after François Boucher, mid 19th century
Bibliographic References (Citation, Note/Abstract, NAL no)
Kauffmann, C.M. Catalogue of Foreign Paintings, I. Before 1800. London: Victoria and Albert Museum, 1973, p. 43, cat. no. 42
The following is the full text of the entry:
"François BOUCHER (1703-70)
French School
Born in Paris, he was a pupil of his father, a designer of embroidery, of François Lemoyne and of the engraver Jean François Cars. In 1725 he was commissioned by Jean de Julienne to undertake engravings after Watteau for the Figures de différents caractères de paysages et d'études. In 1727 he was in Italy with Carle van Loo and on his return in 1731 he became an agrée of the Académie. Three years later he was called to Beauvais to design tapestries and ultimately became Inspector of the Paris Gobelins factory after Oudry's death in 1755. He was a profilic and popular painter, working for Louis XV and Madame de Pompadour. In 1765 he was appointed Director of the Académie, and Premier Peintre du Roi in succession to Van Loo.
Boucher was the most important figure among the second generation of French rococo painters and he exerted considerable influence both in painting and in the decorative arts.
Lit. A Michel, Boucher, 1906; P. de Nolhac, Boucher, 1907.
After François BOUCHER
42
L'AMOUR OISELEUR (CUPID AS A BIRD-CATCHER)
Canvas
25½ x 21 (74.9 x 53.1)
Jones Bequest
495-1882
See no. 41
494-1882 and 495-1882 (no. 42) are copies of engravings after Boucher. These engravings by Madame Lépicié, are rectangular instead of oval, but are otherwise all but identical with the paintings (repr. La peinture décorative au xviiie siècle, ii, 1912, pl. 5; see also H. Voss, 'Boucher's early development' in Burl. Mag., xcv, 1953, p. 89, repr.
Prov. John Jones ; bequeathed to the Museum in 1882.
Lit. Long, Cat. Jones Coll., 1923, p. 2."
B. Long, Catalogue of the Jones Collection, 1923, p. 2.
H. Voss, 'François Boucher's early development' in The Burlington Magazine, vol. 95, No. 600 (1953), pp. 80-93.
For information on the original painting only, illus. fig. 59 and 60.
A. Ananoff and D. Wildenstein, L'opera completa di Boucher, Milan: 1980, cat. no. 62.
For information on the original painting only.
François Boucher, New York-Detroit-Paris: 1986, pp. 57, 127-29, fig. 98
For information on the original painting only.
Materials
Oil paint; Canvas
Subjects depicted
Landscape; Cupid; Doves; Pastoral; Ribbons; Cages
Categories
Paintings
Collection code
PDP