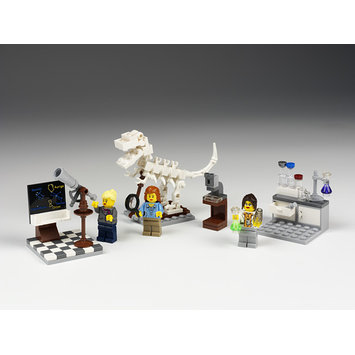 The Research Institute
Object:
Place of origin:
Date:
Artist/Maker:

Kooijman, Ellen (designer)

Materials and Techniques:
Credit Line:
Museum number:
Gallery location:
LEGO Research Institute
LEGO is a plastic construction toy consisting of interlocking plastic bricks and figurines known as minifigures. First manufactured in 1949, with minifigures introduced in 1978, LEGO is one of the world's most recognisable brands and currently the second largest toymaker, behind Mattel1. This set, the Research Institute, was produced by the LEGO Group after being proposed through the LEGO Ideas website.
LEGO Ideas began as an offshoot of Japanese website Cuusoo, an internet-based platform for members of the public to promote concepts for small-run products. If enough interest is shown through online votes, the product then enters a crowdfunding phase, followed by manufacture once enough pre-orders are placed. In 2008 Cuusoo launched a microsite in conjunction with LEGO, to crowdsource new LEGO sets. The site separated and became LEGO Ideas in 2014.
The LEGO Ideas concept works on the same basis to Cuusoo: members of the public propose designs made from existing LEGO pieces, photographing and posting the images on the website alongside a description of each set. The creator then needs to gather support. 10,000 votes from the online community qualify the project to go before the LEGO Review Board. The board is a set of designers and marketing representatives within the company who consider the suggested designs according to criteria including potential audiences, playability, safety and fit with the LEGO brand.
The Research Institute was proposed in April 2012 by geoscientist Ellen Kooijman, a self-identified 'Adult Fan of LEGO'. According to her blog she described having "noticed two things about the available LEGO sets: a skewed male/female minifigure ratio and a rather stereotypical representation of the available female figures"2. A Guardian article from 2014 quotes gender activist group SPARK which claims that only 16% of LEGO characters are female3. The Research Institute set features a palaeontologist, an astronomer and a chemist. The New York Times identified it as being the first LEGO set to present women in a non-gendered professional setting. In direct contrast to other LEGO sets, including the Friends series which is aimed at girls and has sets including a model catwalk, this set shows women in STEM (Science, Technology, Engineering, and Mathematics) careers.
Nevertheless, while each of the minifigures in the set have two facial expressions that can be displayed, both faces have lipstick. The illustrated images on their torsos that represent their clothing all have cinched-in waists. While Kooijman is very happy with the way that her creations have been interpreted, she has noted on her blog "that I strongly discourage wearing make-up in the lab, because it may cause contamination of the samples"4.
Dr Donna Yates, an archaeologist from the USA, created a twitter account for the LEGO set, using the female scientist figures to express the trials and tribulations of academic life. With over 50,000 followers, Yates articulated that it wasn't just the academic jokes that made the twitter account popular, but "the fact that these [LEGO figures] are female academics in normal academic situations, being normal scientists. I'm not making jokes about their gender, but normalising the idea of a female scientist. That's the reason I bought the set in the first place."5.
The Research Institute was acquired for the Design, Architecture and Digital department's Rapid Response Collecting strand. It was sought from the LEGO Group who donated it alongside the Exo Suit set, another early LEGO Ideas project, which was transferred to the V&A Museum of Childhood collections.
1. The Independent, (2013). Lego builds up to become world's No 2 toy maker. [online] Available at: http://www.independent.co.uk/news/business/news/lego- builds-up-to-become-worlds-no-2-toy-maker-8801044.html [Accessed 14 Oct. 2015]. Kooijman, E. (2015). Alatariel's Atelier: Female Minifigure Set. [online] Alatarielatelier.blogspot.co.uk. Available at: http://alatarielatelier.blogspot.co.uk/p/female-minifigure-set.html [Accessed 30 Sep. 2015].
2. Neate, Rupert. "Welcome to the Real LEGO Land: Rebuilding the Brand Brick by Brick." The Guardian. The Guardian, 29 Aug. 2014. Web. 1 Oct. 2015.
3. Kooijman, E. (2015) ibid.
4. Hamzelou, Jessica. "Life in LEGO: How Mini-figure Academics Went Viral." New Scientist. New Scientist, 27 Aug. 2014. Web. 1 Oct. 2015.
5. ibid. [online] New Scientist. Available at: https://www.newscientist.com/article/dn26107-life- in-lego-how-mini-figure-academics-went-viral/ [Accessed 15 Oct. 2015].
Physical description
Lego set, on board featuring three female scientist at own work stations, left hand work station is a chemist holding a beaker in her proper right hand and syringe in her proper left hand. Behind her is a work bench with one cupboard and two drawers with beakers attached. The middle work station is a astronomer, her work station includes a board with constellations and a telescope. The right hand work station is a palaeontologist holding a magnifying glass in her proper right hand behind her is a dinosour skelleton, with a microscope to the front of her work station.
Place of Origin
Denmark (manufactured)
Date
2015 (manufactured)
Artist/maker
Kooijman, Ellen (designer)
Materials and Techniques
Molded plastic
Dimensions
Length: 38 cm, Width: 28.5 cm, Height: 9.5 cm
Descriptive line
Lego set, three figured Lego set featuring female scientists - a palaeontologist, an astronomer and a chemist, designed by Ellen Kooijman, Sweden, 2015
Labels and date
27.08.2014
This Lego set is made up of three female scientists: an astronomer, a chemist and a palaeontologist.
The Research Institute was proposed by geoscientist Ellen Kooijman via the toy manufacturer's crowdsourcing platform Lego Ideas. An adult fan of Lego, Kooijman wrote on her blog that many Lego sets showed 'a skewed male/female minifigure ratio and a rather stereotypical representation of the available female figures'. Launched as part of the first six Lego Ideas sets on 1 August 2014, the Research Institute sold out within days.
The twitter account @legoacademics created by archaeologist Donna Yates uses the set to create scenes of academic life. For Yates the point is to show women scientists facing up to the frustrations of working life: 'that's part of the excitement surrounding the Lego set and the account – not just the academic jokes, but the fact that these are female academics in normal academic situations, being normal scientists.
Lego Research Institute
2014
Submitted to Lego Ideas by Ellen Kooijman, designed and manufactured by Lego
ABS plastic
Given by Lego
[27.08.2014]
Materials
Plastic
Categories
Rapid Response Collecting
Collection
Design, Architecture and Digital Department