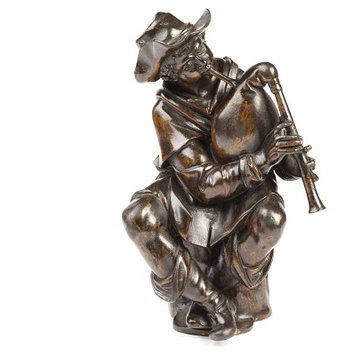 Seated boy playing the bagpipes
Object:
Place of origin:
Date:
Artist/Maker:
Materials and Techniques:
Credit Line:

Bequeathed by Dr W. L. Hildburgh

Museum number:
Gallery location:

Medieval & Renaissance, Room 62, The Foyle Foundation Gallery, case 16
It is known that a statuette of a Bagpiper was sent to Henry, Prince of Wales, in England in 1611 as a gift from the Medici during unsuccessful negotiations of a marriage contract. The motif is derived from an engraving by Albrecht Dürer (1471-1528) dated 1514 and is generally accepted as a model by Giambologna or a close follower such as his assistant and successor as sculptor to the Grand Duke of Tuscany, Pietro Tacca (1577-1640). Bronze statuettes such as this, were highly sought after by collectors at this time because they often provided smaller versions of large statues and coincided with an upsurge of interest in classical antiquity.
The poetic quality of this type of pastoral genre model clearly appealed to collectors at the time. Indeed, the model's similarity to Dürer's engraving of 1514 (currently in the Metropolitan Museum of Art, New York) which shows a standing, cross-legged Bagpiper, suggests that Giambologna perhaps owned a copy of the print. A tradition of such genre figures may already have been established north of the Alps before there was one in Italy.
Physical description
Bronze statuette of a seated boy playing the bagpipes. He wears a loose smock and a wide-brimmed hat and sits on the stump of a tree trunk with his body turned to the right and his legs crossed so that the bagpipes rest on his right leg.
Brown-orange natural patina, as seen on many Florentine bronzes of this period.
Place of Origin
Florence (city) (made)
Date
1590-1610 (made)
Artist/maker
Giambologna (after)
Materials and Techniques
Bronze
Dimensions
Height: 10.25 cm, Width: 6.2 cm, Depth: 5.6 cm, Weight: 0.36 kg
Object history note
This object was bequeathed in 1956 by Dr W.L. Hildburgh FSA.
Historical significance: The model for the Seated Bagpiper was one of Giambologna's most popular designs and was not only copied in bronze and ivory but also inspired many figures subsequently made in porcelain. The bronze reproductions, in particular, fall into two categories. There are rough casts, like that in the Ashmolean Museum, Oxford and the Wernher Collection, formerly located in Bedfordshire (and now on loan to Ranger's House) which are generally crude in their detailing and display minor variations such as no mouthpiece to the bagpipe, the hat being of slightly different shape, or the horn missing from below the figure's left hand. Yet while such versions are clearly inferior derivatives, they nonetheless have considerable character.
This particular reproduction, falls into the second category, which display far finer finish and surface delicacy. The diverging line in the folds of the tops of the boots, and the crisp hard angles of the drapery, which in some cases form curvilinear shapes, are greatly refined. With a higher level of chasing, details extend to a texturing of the hair and tree stump, and more expressive facial features, making it of notable quality. Given their almost identical size and complex interplay of angular forms, it is plausible that this statuette along with those in the Palazzo Venezia, the Museo Nazionale del Bargello, and the Fitzwilliam Museum are all from the workshop of Giambologna. This particular version has been attributed by Radcliffe to Pietro Tacca (1577-1640), one of Giambologna's assistants and successor as sculptor to the Grand Duke of Tuscany.
Historical context note
The first reliable reference to the bagpiper appears in a bill of lading in March 1611, recording a number of bronze statuettes shipped to England as diplomatic gifts from Cosimo II de' Medici to Prince Henry of Wales: "Uno Pastore che suona la Piva" (see Watson and Avery 1973). However, the model was possibly that referred to in a document of 1601 where it is described as "a silver figurine of a shepherd weighing 11.8 ounces" (approx. 0.334kg) but with no mention of bagpipes: "Une figuretta d'Arg(en)to di Pastore…pesc on. 11.8" (see Guardaroba Medicea Vol. 208). Relating to the Bagpiper, and also appearing on the 1611 list of bronzes sent to England, was a peasant resting on a staff - Uno Villiano che s'appoggia a uno bastone". Given the pose, showing the figure looking down, it has been suggested that these two figures may have been designed as a pair with the standing peasant listening to the seated performer.
Significantly, the lists of 1601 and 1611 are closely linked. The first, relating to four silver statuettes in the Galleria of the Uffizi, were sent out on loan by the Grand Duke to Antonio Susini, Giambologna's most talented Florentine assistant. These models were then reproduced in bronze, presumably in multiple copies given the number of existing versions, and a number were then sent to England, as noted in 1611. The models of the silver figures are doubtless by Giambologna, and in the inventory of Benedetto Gondi in 1609, for example, it states that the sculptor made at least one Pastorino. Moreover, they relate in theme to much of the garden statuary made for Francesco I de' Medici's villa at Pratolino, near Forence, much of which was designed by Giambologna.
The poetic quality of this type of pastoral genre model clearly appealed to collectors at the time. Indeed, the model's similarity to Dürer's engraving of 1514 (currently in the Metropolitan Museum of Art, New York) which shows a standing, cross-legged Bagpiper, suggests that Giambologna perhaps owned a copy of the print. A tradition of such genre figures may already have been established north of the Alps before there was one in Italy. A Bagpiper featured in the inventory of an Antwerp collector N.C.Cheus (1621): "een (figure) van moesler oft ruyspyper" (see Denucé, 1932)
Descriptive line
Statuette, bronze, a seated boy playing the bagpipes, after a model by Giambologna, Italy (Florence), ca. 1590-1610
Bibliographic References (Citation, Note/Abstract, NAL no)
Denucé, Jan, Inventories of the Art Collections in Antwerp in the 16th and 17th Centuries Antwerp, 1932.
Binnebeke, Emile von. Bronze Sculpture: Sculpture from 1500-1800 in the Collection of the Boymans-van-Beuningen Museum, Rotterdam, Museum Boymans-van Beuningen, 1994, cat. 19.
Penny, Nicholas Catalogue of European Sculpture in the Ashmolean Museum: 1540 to the Present day Vol I, Italian, Oxford, 1992. pp.56-57
Avery, Charles, Giambologna. The Complete Sculpture Oxford, Phaidon, 1987. pp. 47 cat. ill 110
Avery, Charles, and Radcliffe, Anthony, ed. Giambologna 1529-1608: Sculptor to the Medici London, Arts Council, 1978, pp.164 cat ill. 135
Holderbaum, James Guardaroba Medicea Vol. 208 Memoriale di Manifatori di Guardaroba 1611 in The sculptor Giovanni Bologna, 1959.
Watson, Katherine and Avery, Charles "Medici and Stuart: A Grand Ducal gif of Giovanni Bologna bronzes for Henry Prince of Wales (1612)" in The Burlington Magazine August 1973. pp. 493-507

Labels and date
[]
Production Note
after Giambologna
Materials
Bronze
Techniques
Cast
Subjects depicted
Bagpipes; Boy
Categories
Sculpture; Caricatures & Cartoons; Bronze
Production Type
Unique
Collection
Sculpture Collection