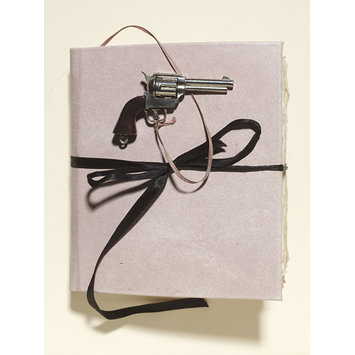 Giving fear a proper name : Detroit
Object:
Place of origin:
Date:
Artist/Maker:

Grant, Susan kae (artist)
Black Rose Press (publisher)

Museum number:
Gallery location:
Artist's book which explores the nature of phobia, based upon Grant's experiences as a resident of inner-city Detroit.
"In the Summer of 1979 I moved to Detroit, Michigan. The following images are interpretations of dreams, recollections, fears, nightmares and day to day experiences that were recorded in a journal from 1979-1981". from the introduction.
This small square book is bound in innocuous looking pink material, the only indication of the sinister content is a small cap-gun on the end of a ribbon for use as a book-mark.
The book contains miniature tableaux depicting phobias along with a text relating to the phobia. The depictions use a variety of disturbing materials, such as hair, pins and human teeth. The collaged illustrations have a photographic portrait element, lending them anatomical authority of a distinctly alarming nature.
Library's copy is no. 11, signed by the artist.
Physical description
Each double page opening comprises a text relating to a named phobia and a collage which consists of a black and white photograph of the artist overlaid and stitched through with pins, hair, nylon thread and wire.
Miniature cap gun attached with thread acts as a book mark.
"The photographs are contact prints from segments of the body that have been collaged, sewn, painted and probed. They also contain hair, teeth, a miniature telephone, barbed wire, and various other three dimensional objects" -- Artist's statement.
"The text is Palatino Roman printed on paper made by Blake Alexander. The boxes were constructed by Brad Metcalf. In a limited edition of fifteen..." -- Colophon.
The book is bound in pink cadillac car vinyl between boards in a hollow back binding and tied with black ribbon.
"Housed in a simulated bullet proof case" -- Artist's statement.
19 leaves
Place of Origin
Dallas (published)
Date
1984 (published)
Artist/maker
Grant, Susan kae (artist)
Black Rose Press (publisher)
Dimensions
Height: 15 cm
Descriptive line
Artist's book, 'Giving fear a proper name : Detroit', by Susan kae Grant, Black Rose Press, Texas, 1984
Categories
Artists' Books; National Art Library
Collection
National Art Library