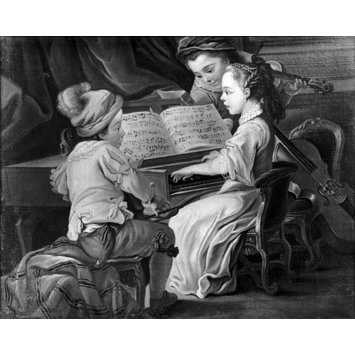 Vanloo, Carle, born 1705 - died 1765
An Allegory of Music; La Musique
Object:
Place of origin:

England, Great Britain (possibly, painted)

Date:

Late18th century- mid 19th century (painted)

Artist/Maker:

Vanloo, Carle, born 1705 - died 1765 (After, painter (artist))

Materials and Techniques:
Credit Line:
Museum number:
Gallery location:
Carle Vanloo (1705-1765) was born in Nice but rapidly joined his elder brother in Italy. In Rome, he was first trained by the painter Benedetto Lutti (1666-1724) and the sculptor Pierre Legros le jeune (1666-1719). Back in Paris in 1719, he studied at the Académie Royale, where he won first prize for drawing in 1723. He subsequently was awarded the Prix de Rome and spent several years in this city. Upon his return to Paris, he enjoyed a great success and produced paintings for the court and the Parisian high society. He was the friend and the main rival of François Boucher (1703-1770) and trained many important artists of the following generation such as Jean-Honoré Fragonard (1732-1806), Gabriel-François Doyen (1726-1806), Bernard Lépicié (1698-1755) and Louis Lagrenée (1725-1805).
This painting belongs to a set of four paintings illustrating four allegories embodied by children (Music, Architecture, Sculpture and Painting). The present painting shows the Allegory of Music. Carle Vanloo's original painting was conceived as a decorative over door panel for the Salon de Compagnie of Madame de Pompadour in her castle at Bellevue. It is a good example of fashionable French decorative art of the mid-18th century, which favoured the depiction of mischievous chidlren's play.
Physical description
Three children clustered around a harpsichord; one plays and the others listen.
Place of Origin
England, Great Britain (possibly, painted)
Date
Late18th century- mid 19th century (painted)
Artist/maker
Vanloo, Carle, born 1705 - died 1765 (After, painter (artist))
Materials and Techniques
Oil on canvas
Dimensions
Height: 76 cm estimate, Width: 97.7 cm estimate, Height: 92 cm framed, Width: 111 cm framed, Depth: 505 cm framed
Object history note
Bequeathed by John Jones, 1882
Ref : Parkinson, Ronald, Catalogue of British Oil Paintings 1820-1860. Victoria & Albert Museum, HMSO, London, 1990. p.xix-xx
John Jones (1800-1882) was first in business as a tailor and army clothier in London 1825, and opened a branch in Dublin 1840. Often visited Ireland, travelled to Europe and particularly France. He retired in 1850, but retained an interest in his firm. Lived quietly at 95 Piccadilly from 1865 to his death in January 1882. After the Marquess of Hertford and his son Sir Richard Wallace, Jones was the principal collector in Britain of French 18th century fine and decorative arts. Jones bequeathed an important collection of French 18th-century furniture and porcelain to the V&A, and among the British watercolours and oil paintings he bequeathed to the V&A are subjects which reflect his interest in France.
See also South Kensington Museum Art Handbooks. The Jones Collection. With Portrait and Woodcuts. Published for the Committee of Council on Education by Chapman and Hall, Limited, 11, Henrietta Street. 1884.
Chapter I. Mr. John Jones. pp.1-7.
Chapter II. No.95, Piccadilly. pp.8-44. This gives a room-by-room guide to the contents of John Jones' house at No.95, Piccadilly.
Chapter VI. ..... Pictures,... and other things, p.138, "The pictures which are included in the Jones bequest are, with scarcely a single exception, valuable and good; and many of them excellent works of the artists. Mr. Jones was well pleased if he could collect enough pictures to ornament the walls of his rooms, and which would do no discredit to the extraordinary furniture and other things with which his house was filled."
Historical significance: This painting is one of the many copies after the Allegory of Music currently housed in the Palace of the Legion of Honor, Fine Arts Museum of California (1950.12). It is part of a set of four paintings illustrating allegories of the four arts: Painting, Sculpture, Architecture and Music. The V&A owns a replica of each one (see 550-1882, 552-1882, 553-1882).
This Allegory of Music shows three small children clustered around a harpsichord; one plays and the others listen. The original set was conceived as over door panels for Madame de Pompadour's 'Salon de Compagnie' in her castle at Bellevue and were presented at the Paris Salon in 1753. They were extensively copied in the 19th century in different formats and were engraved, not in reverse, by E. Fessard as early as 1756. A set of four paintings (perhaps the originals but doubtful) was on the London art market by 1853 (sale Christie & Manson, 27-28 May 1853, lots 190-193). The V&A paintings could have been therefore executed either after the engraving or another painting and may be dated from late 18th century to mid 19th century.
This painting is a good example of Vanloo's decorative paintings, which are characterised by lingering Rococo mannerisms but also anticipate a re-orientation of French art towards the new style. Allegorical decorative panels were then fashionable and often involved children and naked putti such as in the art of Boucher who was Vanloo's main rival.
Historical context note
Decorative paintings originated in the Antiquity with frescoes, a technique that was reintroduced and developed in the late 13th century and the 14th century particularly in the work of the Isaac master, Giotto and his followers and perfected during the Italian Renaissance. In Florence and Venice, these compositions were also often executed on panels (spalliere) or canvases and then inserted into architectural elements directly carved or applied on the walls. This trend was exported to France and became particularly fashionable during the 17th and the 18th century under the patronage of enlightened kings such as Louis III and Louis XIV, followed by the Parisian high society. The Rococo period for instance favoured decorative scheme peopled by mischievous figures while the succeeding Neo-classical movement developed furnished interiors that combined Greek and Roman decorative and architectural sources in such examples as James Stuart's Painted Room in Spencer House, London (1759) and sought-after designs by Robert Adam which were circulating thanks to the publication of Works in Architecture of Robert and James Adam (London, 1773-9).
Descriptive line
Oil Painting, 'An Allegory of Music', After Carle Vanloo, late 18th century-mid 19th century
Bibliographic References (Citation, Note/Abstract, NAL no)
Kauffmann, C.M. Catalogue of Foreign Paintings, I. Before 1800. London: Victoria and Albert Museum, 1973, pp. 284-285, cat. no. 350
The following is the full text of the entry:
Carle (Charles André) VAN LOO (or VANLOO) (1705-65) French School
The Van Loos were a Flemish family of painters living in France. Carle was born in Nice, where he was instructed in art by his brother Jean-Baptiste (1684-1745). In 1714 he went to Rome, where he was the pupil of Benedetto Luti and of the sculptor Pierre Le Gros. In 1719 the two brothers went to Paris, where Carle continued his studies. He returned to Rome in 1727, worked for the King of Sardinia in Turin in 1732-34 and was back in Paris in 1734. He became an Academician in 1735, a professor at the Académie in 1737, director of the École Royale des Enfants Protégés in 1749, Premier Peintre du Roi in 1762 and director of the Académie in the following year.
Van Loo varied his style considerably, and painted portraits, landscapes and genre as well as mythological, historical and religious subjects.
After Carle VAN LOO
350
AN ALLEGORY OF MUSIC
Canvas
31 x 38 ½ (76 x 97.7)
Jones Bequest
551-1882
These four paintings 550/53-1882 (nos. 349-52) are probably 18th century copies of engravings after Van Loo. The original paintings were exhibited at the Salon in 1753, 'Les 4 Arts Liberaux', dessus de porte du château de Belle-Vue; they were engraved by Fessard in 1756. The engravings, which are shield-shaped, were dedicated to Madame de Pompadour and inscribed Tire du Salon de Compagnie du Chateau de Bellevue (repr. La peinture décorative au xviiie siècle, i, 1912, pl. 28). 550/53-1882 follow the engravings closely, differing only in shape and in minor details.
The four paintings from Bellevue were sold at Christie's, 28 May 1853, lots 190-93 and at Parke Bernet, New York, 4 May 1955, lots 67-70. There is a signed set in the Legion of Honour Museum, San Francisco. Various sets or partial sets, mostly, it would seem, derived from the engravings, have appeared on the art market. A complete set offour (circular) was sold at Christie's, 9 Mar. 1923, lot 93 (Wertheimer collection); another was with Messrs Durlacher in 1938; more recently Painting and Architecture were sold at Sotheby's (21 Feb. 1962, lot 128). The Museum possesses a small French 18th century enamel plaque (866-1873 in the Dept. of Ceramics) representing part of the painting of Sculpture, which was also probably derived from the engraving.
The theme was popular in 18th century France. Van Loo returned to it several times: La Peinture and La Sculpture were exhibited at the Salon in 1755 and there is an engraving of another representation of Music (repr. La peinture décorative au xviiie siècle, iv, 1912, pl, 48). Of Boucher's numerous representations of the subject (see Michel, Boucher, 1907, Catalogue pp. 48, 50 ff.; J. Guiffrey, 'Les Boucher des Gobelins' in Revue de l'Art Ancien et Moderne, vi, 1899, pp. 434 f., 438), a drawing of Sculpture dated 1761 has considerable affinity with Van Loo's version of 1753 (for the Boucher composition see Marquess of Lansdowne sale, Sotheby's, 25th Mar. 1920, lot II, repr., and P. de Nolhac, François Boucher, 1907, repr. p. 164.)
Prov. John Jones; bequeathed to the Museum in 1882.
Lit. Long, Cat. Jones Coll. , 1923, p. 43 f.
B. Long, Catalogue of the Jones Collection, London, 1923, p. 43 f.
Carle Vanloo, premier peintre du roi exh. cat. Nice, Musée Chéret, 1977, p. 71.
Materials
Oil paint; Canvas
Techniques
Oil painting
Subjects depicted
Boys; Music; Girl; Allegory; Curtains; Violin; Sheet music; Harpsichord
Categories
Children & Childhood; Paintings; Music
Collection code
PDP