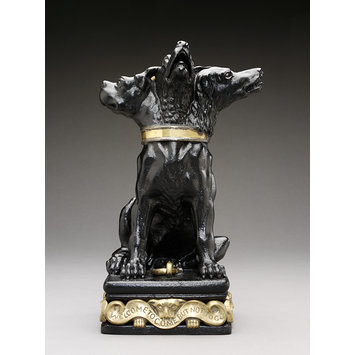 Door stop
Place of origin:

Sheffield (made)
London (designed)

Date:
Artist/Maker:

Bell, John (sculptor)
Stuart and Smith (maker)

Materials and Techniques:

Cast iron embellished with brass banners, inscribed.

Museum number:
Gallery location:
Physical description
Door stop or door porter, cast iron painted black with brass embellishments, modelled as "Cerberus", the three headed dog which in Greek and Roman mythology guards the gates of the Underworld. The three heads are of a bull dog, facing proper right, a bloodhound facing directly ahead and a deer hound facing proper left; the representation of the bloodhound is without the characteristic drooping ears. The body rests on its haunches, offset proper right with the tail looped around the right, rear leg and is supported on an oblong plinth, the upper edge with a plain moulding. Around the plinth on three sides is a scrolling, brass banner, interspersed with a stylised dog's head and paws and inscribed: "WELCOME TO COME BUT NO TO GO." Around the neck is a plain brass collar with moulded edges; at the back a brass eyelet to which is a brass, circular, loop handle. Between the front paws is a similar, but smaller brass ring attached to the plinth by a brass eyelet. Originally an oval linked chain was attached to the two brass loops.
Place of Origin
Sheffield (made)
London (designed)
Date
1848 (made)
Artist/maker
Bell, John (sculptor)
Stuart and Smith (maker)
Materials and Techniques
Cast iron embellished with brass banners, inscribed.
Marks and inscriptions
WELCOME TO COME BUT NOT TO GO
Inscribed on brass banners, attached to the base
Dimensions
Height: 32.4 cm, Width: 14.5 cm, Depth: 15.5 cm, Weight: 10.34 kg
Object history note
Cerberus in Greek and Roman mythology is a multi-headed (usually three-headed) dog which guards the gates of the Underworld, to prevent those who have crossed the river Styx from ever escaping. Cerberus was the offspring of Echidna, a hybrid half woman and half serpent and Typhon, a fire breathing giant whom even the Greek gods feared. The common depiction of Cerberus in Greek mythology and art is as having three heads. In most works, each respectively see and represent the past, the present and the future, while other sources suggest the heads represent birth, youth and old age. Cerberus was always employed as Hades' loyal watchdog and guarded the gates that granted access and exit to the underworld.
The career of John Bell (1811-1895) spanned over half a century of British Sculpture. Born in Norfolk, he came to London and enrolled at the Academy Art Schools in 1829 before exhibiting at the Royal Academy from 1832-1879. His work was noticed by Prince Albert, who became a friend and patron in the Society of Arts.

Bell was also a close friend of Sir Henry Cole who, with Prince Albert, conceived The Great Exhibition and the subsequent museums in Kensington, and it was through Cole that he was introduced to manufacturers. At the Great Exhibition Bell had pieces in the Sculpture gallery and in the industrial section with several exhibits by Minton and Coalbrookdale. The Minton models were in Parian porcelain, resembling marble, and he was the most prolific and popular exponent of this then new form of miniature sculpture. In his work with Coalbrookdale, Bell was the first and perhaps only sculptor to use cast-iron, with statues incorporated in fountains and gateways. John Bell carved muses and goddesses in marble which were bought by Whig Lords. He won commissions for public monuments around London and statues in Parliament and the Foreign Office. His proposal for a giant obelisk to commemorate the Prince's part in the Great Exhibition predated Albert's death but then became the first proposal for the Albert Memorial. He was still invited to make the highly acclaimed 'America' corner group of the memorial, recently restored and ceremonially re-opened by Queen Elizabeth in 1998.
One of the big names in mid-Victorian sculpture, Bell's reputation was gradually eclipsed in the 20th century, as indeed was traditional sculpture in general, until a recent awareness of its qualities, reflected in art studies and auction prices.
John Bell was closely associated with the early history of the V&A. There are various examples of his work held in the Prints and Drawings, Ceramics, Metalwork and Sculpture collections. These include the designs for the 'America' corner group of the Albert Memorial (E.545-547,-2008), figures in Parian (44-48,-1865), a bread knife and bread board for Henry Coles' Felix Summerly scheme (444-1865, 445&446-1865), an electrotype statuette of 'Eve' made by Elkingtons in 1853 (4332-1854) and a cast iron statue, 'The Eagle Slayer' ca.1851 made by the Coalbrookdale foundry and believed to be one of the very first statues made of cast iron (A.28-1959). It is currently on display in the Museum of Childhood.
Coalbrookdale clearly were not the only foundry supplied with designs by John Bell. The Sheffield foundry of Stuart and Smith had a stand at the Great Exhibition displaying not only this door stop but a cast iron fire grate which was commended for its design in directing the heat of the fire into the room and not, as in the common stove, up the chimney.
Felix Summerly was the pseudonym used by Henry Cole (1808-1882), civil servant, arts administrator and first Director of what is now known as the Victoria and Albert Museum, for his literary activities in the early 1840s and then applied to his venture into art manufactures between 1847 and 1849. Under this name he wrote handbooks to churches and public buildings such as Hampton Court and also published a series of children's books, Summerly's Home Treasury illustrated by William Mulready, Richard Redgrave, John Calcot Horsley, Henry James Townsend and others. Most of these artists were reunited as Cole's aides and designers in the Art Manufactures scheme.
Cole's initial interest in industrial design was kindled by the stained glass artist, Willement, who introduced him to the potter, Herbert Minton. The Society of Arts, since 1843 under the energetic presidency of Prince Albert, the Prince Consort, announced its intention of awarding prizes 'for the production of a tea service and beer jugs for common use.' Cole designed a tea service and two beer mugs which were made by Minton at his factory in Stoke-upon-Trent which won silver medals and prizes of ten guineas apiece. Encouraged by this success, Cole began in earnest to lay the foundations of his scheme with characteristic thoroughness. Townsend was commissioned as his first designer for the scheme. The artist engaged outside the initial Summerly circle and who became one of its most enthusiastic collaborators was the sculptor, John Bell.
In the Society of Arts competition of 1847, the Felix Summerly scheme enjoyed early success winning four out the ten gold medals on offer. But despite this the scheme soon began to draw criticism. All the risks and expenses incurred in producing the designs were made the responsibility of the manufacturer. Cole moreover insisted on a royalty on every article sold. Cole's sole contribution was the cost of publicity on which Cole did spend a considerable amount of money.
The basic weakness of the Summerly scheme was not however in the terms and conditions with the participating manufacturers but the almost total ignorance of Cole and his chosen designers of industrial processes. Their concept of design was still conditioned by the craft practices of a previous generation. Cole's formula, evidenced in the instructions to his artists, was to create 'pure' forms whose 'superior utility' was 'not to be sacrificed to ornament.' Following contemporary fashion, Cole advised that each Summerly article be decorated 'with appropriate details relating to its use' obtained 'as directly as possible from nature.'
Although Cole's artists followed his formula faithfully, the problem was that it did not concern itself with the means of production. In the hope of increasing sales of his Summerly products Cole made the additional mistake of trying to cover his costs by selling the same design several times over to different manufacturers. Naturally enough not all the designs translated well into other media and Cole became gradually disillusioned with the whole enterprise. Appointed Secretary to the Great Exhibition in 1849, Cole found his increasing administrative duties in this respect sufficient reason to abandon the Summerly project.

Descriptive line
Door stop, cast iron and brass, made by Stuart and Smith, Sheffield, designed and modelled by John Bell, ca.1848
Bibliographic References (Citation, Note/Abstract, NAL no)
Richard Barnes, John Bell, The Sculptor's Life and Works, Kirkstead, Frontier Publishing, 1999. p.34 ISBN: 1872914195
Nikolaus Pevsner, High Victorian Design: a study of the exhibits of 1851, London, Architectural Press, 1951, p.145. ill.
Summerly, Felix. Art-manufactures / collected by Felix Summerly, shewing the union of fine-art with manufacture, London, C. Whittingham, 1848, p.5. ill.
Shirley Bury, "Felix Summerly's Art Manufactures" in Apollo Magazine, Vol.LXXXV, 1967, pp.28-33.

Materials
Cast iron; Brass
Techniques
Casting; Engraving (incising)
Categories
Ironwork; Metalwork; Sculpture
Collection
Metalwork Collection