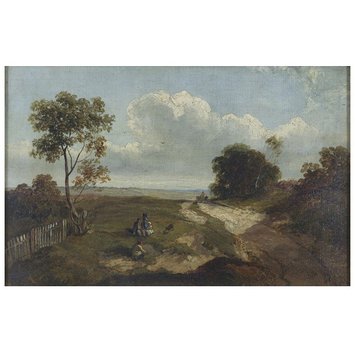 Crome, John, born 1768 - died 1821
Heath Scene with Figures
Object:
Place of origin:
Date:
Artist/Maker:

Crome, John, born 1768 - died 1821 (artist)
Norwich School (maker)

Materials and Techniques:
Museum number:
Gallery location:
Physical description
Figures are shown resting on a heath with a view across a vale to a large sky.
Place of Origin
England (made)
Date
19th century (painted)
Artist/maker
Crome, John, born 1768 - died 1821 (artist)
Norwich School (maker)
Materials and Techniques
Oil on canvas
Dimensions
Height: 11 in approx., Width: 17.5 in approx., :
Object history note
Purchased, 1876
Historical significance: This painting was attributed to the School of Crome when it was acquired in 1876. The son of a journeyman and weaver, John Crome (1768-1821) worked as a painter, printmaker and teacher. He was apprenticed to the coach sign painter Francis Whistler from 1783 to 1790. He presumably continued in this trade during the 1790s whilst he was consolidating his artistic training. Early influences on Crome came from the local artists William Beechey and John Opie. Crome also benefited from his friendship with the collector and amateur artist Thomas Harvey. Harvey's collection included works by Dutch seventeenth century masters including Jacob van Ruisdael (1628-1682), Meindert Hobbema (1638-1707) and Aelbert Cuyp (1620-1691), as well as eighteenth century British artists Richard Wilson (1713-1782) and Thomas Gainsborough (1727-1788). Exposure to these works through Harvey was to have a significant effect on the landscapes of John Crome. From 1792 Crome is documented working as an artist and also as a drawing master to the wives and daughters of local gentry. Whilst teaching drawing to the local gentry, Crome also took artists as pupils. His most famous pupils were James Stark and George Vincent. He was one of the founders of the Norwich Society of Artists in 1803 and worked predominantly in East Anglia. In 1802 he accompanied members of the Gurney family of Earlham Hall, Norwich, who were his pupils, on a tour of the Lake District. He only travelled abroad once, in 1814, to see the art collections brought to Paris by Napoleon. Establishing the chronology of Crome's oeuvre is difficult as he did not sign his paintings. His work is often confused with that of his eldest son, John Berney Crome (1794-1842). Although often criticized during his lifetime for the "unfinished" quality of his works, within a week of his death people were reported as being desperate to acquire the artist's paintings. This resulted in a high number of works by his followers and imitators being made during the nineteenth century.
Heath Scene with Figures employs both compositional devices and stylistic qualities that can be found in paintings of both Crome and other artists from the Norwich School. The location is characteristic of the landscape surrounding Norwich. It is very close in subject to the scene depicted in the painting by Crome of Mousehold Heath near Norwich in the V&A collection, museum number 232-1879. In Heath Scene with Figures, as with Crome's Mousehold Heath the composition looks across a distant landscape from the vantage point of the Heath. The landscape opening up to a large sky which dominates the top half of the canvas, recalls paintings from masters of the Dutch seventeenth century such as Jacob van Ruisdael (1628/9-1682).
The style of Heath Scene with Figures does not follow that of John Crome. The paint has been applied thinly in a sketchy manner, revealing the canvas beneath in some areas. This can be seen in the trees which, in the right distance, appear to be a mass of colour, whilst in the foreground their leaves are defined by loose strokes of paint. The group of figures are painted with dabs of different colours. A number of artists from the Norwich School, including Crome and Colkett, paint their figures in quite a sketchy manner (for example see Crome's A Woody Landscape, museum number FA.64). However comparison with works in the V&A collection and Heath Scene with Figures shows that in 268-1876 the figures are more awkwardly defined. On looking at the painting Dr. Goldberg suggested that it was the work of a Norwich School amateur (see note on object file from 1960). A comparison with the known works by Crome and other artists from the Norwich School support this. A leading figure in the Norwich School, Crome's popularity increased immediately following his death. This resulted in a large number of works being produced by followers and imitators in the years immediately following his death. The subject matter follows that of the Crome, suggesting why it was originally attributed to "school of Crome". However the style of representation, as Dr. Golberg suggested, is probably that of an amateur rather than a professional artist. The Norwich Society included amateur as well as professional artists. Considering the awkward style of this painting, particularly in the depiction of figures and the tree, it is likely that it is by an amateur working in the early nineteenth-century.
Historical context note
The Norwich School is a name applied to a group of Landscape painters working in the early nineteenth century who were associated with the Norwich Society of Fine Arts, established by John Crome (1768-1821) in 1803. The society was founded with the intention of "an Enquiry into the Rise, Progress and present state of Painting, Architecture and Sculpture, with a view to point out the Best Methods of Study to attain the Greater Perfection in these Arts." It included both professional and amateur artists. The society held exhibitions annually in Norwich from 1805-1825 and then from 1828-1833. The Norwich School was the first self-sustaining provincial artistic community in Britain. Its evolution was due to the relative insularity of both Norfolk merchants and gentry, who provided patronage through purchasing works as wells as employing many of the artists associated with the Norwich School as drawing masters for their wives and daughters. The artistic style of each artist within the Norwich School is often very different. For example the work of the two main figures in the Norwich School, John Crome (1768-1821) and John Sell Cotman (1782-1842) are very different. Crome's paintings, mainly produced in oil, reflect the influence of the Dutch seventeenth-century landscapes, whilst Cotman employs a more elegant topographical approach, often through the medium of watercolour. The Norwich School artists were united through their depiction of local landscape rather than the employment of a particular style. Crome was perhaps one of the most influential members of the school. This can be seen particularly in the work of his pupils George Vincent (1796-1832) and James Stark (1794-1859).
Descriptive line
Oil Painting, 'Heath Scene with Figures', follower of John Crome, 19th century
Materials
Oil paint; Canvas
Techniques
Oil painting
Subjects depicted
Sky; Figures; Landscape; Trees
Categories
Paintings
Collection
Prints, Drawings & Paintings Collection