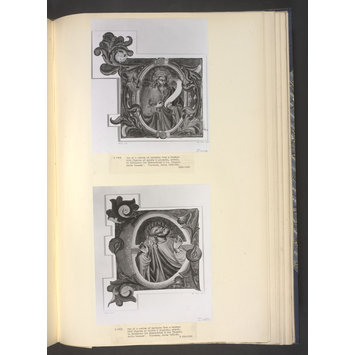 Gherarducci, Don Silvestro dei, born 1339 - died 1399
Historiated initial from a Gradual for the Camaldolese monastery of San Michele a Murano
Object:
Place of origin:

convent of Santa Maria degli Angeli (made)
Florence (made)
Italy (made)
Convent of Santa Maria degli Angeli (made)

Date:
Artist/Maker:

Gherarducci, Don Silvestro dei, born 1339 - died 1399 (illuminator)

Materials and Techniques:

Water-based pigment, gold leaf and ink on parchment

Museum number:
Gallery location:

Prints & Drawings Study Room, level E, case I, shelf 78, box A
Santa Maria degli Angeli in Florence, a monastery of the Camaldolese order, was the home of a number of scribes, painters and illuminators in the fourteenth and fifteenth centuries. They worked both for their own house and for other churches and even secular customers. Silvestro dei Gherarducci (1339-99) was active as a painter and illuminator in the abbey from the 1370s, though he also acted as sub-prior and prior. He illuminated works not only for Santa Maria degli Angeli but also for a Camaldolese house in Venice, San Michele a Murano. At this time, Venice was not a centre of illumination, In 1401, Dominican nuns wanting advice on the making of books were told by Giovanni Dominici a Dominican from Florence to study the choirbooks of Santa Maria degli Angeli, which contained Silvestro's work. Silvestro may have worked as part of a team with some ornamentation done by others. Illuminators such as Belbello of Pavia and Cristoforo Cortese were later employed on the choirbooks and it is through their careers in Venice that compositions and styles developed by Silvesto dei Gherarducci became used in that city.
Nineteenth-century enthusiasts altered medieval artefacts to suit their taste. Medieval illuminated manuscripts could be cut up to make them more marketable and pleasing to the collector. Choirbooks from San Michele a Murano in Venice were dismembered for their images. Single leaves survive, but also initials, as here, cut to shape. It is not known when the choirbooks were cut up. The Museum seems to have acquired this piece in the late 1850s.
Physical description
Historiated initial D with bearded Prophet holding a scroll, on burnished gold ground. The initial has foliage ornamentation in orange, green and pink and the prophet has a halo made up of a pattern of circles tooled into the gold.
Fifth - Sixth Sunday after Pentecost.
Text: [ne commo]vear. Co[m' Unam pe]tii a Domin[o], part of Offertory & Communion for 5th Sunday; on verso D[ominus fortitudo], Introit for 6th Sunday after Pentecost.
Place of Origin
convent of Santa Maria degli Angeli (made)
Florence (made)
Italy (made)
Convent of Santa Maria degli Angeli (made)
Date
1392 -1399 (made)
Artist/maker
Gherarducci, Don Silvestro dei, born 1339 - died 1399 (illuminator)
Materials and Techniques
Water-based pigment, gold leaf and ink on parchment
Dimensions
Height: 195 mm maximum, Width: 195 mm maxmimum
Object history note
Made in Florence at the convent of Santa Maria degli Angeli, for San Michele a Murano in Venice. Purchased on 22 June 1906 from Bernard Quaritch, together with twelve other cuttings from the same group of manuscripts (D.217 to 229-1906).
A duplicate number MS.981 was assigned to this object in error and was subsequently cancelled.
Seven fragments, whose date and place of acquisition are unknown, arrived at the South Kensington Museum by an early date; four (2868, 3045, 3074 and 3087) appear in a register recording the internal transfer from the Art Museum to the Library on 6 December 1863 of a group of 241 illuminations, and a further three are recorded in a similar transfer in 1874 (431, 432 and 434). The remaining thirteen cuttings (D.217 to 229-1906) were acquired on 22 June 1906 from Bernard Quaritch for a total cost of £60. Two of them depicting prophets were lost during the Second World War (D.220-1906 and D.223-1906).
Cuttings from the same set of graduals in the V&A collection: 431, 432, 434, 2868, 3045, 3074, 3087, D.217-1906, D.218-1906, D.219-1906, D.221-1906, D.222-1906, D.224-1906, D.225-1906, D.226-1906, D.227-1906, D.228-1906, D.229-1906.
This piece is part of a series of over fifty identified cuttings from two different graduals now distributed through various collections. Related cuttings are in: New York, Pierpont Morgan Library; Stockholm, National Museum; Berlin, Kupferstichkabinett; Paris, Musée Marmottan; Padua, Museo Civico; London, The British Library.
Historical context note
Background to Music and Christian Liturgy
Music was incorporated into the Christian Liturgy early on and had been influenced by the use of music in the synagogue. Plainchant (unison singing, originally unaccompanied) was the traditional music of the western Church and from about 1000, vocal polyphony (music with two or more melodically independent parts) was being practiced. Polyphony made certain chants of the Mass longer and more complex.
Different Types of Liturgical Music Manuscripts
Liturgical manuscripts with musical components were either used in the celebration of the Mass or the Divine Office and included the following:
MASS
(With the Divine Office the Mass forms the basis of Christian Liturgy. It centres on the Eucharist and was attended daily by those in religious orders, the clergy and, with varying frequency, by members of the laity)
Gradual - the principal choir book used in the mass.
Kyriale - the portion of a Gradual containing the ordinary chants of the Mass (i.e. the chants whose text remain unchanged throughout the ecclesiastical year)
Sequentiary - book (or portion of a Gradual or Troper) containing sequences (extended melodies) sung by a soloist between the alleluia and the Gospel lesson at Mass.
Troper - book containing tropes: musical and textual additions to the chants of the mass or divine office.
Missal - Service book containing the texts necessary for the performance of the Mass together with ceremonial directions (merged the Sacramentary, Gradual, Evangelary and for the performance of high or solemn mass the Epistolary).
DIVINE OFFICE
(With the Mass forms basis of Christian Liturgy. Cycle of daily devotions - the prayers of the canonical hours - performed by members of religious orders and the clergy)
Antiphonal (also called an antiphoner or antiphonary) - contains the sung portion of the Divine Office . It was often large in format so that it could be used by a choir.
Hymnal (also called a hymnary) - containing metrical hymns sung in the Divine Office and arranged according to the liturgical year. Could be included in a Psalter or Antiphonal as a separate section. Its contents were eventually incorporated into the Breviary.
Breviary - service book combining the various volumes used during the Divine Office (Psalter, Antiphonal, Lectionary, Colectar, Martyrology, Hymnal and others). Used from the 11th century onwards.
[A Choir Book is the generic term for a service book containing the parts of the Mass or the Divine Office sung by the Choir.]
The above is adapted from Brown, Michelle P. Understanding Illuminated Manuscripts: A Guide to Technical Terms. London, 1995.
Decoration
Medieval books had no contents page or index and as such decorative initials (and sometimes miniatures) were used as a means of signalling key divisions in the text or, in this case, music. There was a hierarchy to the decoration - the important/major initials might be historiated (that is, with a figurative picture) or elaborately decorated while the lesser/minor initials might be made of coloured letters on coloured or gold grounds, often with flourishing in ink of a contrasting colour or even simply a letter slightly larger than the main body of text and picked out in a contrasting colour (e.g. red or blue).
Descriptive line
Historiated initial D with a prophet, from a Gradual for the Camaldolese monastery of San Michele a Murano, Italy (Florence), 1392-1399.
Bibliographic References (Citation, Note/Abstract, NAL no)
p. 85.
Catalogue of illuminated manuscripts : Part II, Miniatures, leaves, and cuttings, by S.C. Cockerell and E.F. Strange (London: HMSO, 1908, 1st edition).
pp. 77-78 (as Siena, 15th century).
Catalogue of Miniatures, Leaves, and Cuttings from Illuminated Manuscripts. Victoria and Albert Museum. Department of Engraving, Illustration and Design, by S.C. Cockerell and C. Harcourt Smith (London: HMSO, 1923, 2nd edition).
George R. Bent, 'The Scriptorium at S. Maria degli Angeli and Fourteenth Century Manuscript Illumination: Don Silvestro dei Gherarducci, Don Lorenzo Monaco, and Giovanni del Biondo', in Zeitschrift für Kunstgeschichte 55. Bd., H. 4 (1992), pp. 507-523.
pp. 29, 49, 55.
Mirella Levi d'Ancona, The reconstructed "Diurno Domenicale" from Santa Maria degli Angeli, Florence: Centro Di, 1993.
pp. 155-176.
Kanter, L., B.D. Boehm et al. Painting and illumination in early Renaissance Florence, 1300-1450. New York, 1994.
no. 6.
Watson, Rowan. Vandals and Enthusiasts: Views of Illumination in the Nineteenth Century, London : Victoria and Albert Museum, 1995
pp. 453-521 (esp. pp. 475-486).
Gaudenz Freuler, Tendencies of Gothic in Florence: Don Silvestro dei Gherarducci (Florence: Giunti, 1997).
p. 92.
Watson, R. Illuminated manuscripts and their makers. An account based on the collection of the Victoria & Albert Museum. London, 2003.

Production Note
Made at the convent of Santa Maria degli Angeli, Florence.
Materials
Parchment; Pigment; Gold leaf
Techniques
Illumination; Writing
Subjects depicted
Scroll; Prophets
Categories
Christianity; Manuscripts; Religion; Images Online; Manuscript cutting; Music
Production Type
Unique
Collection
Prints, Drawings & Paintings Collection