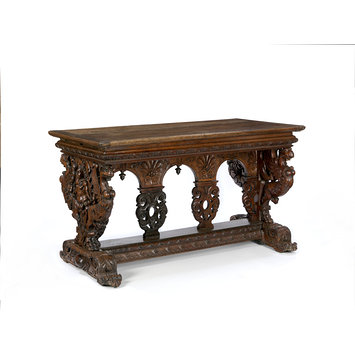 Table
Place of origin:
Date:
Artist/Maker:
Materials and Techniques:
Museum number:
Gallery location:

Medieval and Renaissance, room 62, case WN, shelf FS
This type of centre table with fixed supports was known from its fan-shaped supports as a table 'en éventail' (fan). Tables of this form have often been associated with Jacques Androuet Du Cerceau who published various, influential designs for similar tables from 1550, but he was not the inventor, since the form appeared in Italy from the 1520s, probably inspired by antique marble tables. Such tables were found in France by 1549, and the evidence of inventories suggests that they were considered highly fashionable in a well furnished room, and appropriate for dining, business or conversation with guests.Their impressive sculptural end pieces and their ornament derived from classical antiquity, distinguished them from the simple, standard trestle tables which had been used during the medieval period.
Physical description
Rectangular centre table 'en eventail' (with fan-shaped end supports). The top of joined, bread-board construction with a moulded edge, resting on mitred rails with a complex moulded edge and carved with lunettes with stylised acanthus. Each long rail has 2 angled mortises for lateral supports (now missing) that would have had to be fitted before the end rails were fitted. Each end rail has 3 cut outs suggesting it was fitted with a drawer leaf top at some point. The upper frame of rails supported on two matching end pieces, elaborately carved from a solid plank (about 9cm), built up in places, with traces of gesso and gilding; each end-piece formed by a youthful male term within and supporting a cartouche, and bearing a festoon of fruit, set on a pedestal with quatrefoil strapwork and a central oval boss, and grasping in each hand the tail of a harpy on lion legs and feet. Each end-piece is set on a projecting moulding with lunettes and corner gadroons, which rests on a single wide foot with double-scrolled ends, carved with low relief palmette and on the outside face a central oval boss, the whole foot set on two low rectangular pads. The two end pieces are joined at the top with a dovetailed central stretcher with 3 arches, carved with large palmette and acorn pendants below the keystones; which rests on two full, and two half pierced baluster supports which in turn rest on a lower stretcher (also jointed into the end pieces) with plain top and double ogee moulding carved with lunettes and gadroons.
Repairs and restoration
The table has apparently undergone substantial restoration before its acquisition in 1860, with the top restored (and recently conserved with locating blocks added), the upper rails probably replaced, judging by their lack of wear and movement, the lower stretcher completely replaced, one baluster replaced with a resin copy in about 1980, the acorns and baluster capitals apparently replaced, and various infill repairs to the arched stretcher and both feet. A dark stain appears to have been removed from both carved end pieces and the upper stretcher. From the evidence of cut-outs on the end rails, the table was fitted at some point with a draw-leaf top (as many tables of this kind are). A working hypothesis is that the top may be original, the rails replaced or adapted to take a drawer leaf top (now lost). It is possible that this table is not 16th century and restored, but constructed, probably 1800-1860 using matching end pieces of superb quality, combined with parts from other tables of a similar form and some 19th century elements. The evidence is not conclusive however, given the absence of a systematic study of surviving tables, the usual, extravagant combination of stylistic elements which make it difficult to judge on stylistic grounds only, and its current abraded surface. The degree of repair and restoration on this table is considerable, but not unusual in published tables of this form.
Place of Origin
France (made)
Date
1560-1600 (made)
Artist/maker
Unknown (production)
Materials and Techniques
Walnut, carved
Dimensions
Height: 80.2 cm, Width: 142 cm, Depth: 73.1 cm
Object history note
Bought for £40
Jules Soulages, from whose collection this table came was a lawyer and antiquary based in Paris, and later Toulouse who collected renaissance furniture from the 1830s. On the basis of a plaque attached to another piece of furniture in the V&A's collection, also owned by Soulages, some of his furniture was restored by Ladousse in the workshops of the Toulouse Institute of Deaf-Mutes. It is not known where or when Soulages obtained this table.
Pollen says: this table (and others) "belong to the class of furniture such as cabinets, dressers, dining-room presses, &c., specially designed by the architects of the day. The griffins, sphinxes, and other mythological animals that support this seem more or less to connect them with architectural facades or chimney-pieces."
For somewhat analagous design of the main end supports and the baluster supports set along the main stretcher, see the table at Musee de l'hotel Lallement (Bourges; Legs Dubreuil 1928, inv.928.3.4) in Crepin-Leblond no.23 (see below, Parures...), 86.5 x 149 x 87.5cm; attributed as French 16.3-4, and by Boccador to Ile-de-France (?). See also Musee des Beaux-Arts, Dijon, in Thirion, p.135 (91 x 170 x 88.5cm)
Historical context note
Thirion distinguishes this type of luxury table from simpler trestle tables of the kind widely used during the medieval period, and classes it as a piece of sculpture on account of its elaborate and distinctive end pieces, and he judges it to be one of the summits of furniture history in France. This type with fixed supports was usually known as a table 'en eventail' (fan-shaped). The type is often associated with Jacques Androuet Du Cerceau who published various, influential designs for such tables from 1550, but he was not the inventor, since the form appeared in Italy from the 1520s, probably inspired by antique marble tables. The type was however already found in France by 1549, and the evidence of inventories suggests that centre tables of this form, with their marked references to antiquity were considered fashionable, even necessary to the state rooms of the French elite, though there was considerable variety in their decoration, hardstone, marquetry and gilding all being used to enhance their impact. Bonnaffé suggests a Burgundy origin for the ostentatiously carved examples of this type, but the attribution should probably be taken with caution, as it seems likely that similar tables were produced more widely.
In Parures d' Or et de Pourpre. Le mobilier à la cour des Valois. (Blois, 2002), no.23, Thierry Crepin-Leblond suggests that such (unprovenanced) tables may be considered the descendants of royal tables.
See Bonnaffé (pp.177-194) for a summary of the use of the table, the 'indispenable accessory of all festivities', at which correct behaviour and manners were an obligation, and court ceremonial elaborate. Gilles Corrozet's Les Blasons Domestiques (1539) suggests the varied role of the (trestle) table in France during the 16th century:
Bright table, shining table, table/ well fitted to the chamber, table/ well polished every day, table/ supported on two trestles, table/ which arouses the desire to take/ savoury pleasure in every choice/ meat. Table necessary to all people./ Table dressed with a cloth prepared/ for eating & drinking. Set with/ precious dishes and delicious good/ wines. Table full of chatter, Table/ where the great banquet is held on/ feast days or wedding days, table/ where business is discussed: then/ peace, then war, then France, then/ England. Then virtue, then folly,/ table polished like a mirror: table/ where each man takes his meal, for/ nourishment in measure. Oh/ virtuous and distinguished table,/ table of wood, Oh handsome table…
Examples of such tables were sought after by late 19th century collectors, probably because of their ostentatious carving, and the demand of the market will have contributed to the creation of tables using old and new parts, and the restoration of original tables. Koeppe illustrates two such tables from the Metropolitan Museum of Art, one as an example of honest repairs, the other as an example of a 19th century creation based on printed designs by Du Cerceau.
Descriptive line
Table, made in France, 1560-1600.
Bibliographic References (Citation, Note/Abstract, NAL no)
Jacques Thirion, Le Mobilier du Moyen Age et de la Renaissance en France (Dijon, 1998)
Wolfram Koeppe, French Renaissance and Pseudo-Renaissance Furniture in American Collections, in Studies in the Decorative Arts/Spring 1994, pp.48-66
Les blasons domestiques by Gilles Corrozet, By Simon Jervis, in Furniture History (1989), pp.5-35
Edmond Bonnaffé, Le Meuble en France au XVI siecle (Paris and London, 1887)
J.C.Robinson, Catalogue of the Soulages Collection: being a descriptive inventory of a collection of works of decorative art, formerly in the possession of M. Jules Soulages of Toulouse; now, by permission of the Committee of Privy Council for Trade, exhibited to the public at the Museum of Ornamental Art, Marlborough House (London 1856), no.659
Pollen, J. H. Ancient and Modern Furniture & Woodwork in the South Kensington Museum (London, 1874), p.289
ROWE, Eleanor (ed.), Wood carvings from the South Kensington Museum. Folio IV. Domestic Furniture (London 1889), pl.LXXVIII
Production Note
restored, probably 1800-1860
Materials
Walnut
Techniques
Carving
Subjects depicted
Fruit; Acanthus; Festoons; Lions; Strapwork; Palmettes; Cartouches; Gadroons; Quatrefoils; Harpy
Categories
Household objects; Furniture; Woodwork; Sculpture; Entertainment & Leisure; Interiors; Eating
Collection code
FWK