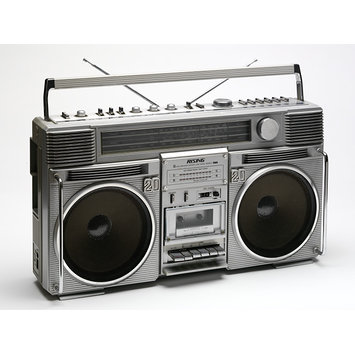 Rising 20/20
Object:
Place of origin:
Date:

ca. 1984 (designed and made)

Artist/Maker:
Materials and Techniques:

Injection-moulded polystyrene; stainless steel; aluminium; electronic elements (including wires, transistors and magnets)

Credit Line:
Museum number:
Gallery location:
Physically imposing and very loud, boomboxes were an unmissable act of autonomy and aggression, indeilbly linked to the 1980s street culture of New York City. This model, the Rising 20/20 dating from the early-mid '80s, is potent both sonically and physically. It is of typically robust construction: it sports steel crash bars at either end to protect the speakers, each of which has a 20 watt output across two channels.
Physical description
Rising 20/20 boombox radio with casette deck.
The case is constructed from two pieces of injection-moulded plastic; the front is silver, the back grey. It stands on two low moulded feet. At either end of its face is a stainless steel crash-bar, designed to protect the speakers. Along the top of the front is a long strip indicating frequency, and a needle which is operated by a large silver plastic dial to the right of this strip. The strip is covered by a panel of clear plastic. Below the tuning indicator are two rows of red LED lights covered by a panel of clear plastic. Beneath the LEDs are two oblong silver buttons; REC mute and OMS. Below these buttons is the cassette deck, which has a clear plastic front, and which is operated by piano-key controls just below it. At the left and right sides of the front are two large speakers covered with a black-painted metal mesh, above these are two smaller speakers.
The top of the boombox is decorated with an aluminium sheet, into which are set the main controls. From left to right they are: on/off button; a mixing dial; three mode/function switches; bass, treble and balance dials; cassette type switch; loudness button; volume dial; and buttons for FM muting, AFC, FM, SW1, SW2 and MW. Behind these, in a deep recess, is a dipole telescopic antenna. There is also a grey plastic handle, mounted on stainless steel brackets, which folds upwards from the back.
The antenna is selected and tweaked by a number of controls recessed into the casing on the proper-left side.
On the proper-right side, recessed into the casing, are ports for various line-ins. From top to bottom: external speakers; AUX; MIC; MIX MIC; external speakers; headphones. Beneath these are the voltage controls and ports for AC/DC power sources.
The back of the boombox has the manufacturer's label, stuck in the middle. At the bottom is a removeable panel for nine D-type batteries.
Condition:
The boombox shows many signs of general use; it is scratched and a bit dirty. The plastic back is also fairly yellowed and discoloured.

Place of Origin
Japan (made)
Date
ca. 1984 (designed and made)
Artist/maker
Rising (manufacturers)
Materials and Techniques
Injection-moulded polystyrene; stainless steel; aluminium; electronic elements (including wires, transistors and magnets)
Dimensions
Length: 61 cm, Height: 41 cm including handle, Depth: 17 cm including crash bars
Object history note
The object is a gift by Mr. Lyle Owerko, the leading American boombox collector, and author of The Boombox Project, a cultural history published in 2010. It is featured on the book's cover, which is a primary motivation for this choice from his collection. It is an unusually forceful rendition of the form, with 'crash bars' (to protect the speaker mesh, a detail bespeaking the vigorous use of such objects), stark graphic design, and two red lighting strips that flash according to the speakers' playback volume.

Historical context note
The boombox is an icon of 1980s urban street culture. Whether carried on the street, used as the music for a party, or featured in television and film, the boombox was potent both sonically and symbolically. First appearing in the mid-1970s, they became popular just as the Sony Walkman did, around 1980/1981 – an interesting occurrence of a technology being miniaturized and scaled up at the same time. From a technical point of view, the boombox improved on previous transistor radios by combining several functions in one device: a tapedeck, radio (this example with AM, FM, and two shortwave bands), sound control, and powerful speakers (this example putting out 20 watts in each of its two channels). This integration also allowed for recording from the radio, a microphone, or in some models, from tape to tape. So the boombox could be used like an amateur studio, to create a unique 'mix tape' that could be played at parties, or decorated and kept or given as a gift – an important everyday design practice in its own right. This boombox could be powered directly from a 13.5v car battery, allowing it to be used for more extended periods while outside.
But the physical presence of the boombox was what made it culturally important. These were big, heavy objects (made heavier by the D batteries that powered them), and playing them loudly in public was an unmissable act of autonomy and aggression. As the slang term 'ghetto blaster' implies, the boombox became indelibly associated in the 1980s with poor urban neighbourhoods, and with African-American hip hop culture in particular – a strong ethnic association that is unusual in product design. Though it did catch on elsewhere to some extent, New York City was the undoubted capital of the boombox, despite the fact that the leaders in manufacturing the radios were halfway around the world in Japan: firms like JVC, Aiwa, Rising and Toshiba.
Spike Lee's Do The Right Thing memorably places a boombox at the symbolic heart of its narrative of racism and neighbourhood identity. The otherwise silent character Radio Raheem plays Public Enemy at high volume, leading to a fateful confrontation with local Italians in Bedford-Stuyvesant, Brooklyn. This fictional rendition is echoed by the real-world backlash against the huge radios, which were sometimes targeted by police as public nuisances (a phenomenon that continues in laws passed today against loud car stereos).

Descriptive line
Boombox radio and cassette deck; 'Rising 20/20'; manufactured in Japan; ca.1984
Bibliographic References (Citation, Note/Abstract, NAL no)
Owerko, L. The Boombox Project: the Machines, the Music and the New York Underground (New York: Abrams, 2010)
p.100-101

Labels and date
[Gallery 76]
1. BOOMBOX RADIO AND CASSETTE DECK: 'RISING SRC-2015'
About 1984
First appearing in the early 1980s, boomboxes went against the prevailing trend of portable products becoming smaller. They had a large physical presence and powerful speakers. Carrying a boombox playing loud music in a crowded city was seen as a demonstration of freedom and independence, but also of aggression.
Japan
Manufactured by Rising
Steel, ABS plastic and polystyrene
Given by Lyle Owerko
Museum no. W.21-2011
[2015]
Materials
Polystyrene; Stainless steel; Aluminium; Electrical
Techniques
Injection-moulding
Categories
Electrical appliances; Product design; Audio equipment; Plastic; Entertainment & Leisure
Production Type
Mass produced
Collection
Furniture and Woodwork Collection