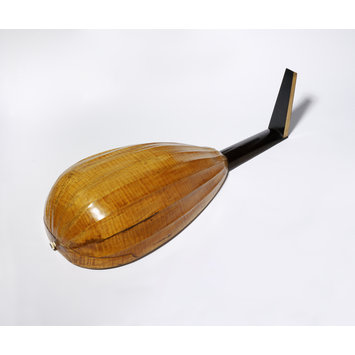 Lute
Place of origin:
Date:
Artist/Maker:
Materials and Techniques:

Planed and glued ribs of figured maple

Museum number:
Gallery location:

Medieval & Renaissance, Room 64, The Wolfson Gallery, case SS, shelf 2 []
Only the ribs of this lute are original, and they were made by Laux Maler, who worked between 1518 and 1552 in Bologna. He was perhaps the greatest maker of lutes of his day. He worked in partnership with his son Sigismund, and like so many fellow luthiers based in Italy, he was of German origin. Owners of his lutes included the Fuggers of Augsburg (Germany), bankers to the Holy Roman Emperor, and later King Charles I of England, who paid as much as £100 for his. As late as 1727 Maller was haled by E.G.Baron of Nuremberg as 'without doubt one of the oldest and best masters'. Owing to its size, this instrument is thought to have been tuned three semitones below the standard tuning (i.e. E instead of G) and to have played in an ensemble rather than solo. The lute was made of maple, which is an excellent tone-wood and considerably cheaper and more functional than ivory. Given this choice of material, it is likely that the lute was made for a professional rather than princely player.
Physical description
The lute is made up of eleven ribs of figured maple, held togoether with vellum, cloth and glue. The label immediately below the hole is inscribed Laux Maler but is not dated. Strips of vellum, used to reinforce the glue-joints, are covered with indecypherable gothic script. The neck and head-stock were probably added in about 1967 in preparation for display in May 1968.
Extract from a lecture by V&A conservator Reg Dee "Restoration of musical instruments 1964 – 68" at the UKIC/ V&A Christmas Symposium on Early Musical Instruments, 15th December 1983:
"During the course of the conservation/ restoration programme, it became apparent that certain instruments had been reconstructed during the l8th century in order to look 'modern'. For example, the lute by Max Unverdorben (Venice, mid-16th century) (193-1882) and also that by Laux Maler (Bologna, 16th century) (194-1882) were fitted with a guitar neck and belly to give them a more fashionable shape, able to play the contemporary music of that period. Unverdorben was probably a pupil of Maler. The Unverdorben lute differed from the Maler in that the bowl, decorated in ebony, fruitwood and ivory mosaic patterns, was built on a parchment mould, whereas the Maler bowl was built up on wooden ribs of sycamore. With time, the Unverdorben had caved in, while the Maler had split along the grain of the wooden ribs. On the Unverdorben, the base of the instrument had been pressed in (nearer to a guitar shape) and decorated with a pair of fan-sticks made of horn. These "foreign bodies" had to be removed before the re-shaping to the original line could take place. Once an internal lining of a later date was removed, a new pine lining (c .1 1/4" wide) was glued on the inside to hold the base out to its original line. After this work was completed a mock-u p neck and finger-board were constructed and fitted to this instrument and later a new belly in pine. Restoration of the damaged/ missing mosaic surface was undertaken in the relevant materials. The Maler was also given a new neck and fingerboard. These reconstructions, returning the two lutes to their 16th century shapes, were made for the benefit of students to enable them to gain an impression of how the instruments would have looked."

Place of Origin
Bologna (made)
Date
ca. 1540 (made)
Artist/maker
Maler, Laux (maker)
Materials and Techniques
Planed and glued ribs of figured maple
Marks and inscriptions
'Laux Maler'
This is written on a label on the ribs, immediately below the soundboard of the instrument
Dimensions
Length: 56 cm, Width: 33 cm, Depth: 16.8 cm
Object history note
This instrument was part of the collections of Carl Engel, which were sold to the South Kensington Musem for £555 - 6 - 0, just before his death by suicide in 1882. The neck, peg-box and soundboard were added in about 1967, before being put on display in the New Musical Instrument Gallery in 1968.
Historical significance: Laux Maler (d. 5 June 1552) was a highly succesful German lute maker, who worked with his son, Sigismund, in Bologna from about 1518 and is estimated to have produced up to 4,000 lutes. Owners of his instruments included the Fugger family, bankers to the Holy Roman Emperor, whose 1566 inventory refers to an "old but good lute by Laux Maler" (Eine alter gute Lauten von Laux Maler), and King Charles I of England, who acquired one for the large sum of £100. This instrument is made up of eleven ribs, a characteristic associated with his son, Sigismond. By the 17th century, the ribs had become narrower and their number had multiplied, giving the bodies a less polygonal and more rounded shape. Therefore Laux Maler's lutes appeared to E.C.Baron, writing in 1727, to be 'flat and broad-ribbed', a shape that was then being revived by J.C.Hoffman in Leipzig.
Historical context note
'Use to describe how and in what circumstances this type of object would used as other circumstantial events relating to this object type.'
Being able to read music and play instruments well was considered the mark of an educated man, and the lute was likened by philosophers to Apollo's lyre and therefore considered particularly suitable for a gentleman, during the 16th century. (Although ladies did play lutes, there were those who considered keyboard instruments more suitable as they were thought less likely to give them round shoulders!) The size of this instrument indicates that it would have been played about three semitones below the standard tuning and most likely used in continuo - i.e. in an ensemble of musicians - rather than solo playing. Maple is an excellent tone wood for stringed instruments, and the plain but well-assembled quality of the ribs indicates that this instrument was originally made for a professional musician rather than a prince, who would as likely have used ivory.
Before about 1550, the finest Lute Music was composed in Italy, and perhaps the most famous amongst them was Francesco da Milano (1497 - 1543), known as 'Il Divino'. At that time, Bologna was reputed to make the finest lutes, and the greatest makers from that city, Laux and Sigismund Maler and Hans Frei, were of German origin.
Descriptive line
The lute is made up of eleven ribs of figured maple, held togoether with vellum, cloth and glue
Bibliographic References (Citation, Note/Abstract, NAL no)
Stanley Sadie (ed): The New Grove Dictionary of Musical Instruments. 3 Vols. (London, MacMillan, 1984), Vol. II, pp. 599 - 600.
M.W.Prynne: "The Old Bologna Lute-makers", Lute Society Journal V, 1963, p. 18.
Ajmar-Wollheim, Marta and Flora Dennis, At Home in Renaissance Italy, London: V&A Publishing, 2006.

Labels and date
Lute
Laux Maler
early 16th century
Made by one of the most prominent lute-makers in this period, only the back of this instrument is original. Lutes were the most widely-owned musical instruments in this period, found in the homes of patricians, but also of many artisans. When not in use, they could be kept in wooden cases or hung facing the wall.
Bologna
Sycamore
V&A: 194-1882 [5 Oct 2006 - 7 Jan 2007]
Materials
Maple
Techniques
Planing; Gluing
Categories
Musical instruments
Collection
Furniture and Woodwork Collection