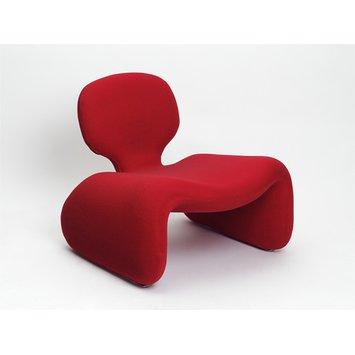 Mourgue, Olivier, born 1939
Djinn Chair
Object:
Place of origin:

Paris (designed)
France (manufactured)
Montreuil-sous-Bois (manufactured)

Date:

1963 (designed)
1964 (manufactured)

Artist/Maker:

Mourgue, Olivier, born 1939 (designer)
Airborne (manufacturer)

Materials and Techniques:

Tubular steel structure with rubber webbing (Pirelli), polyurethan foam, and red jersey cover (stretch wool from Bernard Joliet), chrome metal, zippers

Museum number:
Gallery location:

On short term loan out for exhibition
The Djinn chair is an icon of 1960s futuristic design, because it was featured in interiors of the influential science fiction movie '2001: A Space Odyssey', made by Stanley Kubrick in 1969. By then the chair was already seven years old, having been designed in 1963 by Olivier Mourgue when he was just twenty-four. The organic, one-piece form of the chair appears to have been cut and folded from a single piece of material and this feature relates it to many others designs of chairs from the1960s. Mourgue's innovation was to upholster the entire chair. The extremely low seat meant the Djinn chair was for lounging upon, rather than for more formal sitting, reflecting the increasingly relaxed social mores of the decade. The chair was complemented by the Djinn chaise longue, an even more relaxing daybed conceived and constructed along similar lines. An example is in the V&A's collections (see Circ.201-1969).
Physical description
One piece chair entirely padded and covered with red jersey upholstery (original), the left and right side panels continuous with the seat, the shield-shaped back panel continuous with the back of the seat.
A long steel tube (22 mm diameter) was welded and bent into a wide rectangular with rounded corners to form a seat. Below the bend of the sides an individual tube connects front and back tube to support the sides of the chair. In about the middle of the back of the seat two single tubes are welded into the tube to hold a small tube rectangle serving as the chair's back rest. The finish of seat and back tubes is black matte. Seat and back rest are covered with webbing (Pirelli, rubber straps) fixed with round metal rivets at both ends. The vertical metallic straight parts on each side are covered with strong canvas which is glued. Individual layers of polyurethane foam are glued (35mm on top and bottom) to sandwich top and bottom of seat with sides as well as the back. The polyurethane sandwich form a continuous shape. The whole chair is then slipped into a removable jersey top cover (wool jersey with elastic mesh in both directions) closed with zippers running from the bottom of the back rest all way down on both sides. A small chrome metal skid, which ends are slightly curved up, are screwed with two metal screws under each of the sides to protect the cover. Beneath the ski bases runs another zip.
Place of Origin
Paris (designed)
France (manufactured)
Montreuil-sous-Bois (manufactured)
Date
1963 (designed)
1964 (manufactured)
Artist/maker
Mourgue, Olivier, born 1939 (designer)
Airborne (manufacturer)
Materials and Techniques
Tubular steel structure with rubber webbing (Pirelli), polyurethan foam, and red jersey cover (stretch wool from Bernard Joliet), chrome metal, zippers
Dimensions
Height: 66.5 cm, Width: 67 cm, Depth: 70 cm
Object history note
The Djinn chairs (1965) became well-known for furnishing a futuristic rotating Hilton hotel in space in the film '2001: A Space Odyssey' by Stanley Kubrick.
According to Olivier Mourgue's website (http://www.oliviermourgue.com/ 17/11/2011): Mourgue named the chairs 'Djinn" which in Muslim legend means a spirit often capable of assuming human or animal form and exercising supernatural influence over people. Morgue also claims that Kubrick destroyed all the sets and props of '2001: A Space Odyssey', afraid that they might fall into the hands of lesser directors.
According to correspondence with Olivier Mourgue (6 August 2012):
With the Djinn chair, Mourgue was looking for a light chair that could be carried under the arm, hence it is very light weight chair. 'There was an idea of playfulness, of a family of different models and of travel. Children were particularly sensitive to the soft and comfy texture and would hide underneath in little dens. Like a piece of clothing, one could easily change the covers, with the zipper, to wash them.' Mourgue mentions: 'There was a concept of recycling of the materials and components of the chair.' (see correspondence with Jana Scholze, 6 August 2012)
There were two phases of production:
1. 1964 to 1970: back made from tubes
2. from 1970s onwards: back made of laminated plywood
The stretch wool or jersey was from Bernard Joliet and was available in 15 different colours.
There was no calico or other lining between straps and foam of the seat as well as nothing between foam and wool jersey.
Historical context note
Djinn furniture was used as props for the film by Stanley Kubrik: 2001: A Space Odyseey' (1968).
Descriptive line
Djinn Easy Chair, designed by Oliver Mourgue, manufactured by Airborne, 1963
Labels and date
'Djinn' chair
1963
Olivier Mourgue (born 1939)
France
Manufactured 1964 by Airborne, Montreuil-sous-Bois
Tubular steel
Upholstery (original): polyurethane foam and jersey cover
Museum no. Circ.202-1969
Polyurethane foam is an aerated synthetic material. It was developed for seating in the 1950s as a cheaper and easier method than stuffing or springs.
The organic form of this chair appears to be a single piece of cut and folded material. In fact, under the stretchy cover, a steel structure and webbing support polyurethane foam wadding, cut to shape from blocks.
[01/12/2012]
Materials
Tubular steel; Polyurethane; Wool jersey; Chrome metal
Techniques
Upholstered; Welding; Bending; Webbing; Glueing
Categories
Furniture; Plastic
Production Type
Mass produced
Collection
Furniture and Woodwork Collection