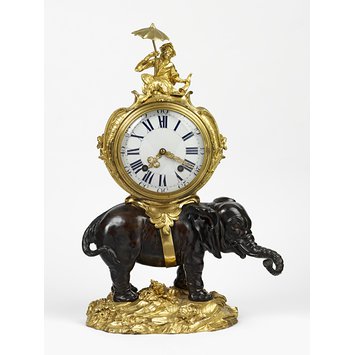 Table clock
Place of origin:
Date:
Artist/Maker:

Caffieri, Philippe (sculptor)
Caffieri, Jacques (sculptor)
Philippe Caffieri

Materials and Techniques:

Gilded bronze, the dial possibly re-enamelled in the nineteenth century; cast bronze elephant.

Credit Line:
Museum number:
Gallery location:

Europe 1600-1815, Room 3, case CA14
Elephant table clock, the case and movement signed by different craftsmen. The case proclaims it was 'made by Caffieri', while the movement is signed by Jerome Martinot (1671-1724), the enamelled dial has been signed on the back by Antoine-Nicola Martinière and a spring in the movement has the signature of 'Magny' (perhaps Alexis Magny). The number of signatures reflects how such clocks were assembled by 'marchands merciers' (or 'luxury goods merchants') in Paris who commissioned works of art which combined contrasting luxury materials including bronze, horn, porcelain and ormolu. Such elaborate clocks often included an organ in the base, although this does not survive for the V&A example. Other mid-eighteenth-century clocks incorporate elephants in ormolu (gilded bronze) or Meissen porcelain, or lions in Chinese porcelain. Only three clocks cast entirely in bronze like this one have survived, and it has been argued that the V&A clock is the earliest example. Although the surface chasing on the V&A's example is not of the highest quality, this may be explained by the later regilding which covers the original chased surface. When it entered the Museum in 1882, the clock stood on a later ebony base with gilded bronze mounts and the dial, despite Martinière's eighteenth-century signature, may well have been re-enamelled in the nineteenth century.
The different craftsmen responsible for this clock all enjoyed royal or aristocratic patronage. The spring-maker Alexis Magny (1712-circa 1793) was mechanical engineer to the Bonnier de la Mosson (d. 1744), patron of the arts and treasurer of Languedoc, and made over 40 instruments for de la Mosson's scientific cabinet. Jerome Martinot was Valet de Chambre-Horloger Ordinaire du Roi to Louis XIV in succession to his father Jean Martinot with whom he worked until 1702. Jerome Martinot's most famous creation was a moving armillary sphere made in co-operation with Thomas Haye, a celebrated manufacturer of scientific instruments. The sphere was displayed in the small gallery at Versailles and Martinot was paid 400 Louis d'or from the king's private purse for the work which was presented to the king on 28th February 1701. Jerome Martinot was certified insane in October 1718 and was succeeded by his son Jean as Valet de Chambre-Horloger du Roi and Gouverneur du Grand Horloge du Palais. Both father and son lived under the Grand Horloge. It is likely that the movement, although signed by Jerome Martinot was supplied by his son Jean who regularly produced clocks for the royal household and used cases by J.Caffieri, E. J. Gallien, J.J,.de Saint Germain and A. L. Duval. Antoine-Nicolas Martinière established the techniques of enamelling large dials in the 1730s and also continued to provide enamelled dials for watches. He received a royal pension from Louis XV. His enamelled plan of the battle of Fontenoy, signed and dated 1747, was in Louis XV's private collection. Jacques Caffieri (1678-1755) was the son of Italian sculptor Philippe Caffieri (1634-1716), who served Louis XIV. Jacques became a master-founder ('maître fondateur-ciseleur') in 1714, and worked on important commissions for the French king. He was responsible for the gilded bronze mounts on a commode made in 1739 for Louis XV's bedchamber, and in 1742 he made two of the principal gifts that were presented to the Turkish Sultan Mahmoud I on his visit to Versailles. Jacques was acutely conscious of his status as an artist, and was careful to sign the elaborate mounts and cases he made for furniture and clocks, as well as the portrait busts on which his reputation as an artist rests. In 1747 he entered into partnership with his son, Philippe (1714-1774), and it is not certain which of them was responsible for the case and assemblage of this clock.
Physical description
Case: The drum of chased gilded bronze, scroll design, surmounted by the seated figure of a draped monkey holding up a parasol with his right hand and a horn in his left; the drum rests on the back of a bronze elephant standing on a base of gilded bronze rockwork. The quality of the chasing is very high; the central plant on the base has been cast as a separate feature. The slightly reddish patina of the elephant is characteristic of 18th century work. A rectangular ebony stand with gilded bronze mounts that accompanied the clock when it entered the collection is probably a later addition.
Dial: 17.8cm (diameter), white enamel, with all marking in blue. The hours are written in roman numerals, with large arabic numerals outside every fifth minute. Large winding holes are pierced to the lower corners of III and VIII. There is a small regulator hole in the centre of XII, with pierced gilt-brass hands.
Movement: Both trains with large going barrles. The going train is to the right, with a verge escapement and crutch attached to the pivoted verge. The pendulum, 23.8m (long), has a lenticular bob, 3.5cm (diameter), resting on a square rating nut, and suspended from a loop of cord one end of which can be wound up. The locking-plate striking train is to the left, with an external count-wheel coaxial with a second wheel of the striking train, allowing for a single stroke every half-hour.
Place of Origin
Paris (made)
Date
1742-1745 (made)
Artist/maker
Caffieri, Philippe (sculptor)
Caffieri, Jacques (sculptor)
Philippe Caffieri
Materials and Techniques
Gilded bronze, the dial possibly re-enamelled in the nineteenth century; cast bronze elephant.
Marks and inscriptions
Engraved on the case, below the clock face, in French: 'fait par Caffieri'
'Made by Caffieri'
The case is signed and the signature is attributed to Philippe Caffieri (1714-1774); the second generation of the same family to work as bronze-casters in Paris.
Engraved on the movement, in French:
'Jerome Martinot AParis'
'Jerome Martinot, in Paris'
Painted on the back of the enamelled dial: 'Antoine-Nicola Martinière, 1742'
Engraved on a spring, 'Magny 1743'.
Dimensions
Height: 65 cm, Width: 44 cm, Depth: 29 cm 30cm max.
Object history note
This clock was among a large collection of furniture, porcelain, metalwork, paintings and books owned by the tailor and businessman John Jones, and kept in cramped conditions at his house at 95, Piccadilly. In his will of 4 December 1879 and in a codicil of 22 January 1880, Jones bequeathed the objects to the South Kensington Museum, and they were transferred there after his death in 1882. The Handbook to the Jones bequest, published in 1883, marvels at the value of the gift, which seems still not to have been displayed to best advantage: 'Probably a large majority of those who visit the Jones collection will be indisposed to believe ... that so limited a space as three not large galleries in the Museum can contain furniture and decorative arts worth no less than a quarter of a million of money'. Jones' principal collecting interests lay in French eighteenth-century furniture and decorative arts, of which this clock is a splendid and rare example, as well as reflecting the late-Victorian love of rich, gilded surfaces and historical artistic styles. One of sixteen clocks bequeathed by John Jones to this museum.
Descriptive line
Clock in the form of an elephant, gilded bronze, French, 1742-1755 (with later alterations), the case by Jacques or Philippe Caffieri, the movement signed by Jerome Martinot, the striking train signed by ?Alexis Magny and the dial signed by A.-N. Martinière
Bibliographic References (Citation, Note/Abstract, NAL no)
Baarsen, Reinier. Paris 1650-1900, Decorative Arts in the Rijksmuseum. New Haven and London: Yale University Press, 2013. ISBN: 9780300191295. Messrs. Foster, Inventory of the Collection of Pictures, Miniatures, Decorative Furniture, Porcelain, Objects of Art, Books formed by the late John Jones, Esq of No 95 Piccadilly And bequeathed by him to the Trustees of the South Kensington Museum for the benefit of the Nation, p.25 no.364; Catalogue of the Jones Collection Part II, 1924, London: Printed under the authority of the Board of Education, 1924, no.253, p.65.
King, William, et al. Catalogue of the Jones Collection, Part II, Ceramics, Ormolu, Goldsmiths' Work, Enamels, Sculpture, Tapestry, Books and Prints. V&A Publication, no. 157. London: Printed under the authority of the Board of Education, 1924, no.253, p.65 plate 56.
Charleston, R. J. Meissen and other European porcelain, The James A De Rothschild Collection; Ayers, John. Oriental porcelain. [A catalogue of the James A. de Rothschild collection at Waddesdon Manor.] Fribourg: Office du Livre; London: National Trust, 1971. ISBN 0900562684
Verlet, Pierre. Les Bronzes Dorés Français du XVIIIe siècle. Paris: Picard, 1987. ISBN:
Christie's Paris, sale 5489, Important mobilier et objets d'art, orfèvrerie et céramiques européennes, dont cinq chefs-d'oeuvre de la collection Qizilbash, 19 December 2007.
Handbook of the Jones Collection in the South Kensington Museum, London: Published for the Committee of Council on Education by Chapman and Hall, 1883.

Labels and date
Table clock
About 1745, with later additions
Elephants often appeared in European art as a symbol of Africa. Here an elephant is brought together with a monkey dressed in what are meant to be Chinese clothes. It was common in interior decoration for different foreign features to be combined in this whimsical and illogical fashion. Scenes in which monkeys imitate human behaviour were also popular.
France (Paris)
Case by Philippe Caffieri
Movement signed by Jérome Martinot
Copper alloy, partly patinated, partly gilded
Bequeathed by John Jones
Family label for Europe 1600-1815:
When this clock was made there was a fashion for images of monkeys behaving like people. Monkeys were shown wearing clothes and doing things like drinking hot chocolate and playing instruments. Even this expensive clock is decorated with a monkey.
Where might the elephant be taking the monkey for a ride? [09/12/2015]
Materials
Ormolu; Bronze; Ebony; Enamel; Gilt-brass
Techniques
Cast; Chased
Categories
Clocks & Watches; Animals and Wildlife; Bronze
Collection
Metalwork Collection