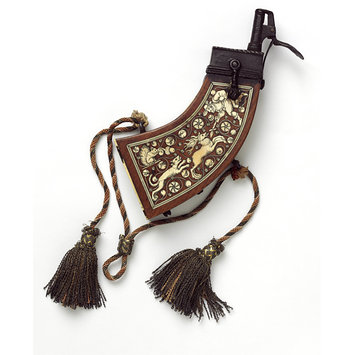 Powder flask
Place of origin:
Date:
Artist/Maker:
Materials and Techniques:

Walnut inlaid with engraved ivory, bone and horn, mounted with iron; cord and tassels of silk and metal thread

Credit Line:

Alfred Williams Hearn Gift

Museum number:
Gallery location:

Europe 1600-1815, Room 5, The Friends of the V&A Gallery, case CA11
Powder flasks were made of hollowed-out cattle horns or closely grained woods such burr maple, boxwood or walnut, as in this case, and their purpose was to protect gun powder from water or fire. This flask depicts a stag hunt on one side and scrolls on and berries on the other. This powder-flask is signed B.W.I.T. and dated 1603. Although the initials remain unidentified, this work would have been made by a German or Austrian craftsman who specialised in decorating gun stocks and powder flasks with ivory inlaid hunting scenes on walnut backgrounds. The most famous exponent of this art was Caspar Lickinger of Günzberg, who flourished in the 1590s.
Physical description
Powder flask, German, dated 1603. Walnut with ivory, bone and horn, engraved with fine detail emphasised with a black mastic; of flat curved shape, decorated on the front with a figure of a huntsman with spear thrusting at a stag that is chased by a hound, overlooked by a squirrel nibbling a nut, near an acorn. The background and sides the sides of the flask with scrolling stems, berries, and larger round fruits bordered with a double line of stringing. The base is veneered with ivory, engraved with a coat of arms, the initials B.W.I.T. and the date 1603. The back is plain but for a double band of stringing. The top is mounted with an iron lid, with sprung nozzle. Attached through two cord loops on metal ring screws is a thin cord of pink silk and silver/silver gilt threads, terminating in two pink and silver tassels. Linked to this thin cord is a thicker cord with blue and pink threads to which is fixed a large red tassel, both though to be 19th or 20th century.
Note on materials
The ivory has been used for all the larger pictorial elements, and the two larger sizes of circles.
This identification is based on the strong 'grain' type structure associated with Schraeger lines that is clearly visible.
Bone has been used for the long thicker stringing that forms the border to the pictorial element.
This is based on the vessel structure that is visible, combined with the slightly whiter colour in comparison with the areas thought to be horn.
Horn has been used for the sinuous stringing within the pictorial area and for the smallest circles.
This is based on what appears to be a fibrous/vessel structure that is completely translucent in places.
(Strictly speaking, bone and horn have the same vessel structure and can only definitively be distinguished by sampling and examining under high magnification. See Rivers and Umney, Conservation of Furniture, Oxford 2003, pp. 199-201).
Design sources
The motif of leaping stag confronted by a spearman and pursued by a leaping hound may derive, at least in part and reversed from Jost Amman (Hollstein, part II, no. 277, p.93, third tier). The man to the right of the powder flask scene corresponds closely with the figure of the man to the right in Virgil Solis' 'Hare Hunt with a Falcon and a Stag Hunt', though the position of the legs is reversed (Hollstein Vol LXIV, p. 190, No. 519). The squirrel with nut, against a background of swirls, may well derive from Virgil Solis (Hollstein vol. LXIV, no. 573, p.244 'Frieze with 18 Birds and a Squirrel').
Place of Origin
Germany (made)
Date
1603 (made)
Artist/maker
Unknown (makers)
Materials and Techniques
Walnut inlaid with engraved ivory, bone and horn, mounted with iron; cord and tassels of silk and metal thread
Marks and inscriptions
'B.W.I.T.'
'1603'
Dimensions
Length: 18.4 cm, Width: 6.3 cm, Height: 35 mm Measured by Conservation, 2012, Length: 150 mm not including tassles Measured by Conservation, 2012, Depth: 60 mm not including tassles Measured by Conservation, 2012
Object history note
Given by Mrs Ellen (Alfred Williams) Hearn, Villa St Louis, Menton in her late husbands name. Transferred to Circulation dept. 2/1/1926 RF26/172
For comparable powder flasks see:
V&A - Circ.446-1923, M.950-1983, M.2742-1931
Historical context note
Powder flasks were used to carry gunpowder. A measured quantity of powder was drawn off by using the spring-loaded pivoting cap on the nozzle. Firearms became more and more sophisticated during the 16th-century but still required a number of accessories to load and operate them. The main charge, placed in the barrel with the shot, was carried in the powder flask. Smaller priming flasks contained fine-grain powder for priming the pans of wheel-lock firearms. Flasks were attached to a bandolier, a type of sling worn over the shoulder or around the waist, from which hung the various accessories required for a weapon including spanners for the mechanism, measured charges, powder flasks and priming flasks.
Arms and armour are rarely associated with art. However, they were influenced by the same design sources as other art forms including architecture, sculpture, goldsmiths' work, stained glass and ceramics. These sources had to be adapted to awkwardly shaped devices required to perform complicated technical functions. Armour and weapons were collected as works of art as much as military tools.
Like the pistols and guns that accompanied them, decorated flasks were costly items. Inlaid firearms and flasks reflected the owners' status and were kept as much for display as for use. Daggers, firearms, gunpowder flasks and stirrups worn with the most expensive clothing projected an image of the fashionable man-at-arms. The most finely crafted items were worn as working jewellery.
Descriptive line
Walnut powder flask, engraved, with ivory, bone and horn. German, 1603.
Production Note
Other than the initials B.W.I.T., the maker remains unidentified
Materials
Walnut; Ivory; Silk; Gold; Bone; Horn
Techniques
Inlay; Engraving
Subjects depicted
Hound; Stag; Hunters
Categories
Containers; Sport
Collection
Furniture and Woodwork Collection