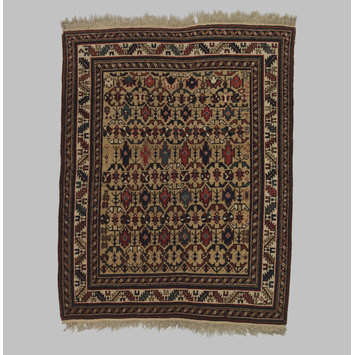 Carpet
Place of origin:

Caucasus (Eastern Caucasus lowlands. The braided fringe is typical of Kuba weaving, while the chichi motif indicate Chechen design., made)
Azerbaijan

Date:
Artist/Maker:
Museum number:
Gallery location:
Physical description
Carpet, 19th century
WARP: cream wool; Z3S; 24 threads per inch (92 per dm).
WEFT: white cotton; Z2S; 2 shoots after each row of knots; 12 knots per inch (44 per dm).
PILE: wool; 8 colours: dark red, red, dark yellow, yellow, green, dark blue, dark brown, cream; symmetrical knot tied around 2 threads; 144 knots per sq. inch (2024 per sq. dm).
SIDE FINISH: one cord overcast with white cotton.
END FINISH: incomplete; 1 cm. plain weave with white cotton weft and 6.5 cms. of fringe, knotted in groups of 5 warp threads to form at least 4 bands or knots.
DESIGN: yellow ground with 10 bands of seven rosettes within cruciform frames in some bands and six flanged and elongated small medallions with a diamond centre, all in a variety of colours. Between the flowers are decorated vertical bars, mostly in green and between the medallions are stylised floral sprigs in dark blue with white florettes. The bands of rosettes are bracketed above and below by pairs of variously coloured "claws". There are small floral motifs on both sides of the field.
Main border: cream ground with wine glass and leaf pattern.
Inner and outer border: dark blue ground with a zigzag ribbon in red, yellow and white.
Guard stripes: the main border has three pairs of guard stripes, working outwards: lines of red, dark brown and dark blue; a narrow band of offset pairs of white knots on a dark brown ground; offset pairs of dark red and white knots. Innermost and outermost patterned guard stripes: dark brown ground with offset pairs of dark blue knots; dark brown ground with offset pairs of green knots.
Note:
(1) Towards centre top of field, warp threads pinched together losing four warps for 7.5 cms. approx.
(2) some knotting with thickly spun wool, eg. bottom row right in field.
Place of Origin
Caucasus (Eastern Caucasus lowlands. The braided fringe is typical of Kuba weaving, while the chichi motif indicate Chechen design., made)
Azerbaijan
Date
1850-1875 (made)
Artist/maker
Unknown (made)
Dimensions
Weight: 14 kg, Width: 1110 mm Top edge, Width: 1140 mm Bottom edge, Length: 1570 mm Proper right, Length: 1530 mm Proper left
Object history note
Bought from the collection of Gaston de Saint-Maurice (1831-1905) in 1884. Saint-Maurice displayed his extensive art collection at the 1878 Paris exhibition, in a gallery entitled L'Egypte des Khalifes. This was part of an official sequence of displays celebrating the history of Egypt, presented by the Egyptian state at this international event. Saint-Maurice held a position at the Khedival court, and had lived in Cairo in 1868-1878. Following the exhibition, Saint-Maurice offered his collection for sale to the South Kensington Museum (today the V&A).
Descriptive line
Middle East, Carpet. Carpet, wool knotted pile on wool and cotton foundation, Shirvan, Azerbaijan, 1850-1875
Production Note
Shirvan.
Referred to in:
'Azerbaijani Carpets in the V & A' by Latif Kerimov, pub. International Symposium, Baku, 1983. P. 48, plate 40.
mentioned and illustrated: 'Caucasian Rugs in the V & A'. by M. Franses & R. Pinner (intro. by Donald King), analyses by Jackie Stanger, Hali, 1980. Vol.3, No.2., pp 95, 108, 113, 114.
cf. Bennett (1981) illus. 357 . ".. the design... following Kerimov and Schurmann has become known as Khirdaghyd-Chichi. Probably late 19th century"
Materials
Wool; Cotton
Techniques
Weaving
Collection
Middle East Section