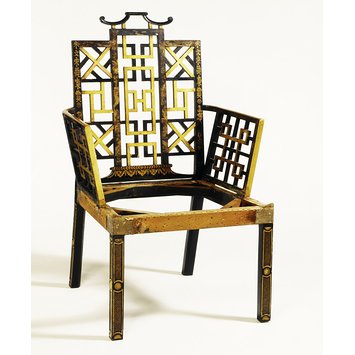 Linnell, John, born 1729 - died 1796
Armchair
Place of origin:

London (made)
England (japanned)

Date:

ca. 1754 (made)
ca. 1840 (japanned)

Artist/Maker:

Linnell, John, born 1729 - died 1796 (designer)
Linnell, William (maker)
Coffey, John (japanner)

Materials and Techniques:

Beechwood frame, gilt and japanned, with traces of red paint below; modern upholstery

Credit Line:

Purchased with Art Fund support, and the assistance of the National Heritage Memorial Fund and the Brigadier Clark Fund

Museum number:
Gallery location:
Object Type
The form of this chair with its rectilinear back and arms filled with Chinese fretwork remained popular until the 1770s. Thomas Chippendale included designs for Chinese chairs in his Director, first published in 1754.

People
This Museum has two chairs from the set of eight ordered by the 4th Duke and Duchess of Beaufort from the London workshop run by William Linnell and his son, John. The original design for the chair by John Linnell is also in the V&A (museum no. E.71-1929).

Places
In addition to the set of eight chairs, the Linnell firm also supplied the bed, the dressing table and a pair of dwarf bookcases for the Chinese Bedroom at Badminton House, Gloucestershire. The completed room was seen by Dr. Pococke in 1754 who commented on the 'Bedchamber finished and furnished very elegantly in the Chinese manner'.

Materials & Making
These chairs and the bed that they accompany were redecorated in black and gold in the 1830s and 1840s to match the commode and dwarf bookcases. The form of the chair is also different from that shown in John Linnell's design. The tracery of the back is rectilinear and the arms are curved rather than straight.
Physical description
Beechwood chair with black and gilt japanning, depicting Chinese scenes and Chinese characters (part genuine, part mock).
The back of the chair is divided into three sections of fretwoork. The sides are decorated with Chinese characters and the inner uprights with with Chinese rocks, temples, ho-ho birds and trees. The finial is a pagoda motif. The bottom of the chair back is decorated with a gold-painted lambrequin motif. Individual rods of the fretwork are decorated black and gold. The back is plain black and chamfered at the edges.
The arm supports are in the form of a frame of fretwork made up of a central square with four small ones on each corner painted gold. The arm rests are curved, hockey-stick-fashion. The sides of the supports are painted with various motifes, and the front and top edges painted gold.
The fronts and edges of of the front legs, and the edges of the back legs are decorated with black japanned and gilt lattice strips, punctuated with golden discs.
The seat is covered with green velvet upholstery, and its inside edges are reinforced with slats, which must have been added at a later date.
Place of Origin
London (made)
England (japanned)
Date
ca. 1754 (made)
ca. 1840 (japanned)
Artist/maker
Linnell, John, born 1729 - died 1796 (designer)
Linnell, William (maker)
Coffey, John (japanner)
Materials and Techniques
Beechwood frame, gilt and japanned, with traces of red paint below; modern upholstery
Dimensions
Height: 103.5 cm, Width: 66 cm, Depth: 60 cm, Height: 44.5 cm seat
Object history note
Commissioned by 4th Duke and Duchess of Beaufort as part of a set of eight chairs for the Chinese bedroom. Designed and supplied by the workshops of William and John Linnell, Berkeley Square, London.
When Dr. Richard Pococke visited Badminton in 1754 he referred to the `Bedchamber finished and furnished very elegantly in the Chinese Manner' Travels through England, II, p. 31). The 1835 Inventory (Badminton Archives, 401.4.4 (2), f. 33, No. 25) mentions "Eight Chinese Elbow Chairs, scarlet Moreen bottoms" in The Chinese Room. George Smith in Household Furniture (London, 1808) describes Moreen as "Superfine cloth ... for the draperies of dining Rooms and libraries".
Between 1849 and 1913, six of the set were placed in the Chinese Room and two in the Chinese Dressing Room.
On 30th June 1921 all eight armchairs were sold as lot 49 at Christie's. The current upholstery was added some time after the sale of the armchair at Christie's, 17th December 1959.
Historical significance: During the 1740s and 1750s, Chinese-inspired furniture was very fashionable. Engravers and aspiring cabinetmakers ranging from Battey Langley to Thomas Chippendale included designs for Chinese furniture. Joseph Goupy designed an octagonal House of Confucius at Kew, with walls made up of open lattice work. In 1750, William Halfpenny published New Designs for Chinese Temples, which included this type of Chinese lattice work. Despite her criticism of 'the barbarous gaudy gout of the Chinese', Mrs Montague had a Chinese room at her own house in Hill Street, St. James's, decorated with very similar pieces of furniture by William Linnell, the highly fashionable cabinet maker of Berkeley Square. The Duke of Beaufort's Chinese furniture, already at Badminton by 1754, is probably the last example of English Rococo-influenced Chinoiserie, before William Chambers, who had actually been to China, published his Designs of Chinese Buildings, Furniture, Dresses, Machines and Utensils in 1757.
A reproduction of this model was included in the Ann Getty House Collection, San Francisco, launched in 2004
Descriptive line
Armchair with japanned decoration. English, 1753. Designed by John Linnell and made by William Linnell.
Bibliographic References (Citation, Note/Abstract, NAL no)
Pococke, Richard (Dr). Travels through England. London, 1754. Vol. II, p. 31.
Macquoid, Percy. A History of English Furniture: The Age of Satinwood. London: Lawrence & Bullen, 1908. fig. 13.
Tipping, H. A., 'Lacquer Furniture from Ragley and Badminton'. Country Life. 1921. Vol. LXIX. pp. 798 - 900.
[Christie's, Badminton, 30th June 1921, lot 49.]
[Sotheby's, 11th July 1952, lot 129.]
Hayward, Helena., 'Chinoiserie at Badminton: the furniture of John and William Linnell'. Apollo. August 1969. pp. 134 - 139.
Hayward, Helena and Pat Kirkham. William and John Linnell, Eighteenth Century Furniture Makers. London: Christie's and Studio Vista, 1980. Vol. I. pp. 106 - 108, fig. 4. Vol. II, pl. I.
Jackson-Stops, Gervase, ed. The Treasure Houses of Britain: Five Hundred Years of Private Patronage and Art Collecting. p.437, cat. no.369. Exhibition catalogue published by the National Gallery of Art, Washington in 1985.
Murdoch, Tessa. A Pair of Armchairs from the Chinese Bedroom at Badminton House. Furniture History Society Newsletter. November 1991. No. 104. pp. 8 - 10.
Elizabeth White, ''Polished Perches: The Evidence for English Painted Wooden Furniture in Eighteenth-Century Gardens', in Painted Wood: History and Conservation. Proceedings of a Symposium organized by the Wooden Artifacts Group of the American Institute for Cosnervation of Historic and Artistic Works, Williamsburg, Virginia, November 1994, published by The Getty Conservation Institute, Los Angeles, 1998, pp. 128-142, this chair discussed on page 133 and in note 16.
'Recent acquisitions of furniture and woodwork at the Victoria and Albert Museum'. Burlington Magazine June 1993, vol. CXXXV, no. 1083, pp. 443-448. Its pair (W.33-1990) illustrated as item I.

Production Note
No bill for the furnishings of the famous Badminton Chinoiserie room has survived but there is strong evidence for the attribution to the Linnells. William Linnell supplied Mrs Montague with similar furniture for a Chinese Room at her house in Hill St., St. James's, London, in 1752. A design for a chair, very similar to the set of eight `Chinese' chairs, which belonged to the Duke's bedchamber, survives in a bound collection of drawings by William Linnell's son John, compiled in 1800 and now in the V&A's collection of designs (Museum number: E.71-1929).
The chair in Linnell's drawing is predominently red, with some of the frets painted blue and yellow, and traces of pigment have been found under the black japanning of this chair. A surviving bill of 1843 (Badminton House, Park and Farm Accounts, 2B 3/4/16) states that a firm by the name of Harley & Langs was supplying 'gold leaf, gilders tools, brass ornaments lacquering furniture & ca & ca for J. Coffey's use for 1 year to Mich's [29th September] 1840'. It is very likely that Coffey re-japanned the set of chinoiserie chairs at that time.
Materials
Beech; Lacquer; Leaf (metal); Vermilion; Prussian blue; Yellow pigment; Bronze paint; Velvet; Horsehair; Webbing (material)
Techniques
Chamfering; Japanning; Gilding; Upholstering
Subjects depicted
Rocks; Temples; Rivers; Trees
Categories
Furniture
Collection
Furniture and Woodwork Collection