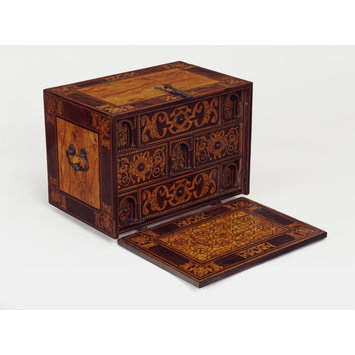 Cabinet
Place of origin:

Oaxaca, Mexico (Made in the town of Villa Alta de San Ildefonso, made)

Date:
Artist/Maker:
Materials and Techniques:

Wood (probably linaloe) veneered with rosewood and linaloe, and engraved, with black 'lute' paste infill; with wrought iron fittings (some replaced)

Museum number:
Gallery location:
Bridal chests, or Hembras, from Catalonia date from about 1500 and were amongst the first pieces of European furniture to be fitted with drawers. From about 1540, they evolved into cabinets and writing desks, which ranged from the more functional Escritorio or writing cabinet of Spain to the highly ornate Kunstschrank or collector's cabinet of Augsburg. Unlike many pieces of Hispanic furniture of this period, this cabinet is decorated entirely with renaissance ornament and shows no sign of Islamic influence. This item, made of rosewood and orangewood, has in turn been thought to be Flemish and Spanish. New research now suggests that it was made in Mexico, Spain's oldest colony in the Americas.
Physical description
Fall-front table cabinet of wood (probably linaloe), veneered on all faces except the bottom with rosewood, containing nine drawers of various sizes arranged in 3 tiers. With engraved decoration of cartouches, scrollwork and grotesques, on the fall front a panel of interlace decoration, and on the smaller drawers individual 3/4 length figures from antiquity under arches with columns of turned balusters. With two metal carrying handles, and on low turned feet (the feet restored.
Design
The exterior veneered on front, top, back and sides, with wide borders of rosewood surrounding large rectangular panels of heavily-figured wood (probably linaloe), actually the structural wood of the main boards. On the sides, front and top the rosewood borders are inlayed with cartouches and scrollwork motifs at the corners (and in the centre of the long borders). The front is held on two strap hinges of cut iron(?) fixed on round-headed screws (one hand-made nail remains underneath), and fitted with an external hasp at the top and oval lockplate, both held on round-headed screws. Hinges and lock are possibly original but the screws modern. At each side a wrought-iron bail handle held on split-rings mounted on flower back plates (presumed original). The cabinet stands on four turned, 'squashed bun' feet, possibly early, which have been remounted on square softwood blocks.
The inside of the fall front with similar wide rosewood borders, surrounding a large rectangular panel of interlace ornament with flower heads, and with narrow borders (repeated on the outside edges) of stepped fret motif. The interior with three tiers of drawers, all with stepped fret borders and gilded metal knobs, and arranged as follows:
Top tier: two small drawers, each with a sibyl figure gesturing upwards who stands under an arch and between a pair of turned balusters. These two drawers flank a wide drawer with scrolling strapwork (knob missing).
Middle tier: two medium width drawers with scrolling strapwork and acanthus, centred on a cartouche, which flank a small drawer with male, beared figure with a book (a prophet?), who gestures downwards and stands under an arch and between a pair of turned balusters.
Bottom tier: two small drawers, each with a male, Roman figure, one bareheaded who gestures downward, the other in armour and helmet who gestures upwards. Both stand under an arch and between a pair of turned balusters. These two drawer flank a wide drawer with scrolling strapwork.
Construction
Wood boards (probably linaloe), probably dovetailed, with dustboards and vertical dividers of orangewood faced with rosewood mouldings, set in grooves in the main boards. The drawers of wood (probably linaloe), 6 of dovetailed construction, 3 (the two largest and the small, central drawer) with distinctive 'comb' joints at the front and back. The drawer bottoms fixed up with wooden pins (trenails), possibly rosewood, supplemented by some additional metal nails. With gilded metal knob handles. All the drawer fronts are veneered. The arches of the small drawers are built out using a dark wood (possibly walnut or rosewood); the same wood used for the turned balusters.
Metalwork
The metalwork lock and hinges appear to be 18th century and original, and were found during conservation in 2013 to have been thickly overpainted. Traces of gilding were found underneath the later black paint. The handles are of good quality and appear to be original.
Timber
Villa Alta carcase furniture was often made from linaloe (bursera) wood, a soft, fragrant wood that helped preserve insect damage, and that has a heavy figure. Sometimes pine or cedar was used as the secondary (structural wood), and citrus wood is also sometimes found. The primary and secondary woods on this cabinet were previously thought to be orangewood, but it seems most likely that linaloe was used here. It has not been possible (2013) to conduct microscopic analysis for identification purposes.
Place of Origin
Oaxaca, Mexico (Made in the town of Villa Alta de San Ildefonso, made)
Date
1700-1750 (made)
Artist/maker
unknown (production)
Materials and Techniques
Wood (probably linaloe) veneered with rosewood and linaloe, and engraved, with black 'lute' paste infill; with wrought iron fittings (some replaced)
Dimensions
Height: 41 cm, Width: 57.2 cm includes handles on sides, Depth: 36.1 cm includes lock on front, Depth: 68.5 cm drop-front fully open
Object history note
No registered file for the acquisition of this object exists. JC Robinson's report on it (RP/1867/5659) gives:
Square coffer or cabinet with falling/ front and drawers within. Marqueterie/ of rose-wood and wood of the orange/ tree - the ornamentation elaborate/ cartouche and scroll work. The inside/ of the falling front decorated with/ a beautiful geometrical interlaced pattern./ Spanish work (Andalusia?) second half/ of the 16th century./ Length 1 ft 9in. Width 1 ft 1 3/4. Height 1 ft 4 1/2/ Purchased of Cavaletti - Madrid/ Price £ 6 . 6 - 3
This cabinet was acquired in the belief that it was Spanish, 16th century, although the suggestion that it was Flemish was also proposed. Recent scholarship (since 2000) has established its origin in New Spain (Mexico).
Display history: the cabinet has been displayed in the V&A in the past, but a precise record is not available.
Historical context note
This cabinet is an example of a distinctive type of furniture produced in Villa Alta de San Ildefonso, a remote town in the Sierra Norte (NE Oaxaca) of New Spain (Mexico) during the 17th, 18th and 19th centuries. Villa Alta furniture was supplied to cities in the Viceroyalty of New Spain including Antequara and Puebla as well for export to Spain and other European countries. Villa Alta had good access to a range of timbers, and was a customs outpost associated with the important port of Veracruz; its community of merchants also dealt in two important products, cochineal dye and cotton blankets. The basic design of the cabinet, with a fall front containing drawers, richly decorated (including classical figures and grotesque ornament) outside and in with marquetry, derives from Spanish models made from the 16th century onwards. The use of interlace ornament is a notable feature of Spanish marquetry cabinets of the early 16th century.
Villa Alta furniture making
In particular furniture was made in an inter-ethnic neighbourhood called the Barrio de Analco, but it is not known whether a single, very long-lived workshop or many existed. They produced both highly sophisticated pieces (some certainly made to commission) and more basic products: escritorios (large writing cabinet), contador (smaller cabinet), papelos (cabinet without fall front), bufetillos (portable desk, boxes and trunks.
Various traditional joints were employed such as dovetails and tenon and mortise, but also a distinctive finger or comb joint, as seen on this example. Numerous tiny wooden pegs (often of Spanish cedar, cedrelaodorata) were used to attach inlay. The distinctive designs were engraved and the lines filled with lute ('zulaque'), a black paste usually made of goat hair, lime, charcoal (or other dye) and linseed oil. The combination on this cabinet or dovetail and comb joints suggests that at least two craftsmen were involved in making the drawers.
Materials
One of the characteristics of Villa Alta carcase furniture is the use as primary and secondary timber of linaloe (Burseralinaloe), a soft fragrant, heavily figured wood unattractive to insects, though pine or cedar is also found as a secondary wood. When used as a primary wood the distinctive figure of linaloe was sometimes used figuratively to represent horizon lines and clouds.
Iron and, exceptionally, silver fittings are found (though often replaced) for locks, escutcheons, hinges, handles and cornerplates, sometimes engraved or gilded. The metalwork was probably produced in Antequera, the centre of regional metalworking industries.
Iconography
Villa Alta furniture employs a wide range of motifs, largely derived from 16th and 17th century European prints: secular and Biblical scenes, allegories, grotesques, love imagery, flowers and animals, alongside busts of kings and queens that may be derived from playing cards. Heraldry is sometimes found. The sibyls of classical antiquity (often without their identifying attributes) are often seen, as appears to be the case on this piece. A distinctive border of stepped fret motif is often found, as here. This cabinet is cited by Curiel as a good example of the use of interlace designs, combined with whimsical grotesques (the earliest use recorded 1674). The designs relate to Andrés de San Miguel's treatise on carpentry and cabinet-making c.1630.
Usage
This cabinet was essentially for use on a table, as a writing cabinet, with the small drawers for writing materials and the fall front suitable as a writing surface. Though easily portable, the rich decoration suggests that it would equally have been a showpiece in a well furnished interior, used to contain personal valuables such as jewellery, curiosities or documents. The present low feet are restored but appear to be conventional in form.
Bibliography:
Curiel, Gustavo et al. 'Taracea Oaxaqueña : el Mobiliario Virreinal de la Villa Alta de San Ildefonso', Artes de México, Mexico City 2011
Arvizu González, Alfredo D., ed. <u>Franz Mayer: Una Colección</u>. Mexico, Bancreser, 1984. ISBN 9687266007, see especially pp. 160-1 [copy in Metalwork section library.]
Descriptive line
Cabinet, rosewood and linaloe wood(?) in cartouche and scroll work, Mexican (Villa Alta de San Ildefonso), 1700-1750
Bibliographic References (Citation, Note/Abstract, NAL no)
Grace Hardendorff Burr: Hispanic Furniture (New York, 1964), fig. 38, p. 36
Curiel, Gustavo et al. 'Taracea Oaxaqueña : el Mobiliario Virreinal de la Villa Alta de San Ildefonso', Artes de México, Mexico City 2011, p. 84
Materials
Wood; Rosewood
Techniques
Inlay
Subjects depicted
Scroll-work; Geometric patterns; Cartouche
Categories
Furniture; Woodwork
Collection code
FWK