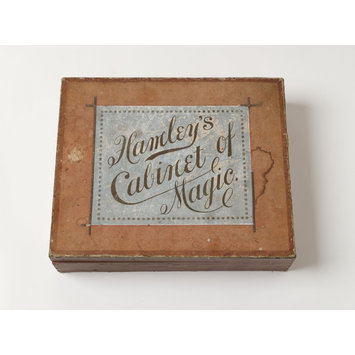 Hamley's Cabinet of Magic
Object:
Place of origin:

England (possibly, manufactured)
Germany (possibly, manufactured)

Date:
Artist/Maker:
Materials and Techniques:

Wood, paper, tin, paint, glass, metal

Museum number:
Gallery location:
Physical description
Magic set consisting of multiple parts and tricks. There is a wooden box, covered with red paper, with a blue and gold label with the set's title. The inside of the box is divided into twelve compartments, covered with green paper. The contents are:
1. A black rubber ball, with a stampted design of concentric circles and a hole just off-centre, with a piece of string passed through the hole. When pulled taut, the ball can be stopped on its fall down the string.
2. The Egg Vase: a tin urn on a pedastal, painted gold with red and black concentric lines. There is a detachable lid with a pinnacle. In the base is a spring which lifts a portion out of the bottom of the vase. With instructions.
3. Hammer trick: varnished and painted wood with handle screwing into the hour glass-shaped head, which has one solid and one hollow head with a detachable top. Attached to the top is half a black ball. There is also a whole black ball, two cups on pedestal stands with black pinnacle tops and instructions.
4. Instructions for Bran and Sweets trick.
5. A thick glass tumbler, possibly used in the Bran and Sweets trick, although it has no case.
6. Magic Dice Trick: solid wooden block covered with black paper with white spots, as on a die. This is contained in a card box similarly covered. On one side, the '6' is not there. A third box contains both of these 'dice'. This consists of a topless cube with separate base. This third box is card covered with red paper and decorated with brass stars and other patterns.
7. The Pepper Box: red and gold painted tin cannister with a slightly domed lid, with thirteen holes in the top. The lid has a false base, soldered to the side at one point, and which can be moved. Through the central hole is a metal bar attached to a rattle between the false base and the top of the lid. With instructions.
8. Tin cannister consisting of a central cylindrical section and cone-shaped ends with lids. The cannister is painted in green and red stripes with a gold linear decoration down the centre of each stripe. The lids are painted red with gold stars. The cannister is divided into two compartments and is probably used for the 'Handkerchief Case' trick, for which there are instructions.
9. Equipment for the Cannister Trick, with instructions. Cardboard tube covered with black paper and open at both ends, but with a diagonal division along the inside length. This tube fits into two tubes, each of which have one solid end. Each of these is covered in striped yellow, black, green, grey, red and white paper. These tubes fit over the black tube.
10. The Multiplying Penny: copy of the reverse side of a 1900 penny. The back is blank, the coin being a cap to fit over a real penny. With instructions.
11. Magic Halfpenny Trick: copy of the obverse side of a late-Victorian halfpenny. As with the Multiplying Penny, the back is blank. There are also four rings formed from the outsides of halfpennies, from which the centres have been cut out. These are dated 1860-85, and are held together by metal pins around which they swivel.
12. Cone, cardboard without a base, into which fit three tin tumblers with bases all of slightly different sizes. Four cork balls belong to this trick.
13. Forty-eight cards, backs plain and pink, fronts white with a large number printed in black in the centre, and a letter and number in the top left corner. The cards are used for the 'Anti-Spiritualistic Seance of the Giant's Memory' trick. With instructions.
14. Magic playing card, the Queen of Hearts, divided into three parts. Stuck to the card's back is a red cloth flower with green paper leaves and wool and wire stamens and pollen. The card folds and it can be completely hidden by the flower.
15. Card trick, a central card portraying the King of Diamonds at the top and the King of Spades at the base on one side, and the Kings of Hearts and Clubs similarly placed on the other. Attached to the centre of the card are two half-cards, each showing half of the King card on each side so that the one card can be manipulated to be all four Kings.
16. The Forcing Pack of Cards: thirty-six cards, all with pink backs, with twelve each of the nine of spades, four of diamonds, and three of clubs. With instructions.
17. Cards, two sets of five cards each with which a trick of twos changing into eights, and black cards into red, can be performed. The set consists of: two cards of eight of clubs; two cards of two of diamonds; one card of four of diamonds at one end and one club (set as it would appear on a two of clubs) at the other; a card with four spades at one end and one heart at the other (as in a two of hearts); and one card with four hearts at one end and one spade at the other. With instruction sheet and two blue envelopes marked 'The Wizard of the North's Changeable pack of cards'.
18. Three cards, with which colour of spade can be changed. The top card is a Queen of Spades with the spades cut out. The second card is white with a slit cut out of the centre, a black area in one corner and a red area in the diagonally opposite corner. The third card is similar to above but smaller, and it has paper fastener attached to the back. The colour can easily be changed by changing the position of the back cards.
19. Magic pack of cards, the main card shows the Queen of Diamonds and Jack of Clubs, with an extra half-card as on (15). The back of half the Queen main card consists of a small Queen of Diamonds, the back of the other half has a miniature four of spades, nine of diamonds and eight of clubs pasted so they overlap. Attached to the four of spades are four miniature cards: Queen of Diamonds, four of hearts, nine of clubs. These can be held as an ordinary hand of cards.
20. Three card tricks to find the Ace, three cards with white backs - three of clubs, five of clubs and three of clubs with only two showing. With white envelope.
21. Two cards, one with the nine of hearts and pink back, the other with the two hearts missing from a nine of hearts set on one side, and one club missing from a three on the other.
22. Two cards, four of clubs and Queen of Diamonds.
23. Red wooden ball, hollow with a large hole cut in the base.
24. Small dice.
25. Round box, metal, with removeable lid, incised linear decoration. Base lined with grained black paper.
26. Tin dome, slightly dented.
27. Red envelope with instructions for 'Riding and Jumping Card Trick'
28. Magic ball trick - instructions
29. Magnetic and Flying Cards trick - instructions.

Place of Origin
England (possibly, manufactured)
Germany (possibly, manufactured)
Date
ca. 1900-1910 (made)
Artist/maker
Hamleys (retailers)
Materials and Techniques
Wood, paper, tin, paint, glass, metal
Marks and inscriptions
Hamley's Cabinet of Magic
Dimensions
Height: 102 mm, Width: 377 mm, Depth: 315 mm
Object history note
Purchased in 1982 from Mrs C. Spencer along with MISC.42-1982 [81/1791]
Descriptive line
Magic set, Hamley's Cabinet of Magic, sold by Hamleys of Regent Street, 1900-1910
Materials
Wood; Paper; Tin; Glass
Subjects depicted
Magic
Categories
Children & Childhood; Magic; Entertainment & Leisure
Production Type
Mass produced
Collection
Museum of Childhood