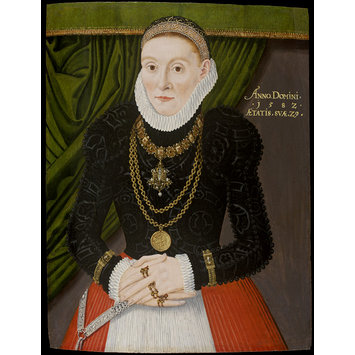 Unknown Tom Ring, Herman, born 1521 - died 1597
A Lady aged 29 in 1582
Object:
Place of origin:
Date:
Artist/Maker:

Unknown
Tom Ring, Herman, born 1521 - died 1597 (artist)

Materials and Techniques:
Museum number:
Gallery location:

Medieval & Renaissance, Room 62, The Foyle Foundation Gallery, case 8
Although the identity of this woman is unknown, it is certain that she must have been wealthy. She wears a quantity of fine jewellery, including gold necklaces, rings, gold and enamel bracelets, and an elaborate girdle.Portraits such as this were intended to emphasize the status of the sitter, so the careful depiction of the clothes and the jewellery were as important as the achieving of a likeness. This painting may be a contemporary copy. These were often commissioned, as various members of a family would want their own version of such an impressive image of their relative.
Physical description
Oil painting on panel, mounted in an ebonised fruit-wood and tortoishell frame. A portrait of a woman, wearing elaborate jewellery, and a cap decorated with pearls.
Place of Origin
Germany (painted)
Date
1582 (painted)
Artist/maker
Unknown
Tom Ring, Herman, born 1521 - died 1597 (artist)
Materials and Techniques
oil on oak panel
Marks and inscriptions
'Anno Domini 1582. Aetatis suae 29'
In the year of Our Lord 1582. Aged 29.
Inscription
Dimensions
Height: 59.4 cm framed, Width: 50.7 cm framed, Depth: 4 cm framed, Height: 41 cm unframed, Width: 32 cm unframed
Object history note
Bought by the Museum in 1857 for £2. "Purchased as an illustration of costume".
The painting was formerly attributed to Herman Tom Ring (1521-97), and has since been localised to an anonymous painter active in north-western Germany.
Historical significance: 4833-1857 was attributed by Hackenbroch to Herman Tom Ring (1521-97), the son of the Westphalian painter Ludger Tom Ring, who trained in the northern Netherlands, but returned to Münster, where he was a leading member of the painters' guild in 1569-97. Ring's work became increasingly two-dimensional, but Kurt Löcher felt that 4833-1857 was too stiffly painted to be by a member of the Ring family. He considered it a work of good quality, which could be localised by the costume, the rather rigid appearance of the sitter, and the oak support of the panel, to north-western Germany; northern Westphalia, Lower Saxony, Hamburg or Bremen, or Schleswig-Holstein.
Jutta Zander-Seidel identified the costume as from north or north-west Germany, possibly Westphalia. Löcher considered that the sitter was at least of patrician rank, but more probably a member of the nobility and perhaps a countess. Lorenz Seelig pointed out that she is wearing a range of jewellery similar to that permitted by the Nuremberg sumptuary laws of 1583: a wide necklace with a pendant, a double gold chain, two armbands of gilded links, and a broad gold cap decoration. (Leonie von Wilckens, 'Schmuck auf Nürnberger Bildnissen und in Nürnberger Nachlassinventaren', Wenzel Jamnitzer und die Nürnberger Goldschmiedekunst 1500-1700, exhibition catalogue, Germanisches Nationalmuseum, Nuremberg, Munich 1985, pp.87-97, no.262, p.329). A gold medal with a cross hangs from one of the chains, and she wears numerous rings, two to a finger. Her silver girdle, reminiscent of a man's sword belt, hangs low on her right hip, and would have supported a purse which is not visible in the picture. She wears a jacket of expensive Italian black velvet, its sleeves decorated with rows of buttons, and a sharply pleated full red petticoat of glazed wool with a pleated linen apron.
Similar armbands, probably of South German origin and dating from the third quarter of the sixteenth century, from the grave of the Countess Palatine Dorothea Sabina (d. 1598), are in Munich (Karen Stolleis, Die Gewänder aus der Lauinger Fürstenguft, Bayerisches Nationalmuseum, Munich/Berlin 1977, no. 61-2, pp.119-20). The pendant is of similar design to a gilded bronze model for a pendant, probably dating from the last quarter of the sixteenth century, in the Kunstgewerbemuseum in Cologne.
Seelig observed that while the jewellery coincides with that permitted in Nuremberg and appears to be of South German manufacture, similar legislation was enacted elsewhere, and jewellery circulated widely from the fairs at Leipzig and Frankfurt. It therefore seems plausible that 4833-1857 is indicative of the popularity of imported South German jewellery with elite patrons in north-western Germany.
Historical context note
Albrecht Dürer succinctly characterised the main aim of portraiture: 'It preserves also the likenesses of men after their death'. One of the earliest surviving autonomous painted portraits, of Archduke Rudolph IV of Austria, datable around 1360-5, probably had a memorial function. In Germany, by the sixteenth century, independent portraits of nobles, patricians, and middle class sitters were quite numerous. They sometimes bear supplementary information, including the date of execution, the age of the sitters, and sometimes their names and/or coats of arms. Following Dürer's example, many South German painters adopted the practice of signing their work. Portraits could be commissioned to commemorate special occasions, such as weddings, exchanged with friends or associates, deployed for special purposes, such as in marriage negotiations, or displayed to advertise ties of kinship or allegiance. Series of portraits were sometimes commissioned of members of a family or corporation.
Such works often adhere to a standardised compositional formula, and frequently depict their subjects wearing a comparatively narrow range of costume. The right to wear expensive fabrics, furs and jewellery, was sometimes limited by sumptuary laws, or princely command.
The sitter wears a traditional high-collared German dress, very different from the open necks and low decolleté's favoured by the Italians of the period. The gold chains around her neck are found in very many portraits of young women and were a sign of status and wealth. This may have been a marriage portrait, despite the age of the sitter (Eleonora of Austria, daughter of the emperor Ferdinand II only married aged 27 in 1561). The great quantity of jewellery highlights the power and wealth of the sitter.
The figure in the pendant hanging from her neck is Fortuna, standing on a sphere and holding a sail with her arms. This figure has been found on other pictures, such as a hat badge in the painting of the 'Imperatrice Incognita' in the Galleria Barberini in Rome.
There is a similar example to the chain belt she is wearing in the Bayerisches Nationalmuseum. Inv. No. T4132, made of silver, cast and engraved, dating from c. 1600 and originally found in the tomb of the Countess Palatine Dorothea Sophia (1588-1607). This indicates the milieu to which this anonymous sitter probably belonged.
The bracelets too, are very similar to a German bracelet also in the Bayerisches Nationalmuseum Inv. No. 13/65, made of gold with enamel decoration and dated to around 1600.
Her embroidered cap, high necked collar, puffed sleeves and pleated apron look similar to those in a print of a girl from Meissen in Saxony, from Cesare Vecellio's costume book (see photocopy).
Many contemporary portrait paintings had coats of arms or inscriptions on the back."
BARRIE COOK: "The coin pendant has been identified as Portuguese, issued by Kings Manuel (1495-1521) and Joao III (1521-57) of Portugal - the reverse design is a simple hollow cross with splayed ends (the Cross of Portugal), with the legend IN HOC SIGNO VINCES. These were 10-ducat coins about 35mm in diameter and weighing about 35g, so about the right size. As enormous gold coins with a very prominent cross, they're perfect for this sort of jewellery and I think there might be other German portraits which also show them in a similar way.
The coin was certainly familiar in north Germany, since the city of Hamburg struck its own versions from the 1550s to 1590s. I suppose it might even be one of the Hamburg examples, though these have more decorative details around the cross, the cross itself has more exaggerated serifs at the ends and there is a different legend. The painted version isn't an exact representation of either, but it does looks more like the original Portuguese type, but the Hamburg copies show do this was a familiar enough coin in N Germany."
Descriptive line
Oil painting on panel, mounted in a tortoishell frame (4834-1857), portrait of a woman, wearing elaborate jewellery, and a cap decorated with pearls, perhaps south Germany, 1582
Bibliographic References (Citation, Note/Abstract, NAL no)
Kauffmann, C.M., Catalogue of Foreign Paintings, I. Before 1800. London: Victoria and Albert Museum, 1973, p. 126, cat.142.
Princely Magnificence: Court Jewels of the Renaissance, 1530-1630, V&A, 1981.
Jost Amman, The Theatre of Women (in Warburg COD 240).
L. Braun [et al.], Costumes through the ages: the evolution of styles of dress illustrated in 250 plates and over 1500 figures: drawings, New York, Rizzoli, 1982.
Angelica Dülberg, Privatporträts: Geschichte un Ikonologie einer Gattung im 15 und 16 Jahrhundert, Berlin, 1990.
Yvonne Hackenbroch, Renaissance Jewellery, London and Totowa N.J. 1979, pp.243, 245, pl. 659.
A.B. Chadour and R. Joppien, Schmuck, I, Hals-, Ohr-, Arm- und Gewandschmuck, Kunstgewerbmuseum der Stadt Köln, Cologne 1985, cat. 108, p.218

Labels and date
The frame imitates a typical Low Countries or German example of the mid 17th century. The characteristic rippled effect on the wooden mouldings was obtained by using a machine, even in the 17th century. [1992-2005]
Materials
Oil paint; Oak
Techniques
Oil painting
Subjects depicted
Caps; Women; Clothing; Pearls; Portraits; Jewellery
Categories
Portraits; Paintings
Collection
Prints, Drawings & Paintings Collection