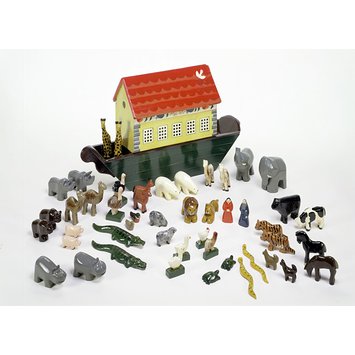 Plagerson, David, born 1942
Noah's Ark set
Place of origin:
Date:
Artist/Maker:

Plagerson, David, born 1942 (maker)

Materials and Techniques:
Museum number:
Gallery location:

Museum of Childhood, Creativity Gallery, case 11 []
This Noah's Ark set was made of handcarved and painted wood in 1978 by David Plagerson, a Cornwall-based toymaker. It was commissioned by the Museum and inspired by the 19th century German arks in its collection. David Plagerson's ark sets could be bought ready painted like this example or unpainted with a beeswax finish. The Polka Children's Theatre in Wimbledon gave the set the 'Children's Toy of the Year' award in 1979.

Physical description
The Ark
Noah's Ark set with animals. The bottom part of the Ark's base is dark green with three sets of pale green and black lines, the upper part is dark brown. The superstructure is yellow with five painted windows on either sides, painted black and white. At each corner are squares in three shades of grey. Along the top edge is a frieze of flowers and leave on a white ground with a red line to separate it from the yellow. Both ends of the superstructure are yellow with a hole. The roof has a bright red lines and semi-circles of dark red on a ground of beige over red. One side is fixed, the other lifts off for access. This side has a white dove holding a branch of light and dark green in its beak. On the inside of this half of the roof are two wooden supports.
The figures
1. Noah, painted blue with grey hair and beard, pink hands and face. Facial features are in black.
2. Noah's wife, painted red with black hair, pink hands and face. Facial features are in black.
3, 4. Pair of snakes, painted yellow with green zig-zag lines, red dots and black eyes.
5. Crocodile, painted green with black spots, yellow nose and black eyes, white stripes for teeth.
6. Crocodile, as above, open mounthed.
7, 8. Pair of giraffes, painted yellow with brown spots, black tails, feet, horns and eyes.
9. Elephant, trunk raised, painted grey with a black tail and eyes, white tusks.
10. Elephant, as above, with trunk lowered.
11, 12. Pair of polar bears, painted white with black eyes, noses and mouths.
13, 14. Pair of hippopotamuses, painte grey with black tails and white and black eyes.
15. Lion, painted gold with a brown mane, black eyes and a white and black nose mouth.
16. Lioness, lying down, painted gold with black eyes, white and black mouth and nose.
17, 18. Pair of rhinoceroses, painted grey with black tails and eyes.
19, 20. Pair of tigers, painted burnt gold with black stripes and cream on their faces, stomachs and tails.
21, 22. Pair of camels, painted mud brown, with darker brown on their humps, necks and chests. Black eyes.
23, 24. Pair of llamas, painted mottled gold, beige and brown on cream, with black eyes and feet.
25, 26. Pair of bears, painted dark brown with black eyes, noses and mouths.
27. Ostrich, pink head, neck and legs, black body with white detailing, brown beak, standing on a green base.
28. Ostrich, as above, with its body painted mud brown with dark brown mottling.
29, 30. Pair of turtles, painted green with seven circles apiece of light green, lime green and brown on their shells.
31, 32. Pair of pigs, painted pink with black feet, tails, eyes and noses.
33. Bull, painted black with grey eyes.
34. Cow, painted white and black with pink nose and udders.
35. Horse, head up, painted black with a grey mane, tail and eyes, white detailing on face and feet.
36. Horse, grazing, painted dark brown with light brown mane and tail, black feet, eyes and nose.
37, 38. Pair of deer, painted rust-red with black feet, eyes, noses and tails. There are light brown spots on their bodies.
39, 40. Pair of geese, painted white with yellow beaks and feet, black eyes. On green rectangular bases.
41, 42. Ram and ewe, painted mottled grey with black feet, eyes and noses. The ram has horns, the ewe is grazing.
43. Dog, painted dark brown.
44. Dog, painted light brown with black eyes and nose.
45. Rooster, painted mottled cream, brown, yellow, dark brown and red, on a green stand.
46. Hen, painted white with red, black and yellow, on a green stand.
47. Duck (drake), painted dark brown with a green head, yellow beak, brown breast, white neck ring and base, with blue flashes on body.
48. Duck (hen), painted mud brown with a yellow beak, beige and brown stripes and blue flashes on body.
Place of Origin
Cornwall (made)
Date
1978 (made)
Artist/maker
Plagerson, David, born 1942 (maker)
Materials and Techniques
Carved and painted pine
Dimensions
Length: 58.5 cm Ark, Width: 17.8 cm Ark, Height: 35.6 cm Ark
Object history note
Purchased by the Museum in 1979 [79/483].
David Plagerson recalled in 2016: 'From 1969 – 1972, I was head of art department at Robert Montefiore School on Valence Road. It was the time of the influx of refugees from Bangladesh and lacking a common language I often used to take the children out of school to the Bethnal Green Museum. There was then a big collection of the Erzgebirge arks on display and other eastern European toys which I fell in love with. When my daughter was born in 1971, I decided to make an Ark for her and this was the beginning. Elizabeth M. Aslin used to come to stay at Cotehele House in the Tamar Valley, near where we lived, so she ordered and collected the one that you now have. That was one of my very early arks and I now find it embarrassingly, rather than charmingly, primitive.'

Historical context note
David Plagerson has been a full-time toymaker since 1977. He is based in Cornwall and although the Noah's Ark sets are his main work, his range also includes pull-along animals, carousels, circuses and farm sets. In 1985, David Plagerson was awarded the British Toymakers' Guild Cup.
Descriptive line
Noah's ark set with figures, carved and painted wood; made by David Plagerson, Cornwall, 1978
Production Note
Commissioned by the Museum of Childhood.
Materials
Pine
Techniques
Carving; Painting; Painting
Subjects depicted
Giraffes; Turtles; Bears; Hippopotamuses; Lions; Horses; Hens; Roosters; Camels; Polar bears; Dogs; Elephants; Crocodiles; Deer; Rhinoceros; Geese; Ostrich; Ducks; Noah's Arks; Sheep; Bulls; Tigers; Snakes; Cows; Ships
Categories
Christianity; Toys & Games; Animals and Wildlife; Boats and ships
Production Type
Unique
Collection
Museum of Childhood