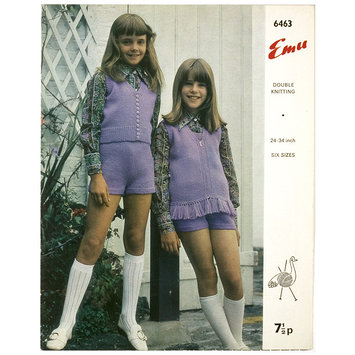 James Templeton & Company Scotch Wool Shop Laine du Pingouin
Pattern
Artist/Maker:

James Templeton & Company
Scotch Wool Shop
Laine du Pingouin (Superwool Ltd)
Patons & Baldwins Ltd
Lister & Co Ltd
Baldwin & Walker Ltd
Lyric (Pattern Services) Ltd
Emu Wools Ltd
Bestway Patterns - Fashions for All, Ltd
Bairns-Wear Ltd

Materials and Techniques:
Credit Line:

Given by Caroline Goodfellow and Noreen Marshall

Museum number:
Gallery location:
Knitting clothing is creative, but also has the potential to be thrifty. If necessary, a garment can be unravelled and knitted up again in a different size, with a contrasting welt and cuffs of some other yarn, or in stripes using up yarn from several old garments. Because the knitted up yarn has a structure that is capable of stretching, it also gives a certain amount of elasticity to accommodate a child's growth.
Artist/maker
James Templeton & Company
Scotch Wool Shop
Laine du Pingouin (Superwool Ltd)
Patons & Baldwins Ltd
Lister & Co Ltd
Baldwin & Walker Ltd
Lyric (Pattern Services) Ltd
Emu Wools Ltd
Bestway Patterns - Fashions for All, Ltd
Bairns-Wear Ltd
Materials and Techniques
Printed paper
Dimensions
Circumference: 24-30 in 69 chest, Circumference: 22-26 in 63 chest, Circumference: 24-30 in 62 chest, Circumference: 32-36 in 55 chest, Circumference: 22-32 in 54 chest, Circumference: 24-28 in 51 waist, Circumference: 18-19 in 49 chest, Circumference: 20-21 in 47 chest, Circumference: 24-30 in 40 chest, Circumference: 22-26 in 32 chest, Circumference: 24-26 in 28 chest, Circumference: 26-30 in 25 chest, Circumference: 22 in 24 chest, Circumference: 24-25" or 26-272 in 23 chest, Circumference: 26-36 in 22 chest, Circumference: 26-35 in 19 chest, Circumference: 24-32 in 18 chest, Circumference: 28-32 in 16 chest, Circumference: 26-32 in 4 chest
Descriptive line
Knitting patterns published by various manufacturers
Production Note
Images attached do not apply to all parts of this number (three patterns out of eighty-three)
Categories
Children's clothes; Children & Childhood; Scotland
Collection
Museum of Childhood