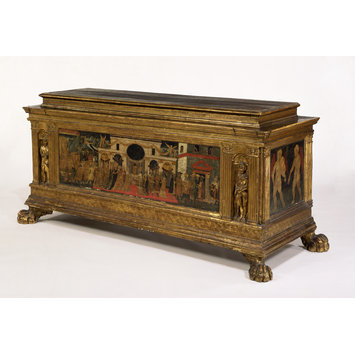 The Meeting of King Salomon and the Queen of Sheba
Object:
Place of origin:
Date:

1450-1500 (made)
1862 (restored)

Artist/Maker:
Materials and Techniques:

Poplar, the panels tempera on walnut(?)

Museum number:
Gallery location:
This cassone is a Florentine wedding chest from the mid-15th century. Italian marriage chests of this type were frequently decorated with religious and mythological stories and the present chest shows the Meeting of King Salomon and the Queen of Sheba, a popular subject at this time because it exemplifies such sought after virtues as wisdom and determination.
Although certainly executed in Florence in the mid-15th century, and close to Apollonio di Giovanni's (1416 - 1465) style, the present panel was dubiously executed in his workshop. This chest seems to have survived quite substantially in its original conditions.
Physical description
A large rectangular, gilded chest of sarcophagus form with a decorated front panel showing in the middle a man and a woman(Aeneas and Dido?) meeting before a tripartite temple, their respective cortege being behind them; on the left is a chariot before a landscape with various figures and winged putti while on the right, is a group of men standing before a palace; on each side a single panel shows two putti playing musical instruments on a dark background. Flanking the front panel on each side is a high relief figure of a naked boy holding a shield (the poses differing), standing within a shell niche between a pair of fluted pilasters. Flanking each side panel is a fluted pilaster of the same type. Around the top of the chest body, immediately below the lid is a cornice and frieze, plain gilded. The lid with rectangular raised section, is inset and hinged in front of a full-width, plain fixed board. On four lion's paw feet, underneath several base mouldings.
The bare wood back apparently with areas of reddish stain. The interior plain, without obvious sign of a textile lining, except for the underside of the lid which is painted on a reddish wash with three large clumps of white flowered dog roses. On the right side is an old hole, apparently the fixing for a lid prop (missing).
Gilding
Water gilding over a thick gesso layer and a red bole, apparently applied on top of an earlier gilded surface, I could only see an earlier layer on the naked boy figure so they could be earlier and over gilded when the 19th C lid and mouldings were added which appeared to only have one layer of gilding. The lid and antependium are worked with low relief incised designs. The antependium is worked with a rod with spiral ribbon design.
Construction
Dovetailed poplar boards (each board made up of two horizontally-grained butted planks) with patches of white filler. The figures (apparently of wood and plaster or gesso) and pilasters applied. The bottom boards nailed up. The lockplate removed and patched. The lid held on two modern hinges, without internal evidence of earlier hingeing, any external evidence possibly hidden behind a batten along the top of the back. The front and both side panels appear (from edge splitting) to have been inset into the chest planks, rather than painted directly onto them.
Dating
15th century: painted panels, possibly the main carcase and bottom boards
19th century: lid, base mouldings and feet; visible gilding
Place of Origin
Florence (made)
Date
1450-1500 (made)
1862 (restored)
Artist/maker
Apollonio di Giovanni
Materials and Techniques
Poplar, the panels tempera on walnut(?)
Marks and inscriptions
1862 sotto la Doratura [unclear]
1862 under the gilding [?]
Black paint on the reverse of a wooden strip running horizontally behind the lower front edge moulding
Dimensions
Height: 97.5 cm, Width: 222 cm, Depth: 78 cm
Object history note
Purchased in 1862 for £80
Surface cleaning 1991.
Historical significance: The front panel of this Florentine cassone (wedding chest) represents the Meeting of King Salomon and the Queen of Sheba who, intrigued by King Salomon's wisdom and wealth, undertook a long journey from Sheba (traditionally situated in modern Ethiopia) until Jerusalem to test him. Two winged putti playing musical instruments are represented on each side. The attribution of this painting has long debated: it was originally attributed to Dello Delli and successively to a follower of Pesellino (Schiaparelli, 1908), to the Cassone Master (Schubring, 1915), to the Master of the Jarves Cassoni (Berenson, 1932) and to Apollonio di Giovanni (Berenson, 1963).
The panel is divided into narrative sequels from left to right: after crossing a mountainous landscape, the chariot of the Queen of Sheba with her suit arrives in Jerusalem, King Salomon and Queen of Sheba meet before a tripartite temple with an altar, King Salomon cortege is on the far right.
According to E. Callmann (1974), 7852-1862 reproduced a compositional idea that belongs to a small group of similar cassone panels among which some were made in the workshop of Apollonio di Giovanni, the leading workshop in Florence in the mid 15th century. Unlike Apollonio's works, E. Callmann retained that the present painting is flatter and is lacking of Apollonio's typical lively movement in space. Compare with the other compositions, the figures are smaller and appear more proportionally adapted to the architectural setting. It seems however reasonable to think that this panel was painted by a contemporary imitator.
The inside of fifteenth-century wedding chests was generally decorated with reclining nude figures, respectively a man and a woman in each chest, whereas sometimes there was a textile pattern imitating a cloth lining. E. Callmann noted that the present inside lid appears rather unique and imitated a textile pattern consisting in three floral sprigs in soft colours and not stencilled.
Historical context note
The term cassone stands in Italian for chest and relates to large and ornate pieces of furniture made in Italy from the 14th to the end of the 16th centuries. They were generally made on the occasion of a relatively important wedding and contained the bride's trousseau. Writing in the mid-sixteenth century, Vasari describes cassoni thus:
'…citizens of those times used to have in their apartments great wooden chests in the form of a sarcophagus, with the covers shaped in various fashions…and besides the stories that were wrought on the front and on the ends, they used to have the arms, or rather, insignia, of their houses painted on the corners, and sometimes elsewhere. And the stories that were wrought on the front were for the most part fables taken from Ovid and from other poets, or rather stories related by the Greek and Latin historians, and likewise chases, jousts, tales of love, and other similar subjects…'.
(Giorgio Vasari, translated Gaston du C. de Vere, Lives of the Painters, Sculptors and Architects, vol. 1, London 1996, p.267)
These lavishly decorated cassoni, often combined with pastiglia decoration, were generally commissioned in pairs. Florence, which specialised in the decoration of the front panel, was at that time the main centre of production, even though Siena and the Veneto also supplied cassoni. The painted decorations usually represented episodes from classical or biblical history or mythology appropriate for the newly wed.
The most flourishing cassone workshop in Florence was run by Marco del Buono Giamberti and Apollonio di Giovanni but major artists such as Domenico Veneziano and Botticelli may have decorated cassoni on occasion. Painted cassoni went out of fashion towards the end of the 15th century when carved oaken chests came into vogue.
Descriptive line
A Florentine cassone with 'The Meeting of King Salomon and the Queen of Sheba', Circle of Apollonio di Giovanni, 1450-1500
Bibliographic References (Citation, Note/Abstract, NAL no)
James R. Lindow, 'For use and display: selected furnishings and domestic goods in 15th century Florentine interiors', Renaissance Studies vol. 19 no. 5 pp.634-646
Callmann, Ellen, Apollonio di Giovanni, Oxford, 1974, p.26, n.10, and p. 29, n. 21, and p. 32, n. 33.
Paul Schubring, Cassoni; truhen und truhenbilder der italienischen frührenaissance. ein beitrag zur profanmalerei im quattrocento, Leipzig, 1915, cat. no. 193, plate XLI.
C.M. Kauffmann, Catalogue of Foreign Paintings. Before 1800, London, 1973, pp. 106-107, cat. no. 121
London, South Kensington Museum: Ancient and Modern Furniture & Woodwork in the South Kensington Museum, described with an introduction by John Hungerford Pollen (London, 1874) , p.126-127
7852. '62.
COFFER. Carved and gilt wood (called the " Dini Cassone"), in the front is set a painting on panel by Dello Delli (about 1440), representing the meeting of Solomon and the Queen of Sheba; and at either end a painting of cupids playing on musical instruments. Italian. H. 3 ft. 2 1/2 in., L. 7 ft., W. 2 ft. 7 in. Bought, 80L. The front consists of one large panel with double pilasters at each end, and figures in the niches between holding shields, all gilt. This forms a fort of framework for the pictorial representation on the panel. The painting represents Solomon and the Queen of Sheba, typical of the union of Christ and the church, of the temporal and the spiritual powers, and of various different religious ideas in the middle ages. Here it is the type of marriage; the union of power and earthly splendour with humility, devotion, and beauty. The Queen of Sheba is here represented under a canopy of cloth of gold, supported by winged cherubs, and carried in a triumphal car drawn by horses all clothed with deep housings of the same material. She is followed by her maids and by her ministers, advisers, and sages. The figure of Solomon advances on the opposite side. They are before an apse or recess of a temple. Figures of angels are above this in a sort of statuesque arrangement. All the dresses are elaborate representations of extreme fashions of the 15th century in Tuscany, with some imaginary details where the figure of Solomon and the sages are introduced. The top of the chest is gilt and tooled over with various patterns. The interior of the lid is painted with two bunches of flowering plants freely drawn from nature. These are in good preservation. The figures of angels playing musical instruments on the ends, and the front panel are uninjured. It has been a wedding chest.
Duc de Rivoli in Gazette des Beaux-Arts, xxxv, 1887, p. 312.
A. Schiaparelli, La casa fiorentina, 1908, p. 185, fig. 167.
B. Berenson, Italian pictures, 1932, p. 347.
B. Berenson, Florentine School, i, 1963, p. 18.
E. H. Gombrich in Journal of the Warburg and Courtauld Institute, xviii, 1955, p. 23.
A. Chastel in Gazette des Beaux-Arts, xxxv, 1949, p. 99 ff.
James R. Lindow, The splendid interior, chapter 4 in The Renaissance Palace in Florence - magnificence and splendour in 15th century Italy (Aldershot 2007), pp119-184, plate 3

Labels and date
CHEST (CASSONE) With the meeting of Solomon and the Queen of Sheba.
On the ends two pairs of putti playing musical instruments.
Carved and gilt walnut, painted in tempera.
Workshop of Apollonio di Giovanni (1415-1465).
Florentine, third quarter of the 15th century.
The lid and feet are of later date.
Museum No. 7852-1862 [1975]
CASSONE: THE MEETING OF SOLOMON AND THE QUEEN OF SHEBA
Carved and gilt walnut, painted in tempera, the gilding of later date
Workshop of APOLLONIO DI GIOVANNI (1415-1465)
FLORENTINE; about 1475, the lid and feet of later date
7852-1862
Apollonio di Giovanni ran the largest of the Florentine workshops to produce painted chests from 1450 to 1475 but he also painted miniatures in books. The gilding was undertaken in the same workshop.
The subject depicted is almost certainly the story from the Old Testament Book of Kings of the Queen of Sheba's visit to Solomon, son of David and the King of Israel, bearing extravagant gifts in a great procession; in return he gave her 'all she desired, whatever she asked.' The meeting of the wisest man in Asia and the richest woman of the south was a highly suitable and very popular subject for a cassone. [Pre-2006]
MARRIAGE CHEST (CASSONE) with the Meeting of Solomon and the Queen of Sheba
About 1475
Workshop of Apollonio di Giovanni (1415-65)
This painting shows the Queen of Sheba arriving on her visit to Solomon in a great procession and bearing extravagant gifts. In return he gave her 'all she desired, whatever she asked'. Apollonio di Giovanni ran the largest of the Florentine workshops, producing painted chests as well as painted miniatures in books.
Italy, Florence
Walnut, carved and gilded, painted in tempera; the lid, feet and gilding of later date.
Museum no. 7852-1862 [before 2006]
Materials
Walnut; Tempera; Gold leaf
Techniques
Gilding; Painting; Joinery
Subjects depicted
Putti; Musicians
Categories
Furniture; Woodwork; Containers; Renaissance (Italian); Medieval and renaissance
Production Type
Unique
Collection
Furniture and Woodwork Collection