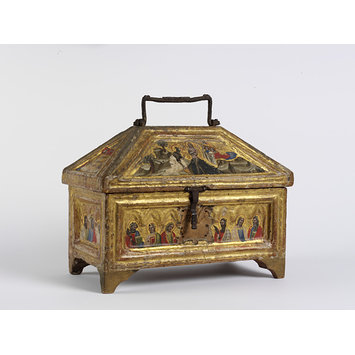 dei Crocifissi, Simone, born 1330 - died 1399
Casket
Place of origin:
Date:
Artist/Maker:

dei Crocifissi, Simone, born 1330 - died 1399 (workshop of, maker)

Materials and Techniques:
Museum number:
Gallery location:

Medieval and Renaissance, room 50c, case 1
Simone di Filippo called 'dei Crocefissi' (active in Bologna between 1355 and 1399) was perhaps a pupil of Vitale da Bologna (before 1309-1359-61). He was the father-in-law of the painter Dalmasio de' Scannabecchi and was elected a member of the Elderly for the Porta San Procolo district in 1380. Very little is known about his work.
This casket is lavishly decorated with various saints and scenes from the life of St John the Baptist. It is characteristic of Gothic painting done in Bologna around 1350, and it was probably made for a member of the Baisi family of Bologna who was a bishop or priest. The same coat of arms is painted at both ends of the lid, and emblazoned with a bishop's mitre and crozier, and with the crossed keys of St Peter.
Physical description
Wood; covered with gesso, gilt and painted. On the lid is depicted the birth of St John the Baptist, and the Baptism of Christ on the Front Side, saints and apostles on the front, back and sides of the box. Coat of Arms of the Baisi family.
Place of Origin
Bologna, Italy (made)
Date
ca. 1360 (made)
Artist/maker
dei Crocifissi, Simone, born 1330 - died 1399 (workshop of, maker)
Materials and Techniques
tempera & gilt on wood
Marks and inscriptions
Front lid: S. Johannes Battista
Back lid : S Elizabhet S Maria Mater Dei
Names of saints on casket
Dimensions
Height: 24 cm, Width: 33.5 cm, Depth: 15.5 cm, Weight: 1.6 kg
Object history note
This box was purchased by the South Kensington Museum in 1863 from M. Delange of Paris in 1863 for £20.
PASTIGLIA BOXES
Gilt pastiglia boxes were mostly made in Venice and Ferrara from about 1480 until 1550. Pastiglia or pasta is the name given to white lead paste, bound with egg white. This was often scented and described in contemporary inventories as pasta di muschio (musk paste). The pastiglia figures and motifs were shaped with a lead mould and then glued to the gilt surface of the box - hence their frequent recurrence on other boxes. The boxes are decorated with legends of Ancient Rome and the scenes copied from woodcuts such as Jacobus Argentoratensis' Triumph of Caesar (Venice, 1504) or illustrations of Livy's Roman History.
(Label text, circa 2000, from old Medieval & Renaissance Galleries)
Historical significance: Originally acquired as Florentine, this casket has been attributed to Simone dei Crocefissi by John Pope-Hennessy (oral communication), an attribution supported by Peter Thornton (1984).
Characteristically shaped like a Medieval Italian tomb, this casket shows on a gilded background with eroded pastiglia work the half-length figures of the apostles (St Peter, St John the Evangelist, St Bartholomew, St Matthew) and two unknown saints as well as the four evangelists, St Christopher, St Anthony Abbot and St Liberius. On each ends are three apostles with a coat of arms: three fishes in pale, probably those of the Baisi family of Bologna while the mitre, cross keys and crosier allude to a high clerical charge such as bishop.
Caskets were part of the medieval household to store precious items such as books and papers but may also have had an ecclesiastical use by storing bibles, small liturgical utensils and even reliquaries. The present casket was probably indeed decorated according to an ecclesiastical purpose.
The figures of the saints bear the characteristic features of Simone dei Crocefissi's output. Many works, preserved in the Pinacoteca Nazionale, Bologna, can be compared with the present works, especially a Crucifixion of Christ from ca. 1370 (Inv. 286). This Crucifixion displays very similar figures, perhaps more refined, whose features are strongly outlined with a heavy black line.
Its decoration would have made it a rare and much prized item. The owner was most likely from Bologna, a city that had a flourishing school of illuminators and miniaturists, such as Andrea da Bologna (fl. 1370s) and the presumed author of the present decoration Simone dei Crocifissi. At this time and until the High Renaissance, decorating furniture was as much part of an artist's activity as painting altar-pieces and illuminating manuscripts.
Historical context note
A casket is a very small case or lidded box for storing various objects and were popular from the 4th century AD. Usually made of ivory or wood, caskets were used for storing important books and papers, liturgical utensils and various precious items. They were utilised by both the secular and the ecclesiastic worlds, For example, bible boxes were used by both ecclesiastic and lay owners for storing Bibles. They were particularly common in the Renaissance and made of wood, usually walnut or oak, with either a flat or a slanting hinged lid. Somehow they can be seen as the precursor of the much larger Italian cassone and were most of the time lavishly decorated.
Bibliographic References (Citation, Note/Abstract, NAL no)
M. Kauffman: Victoria & Albert Museum - Catalogue of Foreign Paintings I - Before 1800. , London,, 1973, p. 266.
The following is a full transcription of the entry:
Workshop of SIMONE dei Crocifissi
329
CARVED WOOD CASKET
Painted with: lid: front: THE BAPTISM OF CHRIST; inscribed S. Johannis battista
back: THE VIRGIN AND ST ELIZABETH WITH THE INFANT ST JOHN; inscribed S ELIZABHET S MARIA MATER DEI
casket:front: ST PETER, ST JOHN THE EVANGELIST, ST BARTHOLOMEW, ST MATTHEW AND TWO UNKNOWN SAINTS;
inscribed with names
back: THE FOUR EVANGELISTS, ST CHRISTOPHER, ST ANTHONY ABBOT, ST LIBERIUS; inscribed with names
each end: THREE APOSTLES
Tempera and gilt
H. 91/4 (23.5); L. 13 (33); W. 61/2 (16.5)
351-1864 (F. & W.)
Originally acquired as Florentine and subsequently re-catalogued as Bolognese, second half 14th century, this casket has recently been attributed to the workshop of Simone dei Crocifissi by John Pope-Hennessy (oral opinion). The quality of the painting is clearly inferior to that of Simone's own work (Sandberg-Vavala, op. cit.), but it is sufficiently close in style to indicate that the casket may well have been produced in his workshop in the second half of the rath century.
The arms repeated on both ends of the lid (three fishes in pale) are probably those of the Baisi family of Bologna; the mitre, cross keys and crozier added in chief indicate that the casket belonged to an ecclesiastical member of the family.
Prov, Bought for £20 from Delange, Paris, in 1864.
Lit. P. Thornton, 'I mobili italiani del Victoria & Albert Museum' in Arte Illustrata, p. 77 f., fig. I.
Peter Thornton: 'I mobili italiani del Victoria & Albert Museum', Arte Illustrata, Vol. II (July - September 1969), p. 77.
London, Victoria & Albert Museum: Fifty Masterpieces of Woodwork (London, H.M.S.O., 1955), No. 1.
Peter Thornton, Cassoni, Forzieri, Goffani and Cassette: Terminology and its problems, in Apollo vol. CXX (1984), no.272 pp.246-251, fig. 2.
"Cassetta da mano(?)...Note the carrying-handle on top. The arms painted on the sides appear to be those of the Baisi family of Bologna. This cassetta is viewed from the back."
Labels and date
CASKET
Wood, painted gilt gesso
ITALIAN (Bologna?); about 1380
351-1864
On the front of the lid is the Baptism of Christ and on the back the birth of St John the Baptist. At the sides of the lid are the arms of the Baisi family of Bologna. The name of the owner is unknown but the crossed keys and crosier indicate that he was a bishop. On the front and side of the box are half-length apostles and saints. [Pre-2006]
Materials
Paint; Wood; Gold leaf; Gesso
Techniques
Painted; Gilded; Joining
Categories
Furniture
Production Type
Unique
Collection code
FWK