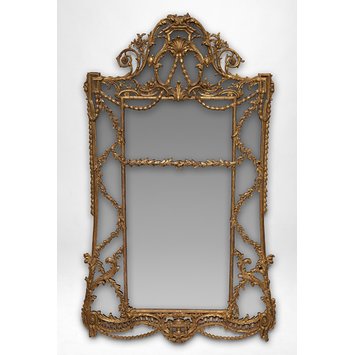 Mirror
Place of origin:
Date:
Artist/Maker:
Materials and Techniques:

The mirror is constructed in three layers. The first is a wooden subframe or stretcher consisting of several lap-jointed and glued sections supporting the mirrored glass and on top of this the decorative ornament. The main rails of the internal and external frames are of wood screwed into the back stretcher and define the limits of the mirrored panels. The acanthus and husk ornament on the face of the mirror between the two frames is a mixture of papier-mache elements, covered with a thin gesso on top of which gold leaf has been applied and some elements in carved gilded wood. The papier mache elements are not modelled in the round and appear to have been pressed from a mould. They are hollow in section. It is difficult to distinguish between the wooden and papier mache parts as the wood used is light and of a low density. Two areas of breaks and losses show metal wire reinforcing the structure
The main mirror panel is bevelled. The join in two plates is concealed by a section of decorative papier mache laurel ornament.The glass in the outer frame is likely to be in sections. The whole is backed with original brown paper. Tears in the paper reveal some of the wooden stretcher.

There are two gilding schemes. The first, as applied on the paper, is water gilding on layers of white gesso , a dark yellow (ochre) and a pink bole covered with gold leaf. Most of this has been worn down but is visible in some areas on top of the pink bole. The second scheme, over the original water-gilding there are areas of oil (mordant) gilding and has been applied on top of the water gilding. This consists of a thin white ground, a yellow tinted mordant layer and then gold leaf.

Museum number:
Gallery location:

Furniture, Room 135, The Dr Susan Weber Gallery, case BY10, shelf WALL
This pier-glass (mirror) may look as though it is made up of carved and gilded wooden sections. However, many of the swags are in fact made of papier-mache, (literally meaning chewed or mashed paper) which have been formed in moulds with a metal wire armature to enable the lengths of ornament to be curved into shape.
The use of papier-mache for picture frames can be traced in England to the later years of the 17th century but it's use became more popular in the 18th century before eventually being industrialised in the 19th century. Much easier to use and cheaper than carving in wood, sculptors and carvers in the early years of the 18th century began to use papier-mache to ornament chimney-pieces and mirror frames as well as interior architectural ornament, especially ceilings. The technique as used for ornamental purposes originated in France though moulded paper was commonly used in Persia, China and the East much earlier. The technique is known in France as papier moule, (moulded paper) and carton pierre.
In 1758, Robert Dossie published a manual of technical processes in 'Handmade to the Arts', in which he described two ways of making papier-mache. One method uses pulped paper mixed with glue and gum arabic which is then pressed into greased wooden or plaster moulds. The second method, as used in this mirror, involved sheets of paper pasted one on top of each other using a thin paste of boiled flour and water which has been mixed with 'size' (glue). These layers are also built up in moulds. By 1763, several makers of papier mache were listed in London trade directories.
Unfortunately, the maker of this mirror is unknown but the neoclassical form and use of repeating ornament is similar to that extensively used by the architect Robert Adam. It was purchased by the Museum in 1926 at time it was seeking to acquire mirrors in the Adam style. It was considered that an example in papier-mache was significantly cheaper than a comparable one in carved wood. Nothing further is known of its history.
Physical description
Rectangular mirror covered with papier-mache ornament imitating carved gilded wood. Above is a curved pediment with leafy elaborate ornament of scrolling festoons of berried laurel branches and chains of husks. At the centre is a shell from which decend two swags of husks. The sides of the outer frame curve outwards and terminate in scrolls below. The base has a vase in the centre flanked by symmetrical scrolls and festoons. The centre forms a rectangular panel with a branch of husks set across the join in the glass.
Place of Origin
England (made)
Date
1770-1771 (made)
Artist/maker
Unknown
Adams, Robert
Materials and Techniques
The mirror is constructed in three layers. The first is a wooden subframe or stretcher consisting of several lap-jointed and glued sections supporting the mirrored glass and on top of this the decorative ornament. The main rails of the internal and external frames are of wood screwed into the back stretcher and define the limits of the mirrored panels. The acanthus and husk ornament on the face of the mirror between the two frames is a mixture of papier-mache elements, covered with a thin gesso on top of which gold leaf has been applied and some elements in carved gilded wood. The papier mache elements are not modelled in the round and appear to have been pressed from a mould. They are hollow in section. It is difficult to distinguish between the wooden and papier mache parts as the wood used is light and of a low density. Two areas of breaks and losses show metal wire reinforcing the structure
The main mirror panel is bevelled. The join in two plates is concealed by a section of decorative papier mache laurel ornament.The glass in the outer frame is likely to be in sections. The whole is backed with original brown paper. Tears in the paper reveal some of the wooden stretcher.
There are two gilding schemes. The first, as applied on the paper, is water gilding on layers of white gesso , a dark yellow (ochre) and a pink bole covered with gold leaf. Most of this has been worn down but is visible in some areas on top of the pink bole. The second scheme, over the original water-gilding there are areas of oil (mordant) gilding and has been applied on top of the water gilding. This consists of a thin white ground, a yellow tinted mordant layer and then gold leaf.
Dimensions
Height: 240 cm, Width: 146 cm, Depth: 8 cm approx
Descriptive line
Mirror, gilt wood and papier mache, English, 1760-65
Bibliographic References (Citation, Note/Abstract, NAL no)
The following excerpt is taken from Jones, Yvonne, Japanned Papier-Mâché and Tinware c. 1740-1940. Woodbridge, Antique Collectors' Club, 2012 (ISBN 978 1 85149 686 0), p.23-27:
'Paper is believed to have been invented in China in the second century AD, and the Chinese art of making papier mâché objects is almost as ancient, but knowledge of paper-making spread only very slowly and it not reach Europe until the 12th century. Paper-mills were established in France in the late 15th century and soon after, French craftsmen began using paper pulp to make architectural ornaments, snuff boxes and other small articles. There were few paper mills in England until the late 17th century, so there was little pulp from which to make comparable articles, the paper imported from France being far too expensive to be pulped for the purpose.
By the 18th century, however, there were two quite distinct branches of paper mâché manufacture in England. One was allied to the making of paper hangings, and the other, to the japanning industry. Both branches took their lead from France and this, together with the name, has not only perpetuated the myth that papier mâché was French in origin, but also overshadowed its ancient eastern history.
Not only was the term papier mâché not recognised in 18th century French dictionaries, but the Journal de l'Agriculture du Commerce (1778) sourced it to England and to the first edition of Dossie's book, The Handmaid to the Arts (1758). Its occurrence, much later in the French edition of the Paris Exhibition catalogue of 1855, may simply have been the result of the translation of texts supplied by English manufacturers. The term is, however, currently used in France today.
It has been suggested that the term derives from problems of communication between English employers and French émigré workers in the 17th century when papier mâché was probably taken to mean 'mashed paper' (or chewed paper)…. The crux was the cachet of a French sounding name and the penchant in some quarters if fashionable society in the late 18th century to look upon anything French as highly sophisticated.
…
Some of the advantages of papier mâché, gleaned from contemporary records, partly explain its attractions and may have been sufficient, at least until the mid-19th century, to outweigh what will be seen as its long and labour intensive production processes. Foremost was its suitability for japanning, which was much in vogue in the 18th century.
...
Furthermore, because it could be moulded into various forms, it required no joinery and was thus incredibly strong. As solid as wood, though less hard than most, it was said to blunt tools sooner, and although heavier in mass, its strength allowed it to be used in thin sections, rendering it perfect for small light objects….By the mid-19th century, it was found that it could be steam-moulded into any curve without fear of splitting. In short, it was considered superior to both wood and metal for being lighter, sounder, and admitting of a more beautiful finish'.
Labels and date
Mirror
About 1760–70
England
Softwood and wire, with papier mâché, water-gilded with some later mordant gilding
Mirror (probably original): glass with mercury–tin amalgam
Museum no. W.25-1926
Here, some of the leafy ornament was carved in wood, but much is moulded papier mâché, a cheaper alternative to carved wood.
Layers of linen-based paper, starch and water were pressed into wooden ornament moulds. Some of the papier mâché was also modelled by hand onto wire supports. Once set firm, individual sections were glued to the wooden sub-frame and gilded. [01/12/2012]
Materials
Pinewood; Gold leaf; Paper; Material; Mirror glass
Techniques
Technique
Categories
Furniture; Frames; Mirrors
Collection
Furniture and Woodwork Collection