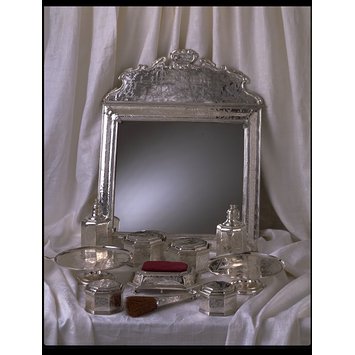 The Sizergh Toilet Service
Object:
Place of origin:
Date:
Artist/Maker:
Materials and Techniques:
Credit Line:

Bequeathed by Mrs Hannah Gubbay

Museum number:
Gallery location:

Silver, Room 65, The Whiteley Galleries, case 10 []
Physical description
Flask from toilet service The Sizergh
Place of Origin
London (made)
Date
ca. 1680 (made)
Artist/maker
Smythier, Robert (maker)
Materials and Techniques
Silver
Marks and inscriptions
S crowned mark attributed to Robert Smythier
Town mark: London
Object history note
Bequest - Mrs Hannah Gubbay
Acquisition RF: 68 / 645
Descriptive line
Silver, English (London), around 1680; maker's mark the letter 'S' crowned, in a plain shield, for Robert Smythier.
Bibliographic References (Citation, Note/Abstract, NAL no)
Mitchell, David M. Silversmiths in Elizabethan and Stuart London. Their Lives and Their Marks. London: The Boydell Press / The Goldsmiths' Company, 2017. ISBN 9781783272389
Glanville, Philippa. 'English 17th Century Chinoiserie Silver'. In: The Jaime Ortiz-Patiño Collection. English 17th Century Chinoiserie Silver. Catalogue of the auction, Sotheby's New York, 21 May, 1992.
Kaellgren, Peter. 'French influence in a toilet service by David Willaume I'. In: The Silver Society Journal, vol. 4 (autumn 1993), pp. 162-72.
Oman, Charles. Caroline Silver, 1625-1688. London: Faber and Faber, 1970.

Labels and date
THE SIZERGH TOILET SERVICE
No hallmarks (London), around 1680
Mark of Robert Smythier
1. LOOKING GLASS
This was the most expensive element of the toilet service. The detachable cresting is engraved with the initials HS. This could be removed when the toilet service was stored in a case. No case survives for this service but we know that 'dressing boxes' did exist at this date.
2. PAIR OF FOOTED SALVERS
For serving food and drink to guests or perhaps for presenting the covered bowls (4).
3. PAIR OF JEWEL BOXES
Various contents have been suggested for these large caskets; gloves, hair combs, cosmetics or when fitted with a lock, jewels.
4. PAIR OF COVERED BOWLS
for breakfast porridge, perhaps presented to guests on the footed salvers (2).
5. PINCUSHION FOR HAIR AND WIG PINS
Usually stuffed with emery powder which cleaned and sharpened the pins when pulled out and pushed in.
6 & 7. TWO PAIRS OF BOXES
With glass liners. These contained various cosmetics, powders and ribbons which a fashionable woman needed for dressing. The glass liners are later additions.
8. PAIR OF FLASKS
For toilet waters, scents and liquid based facial and hair cosmetics.
9. BRUSH
Probably for cleaning combs
10. CLOTHES BRUSH
Each piece of the toilet service is flat-chased with exotic birds, foliage and costumed figures, English versions of Japanese, Chinese and Persian motifs. This 'Japan' or chinoiserie style, fashionable in the 1680s and 1690s, was inspired by the Far Eastern trade in silk, porcelain and lacquer furniture. Theatre sets, decorative wallpapers and tapestries all drew on new illustrated travel books to create a rich oriental fantasy. By family tradition this service was a gift from Charles II to the Strickland family of Sizergh Castle, Cumbria. Sir Thomas Strickland (1621-1740) was a member of the Privy Council and Keeper of the Privy Purse to Catherine of Braganza, and his wife was her maid of honour until the Queen's death in 1718. Engraved in the cartouche of the mirror frame are the letters HS in pseudo-Chinese lettering, presumably the initials of a Strickland wife.
Hannah Gubbay Bequest
M.21-P-1968
TOILET SERVICES
'Lady Charlotte Finch, when she saw company on her lying-in (rest after child-birth), had two toilets spread in her bedchamber with her own and Mr. Finch's dressing plate,' Horace Walpole (Lady Charlotte Finch was governess to George III's children)
The toilet service was an essential luxury for a noblewoman, containing the powders, pastes and scents needed for fashionable dressing. It was also a conspicuous display of family status and wealth. They were most popular from the 1670s to 1780s, and more than 80 English services survive from this period.
Husbands gave toilet services to commemorate marriage or the birth of an heir. When James, Duke of York married Ann Hyde in 1659 he gave her a gilded toilet service, each piece richly engraved with the Royal Arms combined with those of his new wife. Although given to the women, toilet services passed down to the eldest son, safeguarding not only the family heritage but also the investment.
Occasionally however, the arms are those of a woman (within a lozenge), indicating that the toilet service was her own property to do with as she wished.
Morning visitors to the woman of the house were received in her day bedroom or, in grand houses such as Chatsworth and Blenheim, the state bedchamber. This morning Levée focussed on her dressing table, covered with a lace toile and laden with caskets, jars and flasks. Depending on the wealth of the family, any number of pieces from 12 to 40 were arranged around the silver-mounted looking glass. This was often lavishly draped, echoing the canopy of the day bed. Men also had silver toilet services, smaller, less elaborate and for personal use, not display.
...The Table Miroir, one Glue Pot,
One for Pomatum, and what not:
Of Washes, Unguents and Cosmeticks,
A pair of Silver Candlesticks;
Snuffers, and Snuff-dish, Boxes more,
For powders, Patches, Waters store,
In silver Flasks, or Bottles, Cups
Cover'd, or open to wash Chaps;
Nor may Hungarian Queen's be wanting,
Not store of Spirits against fainting
Of other waters rich, and sweet,
To sprinkle Handkerchief is meet'
D'Ange, Orange, Mill-Fleur, Myrtle,
Whole Quarts' the Chamber to bespertle,
Of Essence rare, & le meillure
From Rome, from Florence, Montpellier...
Mundus Muliebris; or the Ladies Dressing-
Room Unlock'd and her Toilette Spread,
John Evelyn, 1694
Evelyn's poem describes the scale and the contents of the different elements. 'Queen of Hungary' was a popular summer drink made of 'reclify'd Malt Spirits' flavoured with Rosemary and Lavender.
It was sold in small phials, specially made for the purpose.
The toilet service also contained cups and salvers for serving breakfast. Hot drinks, usually chocolate in the late 17th and early 18th centuries, would be served from covered cups designed for this new, fashionable drink. Contemporary writers such as Jonathan Swift (1667-1745) satirized these morning gatherings, vividly depicting them as hot-beds of rumour and frivolity:-
A Party next of glitt'ring Dames,
From round the Parlours of St. James..
Vanessa held Montainge and read,
Whilst Mrs Susan comb'd her Head;
They call'd for Tea and Chocolate,
And fell into their usual chat,
Discoursing with important Face,
On Ribbons, Fans, and Gloves and Lace...
To scandal next - What awkward Thing
Was that, last Sunday in the Ring?
- I'm sorry Mopsa breaks so fast'
I said - her face would never last - ...
Cadenus and Vanessa, Jonathan Swift, 1726
By the 1780s toilet services were becoming obsolete. The more compact toilet set with its own fitted travelling case came into fashion. Because individual pieces were both decorative and practical, many toilet services have been broken up and sold or split up within a family. [2005]
Collection
Metalwork Collection