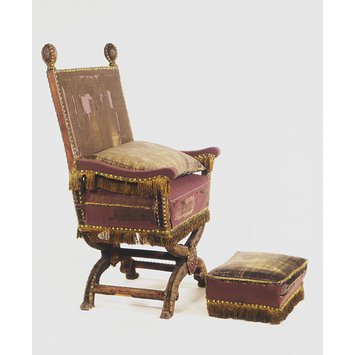 Juxon's Footstool
Object:
Place of origin:
Date:
Artist/Maker:

Casbert, John (upholsterer)
Silverson, Ralph (fringe maker)

Materials and Techniques:

Beech frame, upholstered with purple velvet, green-blue satin and gilt nails; fringe of gold wire, silver-gilt wire and gold-coloured cotton; cushion of linen twill ticking, stuffed with feathers

Credit Line:

Purchased with the assistance of The Art Fund

Museum number:
Gallery location:

British Galleries, room 56d, case 9
Object Type
This footstool would have been placed in front of a chair of state. Kings, bishops and other dignitaries are often portrayed seated on thrones and resting their feet on footstools, not only for comfort but also to enhance their dignity.
People
This stool was made in 1661 by John Casbert (active 1660-1676), the royal upholsterer, with the chair of state to be used by William Juxon, Archbishop of Canterbury (1582-1663), during the coronation of Charles II (ruled 1660-1685). Both these pieces of furniture remained in the possession of Juxon's descendants until 1794, when they were sold.
Historical Associations
Both this footstool and the chair of state that goes with it (museum no. W.12:1, 2-1928) have long been associated with the trial and execution of Charles I (reigned 1625-1649). A number of romantic stories have become attached to them. These include the fanciful claims, reported in The Gentleman's Magazine of June 1794, that Charles I knelt on the stool when he was beheaded and that there were still drops of blood on the upholstery. Recent research has proved that both chair and stool were made for the Coronation of his son, Charles II, on 23 April 1661.
Materials & Making
The stool has a beech frame, but its legs have been replaced. It is upholstered with purple velvet and greenish-blue satin, and decorated with a fringe of gold wire, silver-gilt wire and gold-coloured cotton, tacked on with iron nails with ornamental gilt heads. The stuffing is held in place by webbing, a series of criss-cross straps, of hemp.
Physical description
Footstool, upholstered in purple velvet and gold fringe. Beech frame with turned legs, three of which were replaced in 1989.
Place of Origin
London, England (made)
Date
1661 (made)
Artist/maker
Casbert, John (upholsterer)
Silverson, Ralph (fringe maker)
Materials and Techniques
Beech frame, upholstered with purple velvet, green-blue satin and gilt nails; fringe of gold wire, silver-gilt wire and gold-coloured cotton; cushion of linen twill ticking, stuffed with feathers
Dimensions
Height: 26 cm, Width: 56 cm, Depth: 38 cm, Weight: 4 kg
Object history note
This footstool and accompanying chair of State (W.12:1, 2-1928) were made by John Casbert for William Juxon (1582 - 1663), Archbishop of Canterbury, who officiated at the coronation of King Charles II, which took place in Westminster Abbey on 23rd April 1662. They were both later removed to Juxon's house at Little Compton, Gloucestershire, and passed down through his family until the death of his nephew's daughter-in-law, Viscountess Fane in 1791. They were subsequently bought by a Mr Sands, who by 1808 had bequeathed it to a cousin who married a surgeon from Birmingham, by the name of E.T.Cox. Their son, Dr. Sands Cox, in turn bequeathed them both to the Moreton-on-Marsh Cottage Hospital at a later but unknown date. In 1889 they were exhibited at the Royal House of Stuart exhibition at the New Gallery, Regent St., London, and in 1928 it was bought by the Victoria & Albert Museum for £500 (with a grant of £100 from the N.A.C.F.) Between January and July 1989 conservation was done to both the upholstery and woodwork of the chair and footstool in preparation for display in the British Primary Galleries. Three of the turned legs were replaced. It seems likely that the remaning leg is not original: illustrations of 1794 and 1808 indicate that the legs were rectangular. Research done in preparation for Western Furniture - 1350 to the Present Day (ed. C.D.Wilk) revealed that this chair, hitherto associated with the trial and execution of King Charles I, was in fact made by John Casbert, the leading upholsterer of his day, as the Archbishop of Canterbury's throne at the coronation of King Charles II.
Historical significance: John Casbert produced lavish seating furniture for King Charles II, the royal family and various members of his court from ca. 1660 until his death in 1677. He was without doubt the leading upholsterer in the years following the restoration of the Monrachy and what John Evelyn called "the politer way of living". Juxon's chair and footstool are vitally important from the point of view of both National and Furniture History: it served as the throne of the Archbishop of Canterbury who officiated at the coronation ceremony of King Charles II, thus finally establishing the return of Monarchy to the British Isles; and this is the only documented piece of Casbert's furniture, with the possible exception of two "X" frame chairs at Knole, to survive.
Descriptive line
Juxon stool, beech upholstered with purple velvet, green/blue satin and gilt nails, John Casbert and Ralph Silverson, London, 1661
Bibliographic References (Citation, Note/Abstract, NAL no)
London, P.R.O., LC 2/8.
London, P.R.O., LC2/8, no date, but included with bills dated 'From Mich[aelmas] 1660 to Lady Day 1661'
"John Casbert Upholsterer Craveth allowance as followeth for worke and provisions made and by pformed [sic] for his Ma'ties servis at his Coronation vizt ...
... a rich purple velvet Chaire [sic] of State for the Bishop wth a foot stoole and seat cusshon [sic] suitable: fringed with gold fringes and double gilt nailes wth cases of Bayes. £04:00:00"
"Coronation: Ralph Silverson Fringe maker Craveth allowance as follows ...
..."For Chaire & ca of Bsp of Caterbury: 87 oz of gold and passamaine Lace and fringe at vi s viiid per oz. £29:01:08".
London, P.R.O., LC 5/137, P. 49.
"... one chayre of State of purple velvett fringed gold frine with seat cushion and foot stoole all suitable for ye ArchBpp that crowns ye King".
John Ogilby: "A Brief Narrative of His Majestie's Solemn Coronation with his Magnificent Proceding, and Royal Feast in Westminster". (London: Richard Mariot, Thomas Dring, 1662), p. 175.
'... On the North-side of the altar sate the Bishop of London, directly opposite to the King in the Arch Bishop's Chair, covered with Purple Velvet: the rest of the Bishops being placed on Forms behind him.'
"Gentleman's Magazine", Vol. LXIV (1), June 1794, p. 507.
"I have sent also a drawing (fig. 3) od the State-chair and footstool which was the property of the unfortunatel King Charles the First, the original of which is in the possession of Mr Sands, of Wheelbarrow Castle, near Barton on the Heath, in Warwickshire. They are covered with purple velvet, richly laced and fringed with gold, and gilt nails."
The Gentleman's Magazine, Vol. LXIV (2), July 1794, p. 618.
The Gentleman's Magazine, Vol. LXXXIX (2), November 1808, p. 969.
London, New Gallery (Regent St.), Exhibition of the Royal House of Stuart - under the Patronage of Her Majesty the Queen (London, 1889), p. 133.
"No. 808. Chair, with cushion and footstool, used by Charles I at his trial."
Edwards, Ralph. The "Charles I Chair". Country Life. 11th February 1928, vol. LXIII, pp.176-177
Beard, C. King Charles I's Chair: a New Theory. The Connoisseur. April 1928, vol. LXXX, pp.228-231
Russell, C.E. The Juxon Chair and the Bower Portraits of King Charles I. Old Furniture. IV, June 1928, pp.98-99
Yorke, James. New Light shed on Archbishop Juxon's Chair and Footstool. Furniture History Newsletter. November 1995, no. 120, pp.10-11
Wilk, Christopher (ed.). Western Furniture: 1350 to the Present Day. London: V&A Publications, 1996. pp.68-9 ISBN: 1856674435
Yorke, James. Archbishop Juxon's Chair. Burlington Magazine. June 1999, vol. CXLI
H. Clifford Smith, Catalogue of English Furniture & Woodwork (London 1930), cat. 543, Plate 14.
Footstool belonging to the Arm-Chair and covered in the same manner. It is of oblong form with turned feet.
Early 17th century.
H. 1 ft. 7 ¾ in., W. 1 ft. 9 ¾ in., D. 1 ft. 2 ½ in.
This Arm-Chair and Footstool were purchased with the aid of a grant from the National Art-Collections Fund.
Heather Porter, 'The History of Cushions and the Use of Feathers in Upholstery 1580-1800' in Ed. Karin Lohm, The Forgotten History – Upholstery Conservation. Linköping: University of Linköping, 2011. Papers of symposium held in Vadstena, Sweden in 2005, pp. 81-105, illustrated and discussed. p. 87
This refers to the 1989 treatment report (unpublished) held by the Textile Section of the Conservation Department, Victoria and Albert Museum.
Exhibition History
Royal House of Stuart (London, New Gallery, Regent St. 01/01/1889-31/12/1889)
Labels and date
British Galleries:
The upholsterer John Casbert, who supplied this chair and stool, worked in London between 1660 and 1676. He may have come from France. Casbert supplied chairs, beds and fabrics for the royal palaces and for royal occasions and was also responsible for the furnishings of the royal yachts. For this commission he worked with Ralph Silverson, a fringe maker. Casbert charged £4 for making the stool and the chair, whereas the gold and silver fringes cost £29. [27/03/2003]
Associated Events
The Coronation of King Charles II
Production Note
Attribution note: This was the footstool made to go with the Chair of State for the Archbishop of Canterbury, when he officiated at the coronation of King Charles II on 23rd April 1661.
Reason For Production: Commission
Materials
Silk (textile); Cotton; Gold; Velvet; Iron; Beech; Velcro; Silvergilt wire; Beva film
Techniques
Turning; Joining; Stuffing; Upholstering; Webbing; Tacking
Categories
Furniture; British Galleries
Production Type
Unique
Collection code
FWK