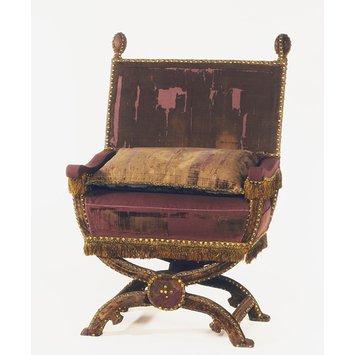 The Juxon Chair
Object:
Place of origin:
Date:
Artist/Maker:

Casbert, John (maker)
Silverton, Ralph (fringe maker)

Materials and Techniques:

Beechwood, covered with purple velvet, trimmed with silver and gold frings

Credit Line:

Purchased with Art Fund support

Museum number:
Gallery location:

British Galleries, Room 56, The Djanogly Gallery, case 9 []
Object Type
This seat, with its distinctive 'x' frame, is known as a chair of state. It was used in ceremonies by monarchs and other leading participants. It was accompanied by a footstool, to emphasize its importance.

People
This chair of state was made in 1661 with a stool by John Casbert (active 1660-1676), the royal upholsterer. It was to be used by William Juxon, Archbishop of Canterbury (1582-1663), during the coronation of Charles II (ruled 1660-1685). Both the chair and the stool remained in the possession of Juxon's descendants until 1794, when they were sold.

Historical Associations
Both the chair of state and its footstool have long been associated with the trial and execution of Charles I (reigned 1625-1649). Juxon (then Bishop of London) attended the King in his final days. A number of romantic stories therefore became attached to them. These include the fanciful claims, reported in The Gentleman's Magazine of June 1794, that Charles I knelt on the stool when he was beheaded and that there were still drops of blood on the upholstery. Recent research has proved, however, that both chair and stool were made for the Coronation of his son, Charles II, in 1661.

Materials & Making
The chair has a frame of beech. It is upholstered with purple velvet and greenish-blue satin, and decorated with a fringe of gold wire, silver-gilt wire and gold-coloured cotton, tacked on with iron nails with ornamental gilt heads. The stuffing is held in place by webbing, a series of criss-cross straps, of hemp.

Places
The chair originally stood in Westminster Abbey, London, during the coronation of Charles II, on 23 April 1661. It was moved to Little Compton, Warwickshire, where it remained until the house sale that followed the death of Juxon's descendant, Viscountess Fane, in 1794. It was bought by a Mr Sands, whose descendant, Dr Sands Cox, bequeathed it to the Cottage Hospital in Moreton-on-Marsh, Gloucestershire, at an unknown date.
Physical description
Armchair or Chair of State, upholstered with purple velvet and gold fringe
Place of Origin
London (made)
Date
1661 (made)
Artist/maker
Casbert, John (maker)
Silverton, Ralph (fringe maker)
Materials and Techniques
Beechwood, covered with purple velvet, trimmed with silver and gold frings
Object history note
Purchased from Moreton-in-Marsh Cottage Hospital with the assistance of the National Art Collections Fund (Art Fund)
This chair of State and accompanying footstool (W13-1928) were made by John Casbert for William Juxon (1582 - 1663), Archbishop of Canterbury, who officiated at the coronation of King Charles II, which took place in Westminster Abbey on 23rd April 1661. They were both later removed to Juxon's house at Little Compton, Gloucestershire, and passed down through his family until the death of his nephew's daughter-in-law, Viscountess Fane in 1791. They were subsequently bought by a Mr Sands, who by 1808 had bequeathed it to a cousin who married a surgeon from Birmingham, by the name of E.T.Cox. Their son, Dr. Sands Cox, in turn bequeathed them both to the Moreton-on-Marsh Cottage Hospital at a later but unknown date. In 1889 they were exhibited at the Royal House of Stuart exhibition at the New Gallery, Regent St., London, and in 1928 it was bought by the Victoria & Albert Museum for £500 (with a grant of £100 from the N.A.C.F.) Between January and July 1989 conservation was done to both the upholstery and woodwork of the chair in preparation for display in the British Primary Galleries. Research done in preparation for Western Furniture - 1350 to the Present Day (ed. C.D.Wilk) revealed that this chair, hitherto associated with the trial and execution of King Charles I, was in fact made by John Casbert, the leading upholsterer of his day, as the Archbishop of Canterbury's throne at the coronation of King Charles II.
Used by William Juxon (1582-1663), Archbishop of Canterbury, during the coronation of Charles II (23 April 1661)Supplied by the London workshops of John Casbert (active 1660-1676); fringes made by Ralph Silverson (active, 1660-1680)
Notes from R.P. 28/1124
1/10/26 memo, Brackett to Director
A chair, said to have belonged to Charles I, currently exhibited in the Cottage Hospital, Moreton-in-the-Marsh is being sold. The chair belonged to Bishop Juxon, Archbishop of Canterbury (who was present at the execution of Charles I).
Handwritten description on Moreton-in-the-Marsh Cottage Hospital letterhead
"King Charles Chair -- The chair in which King Charles the First sat during his trial at Westminster Hall & which passed directly from Mr. Sands Cox, who obtained it from Lady Fane of Little Compton in the County of Warwick, the direct descendant of Bishop Juxson".
20/1/27 Warden letter to Brackett
encloses a photograph of the chair.
21/1/27 Edwards minute paper
This type of chair was introduced from Italy in the middle of the 16th c. Mary Tudor and others of her court are represented by Sir Antonio Moor seated in chairs of this character (Further illegible references). Edwards believes the descent of the chair is as stated. He recommends purchase of "a genuine example of this period…in view of the associations it would appear one of the most important historical relics…offered to the Museum for many years". He notes the chair with its contemporary footstool is illustrated in Relics of the Royal House of Stuart Gibb, Skelton 1895.
4/2/27 Brackett minute paper
Brackett inspected the chair and found it fine and interesting but adversely affected by the fact that the velvet was extremely damaged (coverings of the seat and arms is gone; materials on the back torn; in good condition on cushions and footstool).
Brackett is in correspondence with Lambeth Palace Library to obtain conclusive evidence of the chair's history. He finds it value and importance lies more in the fact that it is "a very rare and interesting type of chair made in England on an Italian model found only in Royal Palaces or a few grand houses". He recommends offering £450 for the chair.
4/2/27 Edwards minute paper
quotes The Gentleman's Magazine, Dec. 17, 1794 (Vol. LXIV Part I).Refers to a drawing of "the state chair and footstool which was the property of the unfortunate King Charles I, the original of which is in the possession of Mr Sands of Wheelbarrow Castle---they are covered in purple velvet, richly laced and fringed with gold, and gilt nails." The pedigree is given: After the execution the chair became the propery of Bishop Juxon; passed down to William Juxon who left it to his lady who afterwards married Lord Viscount Fane. She died in 1791 and the chair was purchased at an auction of her effects by Mr Sands.
Nov. 1909 (Vol. LXXVIII, Part 2)
asserts the chair was used by Charles I during his trial in Westminster Hall. Two drawings by Charles Pye can be compared to the Plate and description in Nelson's Journal of the High Court Justices for the Tryal of King Charles I "The King sitting in a large elbow chair covered with crimson velvet with gold fringe and nails, and a velvet cushion". Both Edwards and Brackett suggest that the fact that the velvet is described as "crimson" not "green" is "probably due to a mistake".
16/2/27 Edwards minute
reports that the will of Archbishop Juxon does not mention the chair. Nelson's Journal of 1683 contains an engraving of the trial scene which shows the upper portion of a chair which matches that in question.
February/March/April
An offer is made to purchase the chair for £450; extensive correspondence follows regarding attempts to obtain a better price elsewhere and regarding sanction from the Charity Commissioners and the role of the press.
June 1927 confidential letter Maclagan to Sir Lionel Earle (H.M.Office of Works)
states his position regarding placement of the chair at Westminster Hall vs. the V & A. Maclagan has responded to an inquiry by Sir Gilbert Wills (President of the Cottage Hospital), who is considering placement at Westminster, stating "the evidence for associating the chair with Charles I at his trial is dubious as most of the historical evidence for Charles I relics. On the other hand, the authenticity of the chair as a completely unrestored example of a piece of English Furniture of the first half of the 17th century is beyond cavil. I am exceedingly anxious that it should find a permanent home in the Museum. If it were really certain that Charles I had sat in it, there would no doubt be some reason for exhibiting it at Westminster, but I'm sure you agree that a relic of that kind which is at best doubtful is not a very desirable acquisition from the historical point of view".
20 June 1927 letter, Earle to Maclagan
states the chair belongs at the V & A and encloses correspondence re. authenticity.
22 June 1927 Minute Paper
consists of quotations from correspondence sent to the V & A from Lionel Earle regarding the chair's history. This supports the chair as being genuinely Jacobean and property of Juxon but questions the transfer from Charles I. It is unlikely the lay had power of disposal over the chair; and unlikely that Parliament would confer any favours on Juxon. "If the chair be accepted it can only be as a good piece of early 17th century furniture to which unproved tradition, of doubtful date, is attached -- C.R.P."
November 1927 letter, Brackett to Warden (Cottage Hospital)
in response to his letter, Brackett reassures him that the chair is of interest to the Museum as a rare type but also for its traditional history.
24 December 1927 the offer
of £550 from the V & A is accepted by the Cottage Hospital.
3/1/28 Brackett
requests sanction for purchase and notes "there is no case of a chair like this coming into the market before (there is one at Knole)" so it is impossible to quote a precedent.
4/1/28 letter, Palmer (V & A) to NACF
requests assistance for purchasing the chair which belonged to Juxon and "even though the association with the king must be considered … not proven".
The R.P.
Contains press notices, further reference to engravings and prints showing the trial of Charles I.
Historical significance: John Casbert produced lavish seating furniture for King Charles II, the royal family and various members of his court from ca. 1660 until his death in 1677. He was without doubt the leading upholsterer in the years following the restoration of the Monrachy and what John Evelyn called "the politer way of living". The Chair is vitally important from the point of view of both National and Furniture History: it served as the throne of the Archbishop of Canterbury who officiated at the coronation ceremony of King Charles II, thus finally establishing the return of Monarchy to the British Isles; and this is the only documented piece of Casbert's furniture, with the possible exception of two "X" frame chairs at Knole, to survive.
Descriptive line
Chair of state for the coronation of Charles II, for the use of Archbishop Juxon, of x-frame construction, entirely covered in purple velvet with metal-thread braiding
Bibliographic References (Citation, Note/Abstract, NAL no)
London, P.R.O., LC 2/8
London, P.R.O., LC 5/137, p. 49
London, P.R.O., LC 5/137, p. 49
John Gilby: 'A Brief Narrative of His Majestie's Solemn Coronation with his Magnificent Proceding, and Royal Feast in Westminster. (London: Richard Mariot, Thomas Dring, 1662), p. 175.
"The Gentleman's Magazine", Vol. LXIV (1), June 1794, p. 507.
"The Gentleman's Magazine", Vol. LXIV (2), July 1794, p. 618.
"The Gentleman's Magzine", Vol. LXIV (1), June 1794, p. 507.
"The Gentleman's Magazine", Vol. LXIV (2), July 1974, p. 618.
"The Gentleman's Magazine, Vol. LXXXIX, November 1808, p. 969.
p.133
Exhibition of the royal house of Stuart, London : The New Gallery, 1889
Edwards, Ralph. The "Charles I Chair". Country Life. 11th Febraury 1928, vol. LXIII, pp.176-177
Beard, C. King Charles I's Chair: a New Theory. The Connoisseur. April 1928, vol. LXXX, pp.228-231
Russell, C.E. The Juxon Chair and the Bower Portraits of King Charles I. Old Furniture. June 1928, IV, pp.28-99
Yorke, James. New Light shed on Archbishop's Chair and Footstool. Furniture History Newsletter. November 1995, no. 120, pp.10-11
Wilk, Christopher (ed.). Western Furniture: 1350 to the Present Day. London: V&A Publications, 1996, pp.68-69
ISBN: 1856674435
Yorke, James. Archbishop Juxon's Chair. Burlington Magazine. June 1999, vol. CXLI
H. Clifford Smith, Catalogue of English Furniture & Woodwork
(London 1930), cat. 542. Plate 14
Victoria & Albert Museum: Fifty Masterpieces of Woodwork (London, 1955), no. 27.
An Upholstered Armchair and Footstool
About the middle of the sixteenth century upholstered chairs were first introduced from Italy into England, and in the Stuart period this type continued to he made in a more luxurious form for the Royal palaces and a few great houses. Recent research has shown that the craftsmen responsible for the most ornate examples were members of the Guild of Coffermakers, who also covered coffers and travelling trunks not only with leather but also with costly fabrics. As the framework was often of beechwood covered with silk or velvet, such chairs were very perishable and are now of great rarity.
This celebrated arm-chair is covered with faded velvet originally crimson, trimmed with gold fringes, and has a footstool similarly upholstered. According to a tradition which can be traced back to the eighteenth century, it was used by Charles I during his trial in Westminster Hall, when according to Nalson (Tyral of King Charles I, 1684), he sat in 'a large elbow chair covered with crimson velvet, with gold fringe and nails, and velvet cushion'. This tradition cannot he substantiated, but undoubtedly the chair was once in the possession of Archbishop Juxon who, when Bishop of London, attended King Charles on the scaffold. After a brief imprisonment during the Commonwealth, Juxon retired to his manor house at Little Compton in Gloucestershire until the Restoration. At his death the chair passed to his nephew Sir William Juxon, and then to Sir William's daughter-in-law who died in 1792. Subsequently this imposing example of State furniture was bequeathed to the hospital at Moreton-in-Marsh. It remained there until 1928, when it was purchased by the Museum with the assistance of a grant from the National Art—Collections Fund.
English; early seventeenth century.
Chair: H. 50 in., W. 33 in., D. 27 in.
Footstool: H. 19 ¾ in., W. 21 ¾ in., D. 14 ½ in.
Graham, Clare: Ceremonial and Commemorative Chairs in Great Britain. London: Victoria and Albert Museum, 1994, ISBN 1 85177 136 0, pp. 43-4, fig. 59..
no. 808
Exhibition of the royal house of Stuart, London : The New Gallery, 1889

Labels and date
British Galleries:
The upholsterer John Casbert, who supplied this chair and stool, worked in London between 1660 and 1676. He may have come from France. Casbert supplied chairs, beds and fabrics for the royal palaces and for royal occasions and was also responsible for the furnishings of the royal yachts. For this commission he worked with Ralph Silverson, a fringe maker. Casbert charged £4 for making the stool and the chair, whereas the gold and silver fringes cost £29. [27/03/2003]
Production Note
Reason For Production: Commission
Materials
Velvet; Satin; Silvergilt wire; Gold; Silk
Techniques
Joining; Chamfering; Upholstering; Webbing; Tacking; Stuffing
Categories
Furniture; Woodwork
Production Type
Unique
Collection
Furniture and Woodwork Collection