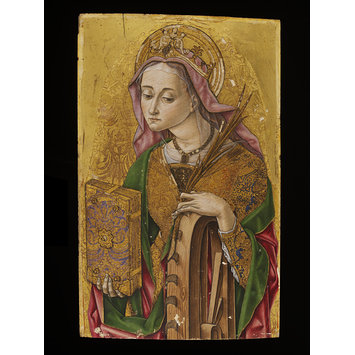 St Catherine of Alexandria
Object:

Panel from an altar piece

Place of origin:
Date:
Artist/Maker:

Crivelli, Vittore (painter)

Materials and Techniques:

tempera and gilt on panel

Museum number:
Gallery location:

Medieval & Renaissance, Room 64a, The Robert H. Smith Gallery, case 6
Vittore Crivelli (1444-1502) was the youngest brother of Carlo Crivelli under whom he probably trained. Around 1465, he followed his brother to Zara, Dalmatia where he took on a pupil and by 1481 had moved to the Marches. He settled in Fermo with his brother and spent there most of the rest of his life.
This panel painting originally attributed to Carlo Crivelli was later accordingly recognised as by Vittore and part of the altarpiece commissioned in 1481 by the Vinci family in Fermo. The present work, along with 765:1-1865 is one of the four panels that flank the tabernacle in the upper part of the altarpiece. It shows, set against an elaborate gilded background adorned with an intricate pattern of acanthus leaves, griffins and crowns, the half-length figure of St Catherine of Alexandria richly dressed with a crown alluding to her noble birth. She holds a martyr palm in her left hand resting on a wheel, her traditional attribute. She was renowned for her knowledge and wisdom as witnessed by the book she holds in her right hand, which could also represent her credo in the Holy Scriptures. She is looked as a patron of education.
Physical description
Set against a golden tooled background depicting an intricate pattern of acanthus leaves, griffins and crowns, is the half-length figure of St Catherine wearing a lavish embroidered golden dress and a red and green mantle; she holds a palm in her left hand resting on her wheel and a book in the other.
Place of Origin
Fermo (painted)
Date
1481 (painted)
Artist/maker
Crivelli, Vittore (painter)
Materials and Techniques
tempera and gilt on panel
Dimensions
Height: 61.3 cm estimate, Width: 38.4 cm estimate, Weight: 1.4 kg
Object history note
Purchased, 1865
Historical significance: The present panel, along with 765:1-1865, was in the Soulages collection, mainly assembled in Italy in the 1830s. The whole collection was then bought by a group of English collectors in 1856 and was subsequently acquired by the Museum in 1865. Originally attributed to Carlo Crivelli, this painting has been accordingly recognised to be by his younger brother Vittore (Crowe and Cavalcaselle, 1871) who formed his style in Carlo's workshop and developed a very close manner.
This panel, along with its pendant 765:1-1865, belongs to the upper part of an altarpiece dated 1481 and commissioned by the Vinci family in Fermo where Vittore has settled in the 1480s and spent most of the rest of his life. This altarpiece was identified on stylistic ground, especially because of the peculiar tooling on the gilded background representing an intricate pattern of acanthus leaves, griffins and crowns never found again in Vittore's prolific oeuvre.
The present work shows the half-length figure of St Catherine of Alexandria who was an early Christian martyr as attested by the palm she holds in her left hand. She was condemned for not renouncing her faith to be martyred on the wheels, which are here depicted under her left hand and became her traditional attribute. But the legend has it that the wheels were broken on God's command leading to her eventual decapitation. She is wearing a lavish embroidered golden dress, a red and green mantle and a crown on a purple veil alluding to her noble birth and was renown for her knowledge and wisdom attested by the book she is presenting in her right hand. The colours of a dress echo somehow the colour of St Jerome's outfit in red and purple (765:1-1865).
F. Zeri (1961) suggested that this panel along with St Jerome (765:1-1865), St Anthony of Padua and St Bernardino of Siena (both Van Heek collection, s'Heerenberg) flanked a tabernacle representing the Pietà (Kress collection, University of Arizona Museum of Art, Tucson). This hypothesis was taken over by Sandra di Provvido in her monograph on the painter (1972). The lower part of the altarpiece is formed by five panels from the Wilstach collection in the Philadelphia Museum of Art representing the full-length figures of St Bonaventure and St John the Baptist on the left, St Louis of Toulouse and St Francis on the right, the central panel showing a lavish Madonna and Child enthroned with four angels and cherubs.
Vittore Crivelli is considered as a minor artist compare with his elder brother Carlo. His style appears somehow more provincial and lacking of the prolific fantasia that characterises Carlo's output. He borrowed from his brother a certain angularity in drawing the faces and hands, which he accentuated without reaching similar expressive results. Nonetheless, Vittore succeeded in providing most of his compositions with a sweetness and a grace that gave them a character of their own, mostly distinguishable from his brother's hand. The Vinci altarpiece was already considered by his contemporaries as his masterpiece.
Historical context note
In Italy, the altar became a primary setting for painting on panel - hence the appellation 'altarpiece' - a format developed in Western art from the example of Byzantine icons. An early format consisted in gabled vertical panels representing a full-length saint flanked by scenes of his or her life and soon developed to include several individual compartments to form a polyptych which frames could become increasingly elaborate. They eventually transformed the altarpiece into an architectonic structure resembling in detail and spatial principles the façades of contemporary full-scale Gothic architecture. In Italy such altarpieces were usually made of wood and painted, while in northern Europe they were commonly executed in stone. A new type of altarpiece soon appeared in 15th-century Italy, known as pala,, and was closer to a framed picture. In the interest of clarity and unity, numerous medieval screens separating the choir and high altar from the nave were removed.
The religious reforms of the 16th century brought new attention and some important changes to the form and function of the altarpiece. Under Protestant auspices, the altarpiece iconography was restricted to subjects well-suited to the sacrament celebrated at the altar, such as the Last Supper while the dynamic qualities that characterize Baroque art brought important changes to altarpiece design. Important altarpieces consisting of a single painting or relief continued to be made, but increasingly architecture was used as the theatrical setting for the three-dimensional display of the altarpiece's subject in sculpture.
Altarpieces adorned both high altars and side altars. High altars often carried large altarpieces with elaborate programmes while side altars served a more private piety and their altarpieces were often endowed by private individuals.
Descriptive line
St Catherine of Alexandria. Panel from an altar piece, painted by Vittore Crivelli, about 1481
Bibliographic References (Citation, Note/Abstract, NAL no)
Kauffmann, C.M., Catalogue of Foreign Paintings, I. Before 1800, London: Victoria and Albert Museum, 1973, p. 79-81, cat. no. 78
F. Zeri, in Bollettino d'Arte, 1961, pp. 231, 234.
J. C. Robinson, Catalogue of the Soulages Collection,1856, p. 161, no. 580.
Crowe and Cavalcaselle, History of painting in North Italy, i, 1871, p. 98, n. 3.
Crowe and Cavalcaselle, History of painting in North Italy, 1912, ed. T. Borenius, i, p. 98, n. 4.
G. M. Rushforth, Carlo Crivelli,1900, p. 93.
B. Geiger in ThiemeBecker, viii, 1913, p. 137.
L. Testi, Storia della pittura veneziana, ii, 1915, pp. 686 f., 706.
F. Drey, Carlo Crivelli, 1927, p. 158.
B. Berenson, Italian pictures of the Renaissance,1932, p. 163.
B. Berenson,Venetian Painters,1957, p. 71, fig. 162.
R. van Marle, Italian Schools of painting, xviii, 1936, p. 84, n. 1.
F. Zeri, 'Appunti nell'Ermitage e nel Museo Pusckin' in Bollettino d'Arte, No III, Jul-Sept. 1961, pp. 231, 234 ff., figs. 24-7.
S. di Provvido, La pittura di Vittore Crivelli,1972, p. 75 ff., repr.

Materials
Tempera; Gilt; Panel
Techniques
Painting
Subjects depicted
Altarpieces; Wheel; Book; Palm; Crown
Categories
Christianity; Paintings
Collection
Prints, Drawings & Paintings Collection