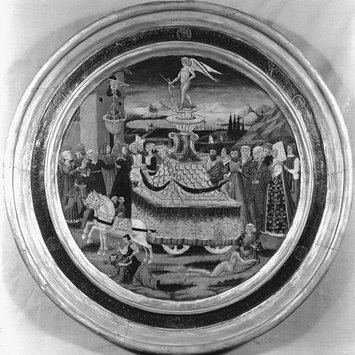 The Triumph of Love
Object:
Place of origin:
Date:
Artist/Maker:

Apollonio di Giovanni (workshop of)

Materials and Techniques:
Museum number:
Gallery location:

Prints & Drawings Study Room, level E, case EXP
The attribution of this birth tray to the workshop of Apollonio di Giovanni (ca.1416-1465) is still debated today. Birth trays with a similar iconography were produced by the worskhop of Apollonio di Giovanni who specialised in painted furniture. The Triumph of Love is a subject derived from Petrarch's I trionfi, a long poem that describes a series of allegorical triumphal processions (of Love, Chastity, Death, Fame, Time and Eternity), and was very popular in Florence around the mid fifteenth century. Cupid, the god of love and desire, is towering atop a cart and dominates the whole composition. In the foreground are two famous examples of the power of women and love over men: the poet Virgil suspended in a basket by daughter of the Roman emperor's, Phillis who rides on Aristotle's back, Delilah who cuts Samson's hair while asleep, and Omphale wearing the lion skin and holding Hercules' club while he is himeslef reduced to spinning wool.
Physical description
Circular birth tray painted with an allegorical scene of the Triumph of Love. Reverse: fragment of a putto holding two shields of arms.
Place of Origin
Florence (painted)
Date
ca. 1450-75 (painted)
Artist/maker
Apollonio di Giovanni (workshop of)
Materials and Techniques
Tempera on poplar panel
Dimensions
Diameter: 44.5 cm painted surface, Diameter: 64.2 cm frame
Object history note
William Maskell; Christie's, 25 July, 1890, lot 156, bought Murray (18 gns.); bought by the Museum in the same year.
Historical significance: The attribution of 398-1890 to the workshop of Apollonio di Giovanni (ca.1416-65) was rejected by Kauffmann (1973), Callmann (1974) and Däubler-Hauschke (2003) but accepted by De Carli (1997). The Triumph of Love appears on five surviving Florentine deschi da parto dating from between 1450 and 1475, most of which are attributed to Apollonio (three are in London, The Victoria and Albert Museum and The National Gallery; one is in Turin, Galleria Sabauda and another one's whereabouts unknown); a further four are decorated with the related Petrarchian themes of The Triumph of Chastity and Fame.
From a stylistic point of view, three of these present Cupid from the front, while the other two, including the present one, show cupid in profile. Moreover these two share also the same background with a sea from which emerge some mountainous islands whereas the others have a sea dotted with boats. The scene is also depicted from a slightly more distant point of view than the other four with quite elongated figures similar to the ones represented in the birth tray Triumph of Chastity, North Carolina Museum of Art, Raleigh and attributed to the workshop of Apollonio. As Apollonio appears to have painted little himself, directing a group of assistants and apprentices of variable ability, the limits of his oeuvre are however difficult to define.
The iconographic and formal repertory of 144-1869 is analogous to representations of the same subject on the other deschi da parto and illuminations securely attributed to Apollonio. The iconography derives from Petrarch's I Trionfi (The Triumphs) written in the second half of the 14th century. This poem describes a series of allegorical triumphal processions, of Love, Chastity, Death, Fame, Time and Eternity and became very popular in Florence around the middle of the fifteenth century.
The present scene illustrates the Triumph of Love, which is described thus:
'Four steeds I saw, whiter than snow,
And on a fiery car a cruel youth,
With bow in hand and arrows at his side
No fear had he, nor armour wore, nor shield
But on his shoulders he had two great wings
Of a thousand hues; his body was all bare
And round about were mortals beyond count…'
The triumphal chariot on which is perched Cupid is depicted in the centre of the composition and is surrounded by a large group of figures among which one can identify Hercules slaved by Omphale, Queen of Lydia on the right and Virgil suspended in a basket by daughter of the Emperor Adrian on the left. The group below Virgil was identified by P. Schubring (1915) as Tristan, Isolde and King Mark however this identification still remained questioned. In the foreground, proportionally too small compare with the other figures, are the famous couples: Phyllis (or Campaspe) riding Aristotles (from the medieval legend Lai d'Aristote) and Delilah shearing Samson asleep. In the background is a see from which emerged some mountainous islands.
Not all these figures appear in Petrarch's Triumphs: if Hercules, Samson and Virgil follow the car of Love (cap. II,125; III, 49; IV, 19), the figure of the dominated Aristoteles goes back to a medieval legend, Le Lai d'Aristote while the story of Virgil is also narrated by Boccaccio. Samson and Delilah's story derives from Judges, 16:4-20. Three of these instances of physical and intellectual giants - Virgil, Samson and Aristotle - also appear in a miniature of The Triumph of Love attributed to Apollonio from an illuminated manuscript of I Trionfi (Florence, Biblioteca Riccardiana, MS 1129, fol.1v).
The domination of women illustrated here through the triumph of love appears independent from Petrarch's Triumphs and results from a popular medieval tradition. And the iconography of this birth tray may therefore be construed as a compendium of different sources and themes and witnessed the circulation of designs between shops, a current practice in 15th century workshops.
It has been pointed out that the unidentified coats of arms held by a putto on the reverse of 398-1890 are heraldically unconvincing, and that the shields appear to have been repainted. This may have occurred comparatively recently, or may be further evidence of a historical second-hand market in deschi da parto. Another mid-fifteenth century desco da parto, attributed to Apollonio di Giovanni, and also in the collection of the V&A (144-1869) was apparently repainted over eighty years after it was made, sometime after 1537.
Historical context note
Deschi da parto were painted circular trays, usually produced in the same workshop that also supplied decorated furniture panels such as cassoni (wedding chests) and spalliere (wainscoting). They were used to carry food to the bedchamber on the occasion of the birth of a baby. They were usually decorated on the front with a variety of subjects sometimes based on a scene of male or female dominance depending on the sex of the baby while the back bears the coat of arms or impresa (personal emblem) of the family concerned.
The earliest documentary reference to a desco da parto is in a Florentine inventory of 1383 (see for instance an early Trecento example in the Metropolitan Museum, New York) and the oldest surviving examples date from the 1370s. A number are depicted in paintings, and it has been estimated from their incidence in inventories that over 40% of the households in fifteenth century Florence had at least one such tray. Individual trays can be attributed to Masaccio (1401-1428), Giovanni di Ser Giovanni (1406-1486) and Neri di Bicci (1418-1492) and a later example is attributed to Pontormo (1494-1557). Deschi were painted not only for wealthy patrons, but also those of more modest means such as butchers, bakers, and notaries. They could be commissioned or purchased ready-made. The addition of specific coats of arms at the time of purchase was then all it took to personalise these otherwise stock items. By the early sixteenth century, the demand of deschi was challenged and later eclipsed by majolica birth ware. Like cassoni panels and portraits, birth trays participated in the Renaissance to the emphasis on the individual.
Descriptive line
Birth Tray painted with scenes of the Triumph of Love. workshop of Apollonio di Giovanni, Florentine School, c. 1450-75
Bibliographic References (Citation, Note/Abstract, NAL no)
Kauffmann, C.M., Catalogue of Foreign Paintings, I. Before 1800, London: Victoria and Albert Museum, 1973, pp. 109-111, cat. no. 123.
Martin Wackernagel, The World of the Florentine Renaissance Artist, Princeton, 1981, pp.193-7.
Riccardo Truffi, Giostre e cantori di giostre, Rocca S. Casciano, 1911, pp.67-9.
Ellen Callmann, Apollonio di Giovanni, Oxford 1974, pp.11-13, 52-3, 58, pl. 81, 94, 105.
Claudia Däubler-Hauschke, Geburt und Memoria: zum italienischen Bildtyp der deschi da parto, Munich and Berlin, 2003, pp.239-266, in particular 246-8.
Cecilia de Carli, I Deschi da parto e la pittura del primo Rinascimento toscano, Turin, 1997, pp.156-7, no. 39.
Prince D'Essling (Duc de Rivoli) and E. Müntz, Pétrarque, Paris, 1902, pp. 143 f., 146.
Schubring, Cassoni, Truhen und truhenbilder der Italienischen Frürenaissance, Leipzig, 1915, p. 269, no. 202, pl. xliv.
G. Carandente, I Trionfi nel Primo Rinascimento, Turin, 1963, p. 62, fig. 47.
G. Sarton, 'Aristotle and Phyllis' in Isis (Bruges), xiv, May 1930.
R. de Cesare, 'Di nuovo sulla leggenda di Aristotele cavalcato' in Miscellanea del Centro di Studi Medievali, Università Cattolica del S. Cuore, Milano, 1956, p. 181 ff.; reprint in Aevum, Milan, 1957, p. 85 f.
J. W. Spargo, Virgil the Necromancer, Harvard U. P., 1934, pp. 136-55.
D. J. Ross, 'Allegory and Romance on a medieval French marriage casket' in Journal of the Warburg and Courtauld Institute, xi (1948), esp. p. 117 ff., pls. 25, 30.
A. Colasanti, 'Due novelle nuziali del Boccaccio nella pittura del Quattrocento, in Emporium, xix, p. 207.
A. Schiaparelli, La casa fiorentina e i suoi arredi nei secoli xiv e xv, Florence, 1908, p. 285.
Marle van, R., The Development of the Italian Schools of Painting, vol. x, The Hague, 1928, p. 564, fig. 339.
Salmi, M. 'Paolo Uccello, Andrea del castagno, Domenico Veneziano', in Valori Plastici Rome, 1936, p. 125.
Berenson, B., Italian Pictures of the Renaissance: Florentine School, vol. I, London, 1963, p. 63.
Heck, Christian. 'Entre l'art courtois, l'Italie, et le Hausbuchmeister: le Cabinet de curiosités du Pouvoir des femmes dans le Livre du Coeur d'amour épris de René d'Anjou'. In: Monuments et mémoires de la Fondation Eugène Piot. Vol. 95, 2016, pp. 5-45.
Paola Ventrone ed., Le tems revient, 'l tempo si rinuova. Feste e Spettacoli nella Firenze di Lorenzo il Magnifico, Milan, 1992, p. 119, illus.

Labels and date
398-1890: Birth Tray: The Triumph of Love
Tempera on poplar panel
Florentine; about 1460
The triumphal chariot of Cupid is accompanied by two groups of figures celebrating female dominance: Phyllis (or Campaspe, Alexander the Great's favourite courtesan) riding on Aristotle's back, to prover her powers of seduction, Delilah shearing Samson's hair, the source of his superhuman strength, the nymph Omphale with the disarmed Hercules, and Virgil suspended in a basket by the emperor's daughter as a punishment for having tried to visit her. The literary source is Petrarch's fourteenth-century collection of poems Triumph of Love.
On the back are two shields, repainted at a later date, which have not been identified and are heraldically unconvincing. [2004]
BIRTH TRAY with the Triumph of Love
About 1450-75
Birth trays were given in celebration of childbirth and used to carry food to new mothers. This one shows a scene from Petrarch's poem The Triumph of Love, written in the 1340s. Love stands high on a chariot, while below are women who have enslaved men by the power of Love: Phyllis astride her lover Aristotle, and Delilah shearing off Samson's hair.
Italy, Florence
Tempera on poplar panel
Museum no. 398-1890 [2008]
REVERSE OF BIRTH TRAY with two unidentified coats of arms
About 1450-75
The birth of male heirs was critical to the continuation of the family. Images of nude male infants were intended to stimulate procreation and encourage the bride to imagine her desired child. Naked putti, like that seen here, commonly appear on the reverse of birth trays.
Italy, Florence
Tempera on poplar panel
Museum no. 398-1890 [2008]
Materials
Tempera; Poplar
Techniques
Painting
Categories
Paintings; Birth; Gender and Sexuality
Collection
Prints, Drawings & Paintings Collection